United States GP talking points
Calculating Lewis Hamilton's chances of securing the title in Austin and plotting Red Bull's exit strategy.
By Pete Gill, Mike Wise, William Esler and James Galloway
Last Updated: 22/10/15 5:58pm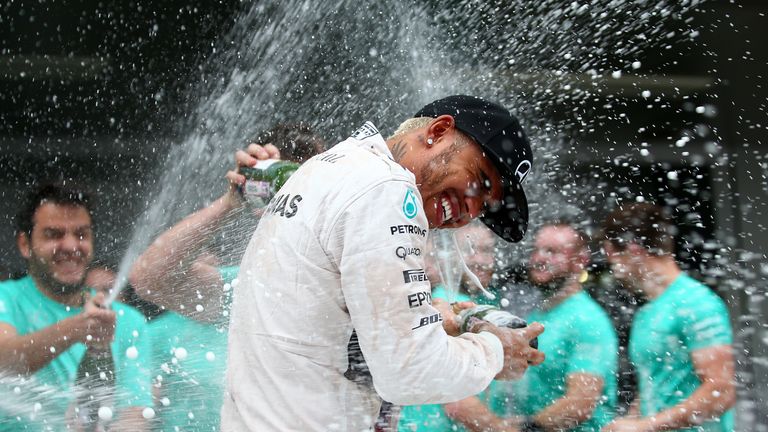 Will Hamilton make it three in America?
Will Lewis Hamilton become a three-time world champion, and the first Briton to retain the drivers' F1 title, this weekend? Heading to Austin, that little poser is the big on-track talking point.
Which makes the statistical, sober response particularly tame in comparison: based on this season's form, the prospect of Hamilton wrapping up the title this weekend is pretty much a 50-50 shot.
To be crowned 2015 champion, Hamilton, currently 66 points clear at the summit, needs to out-score Sebastian Vettel by nine points and Nico Rosberg by two. Which means that, unless the two Mercs finish around 10th and ninth, any scoring result for Hamilton above Rosberg will end the German's title hopes. Vettel, however, is a more nuanced prospect; even if Hamilton wins and collects another maximum haul of 25 points, he is not guaranteed to win the championship unless Vettel finishes in third position - which earns 15 points - or below.
To put the task in seasonal context, Hamilton has scored nine or more points than Vettel in 10 of the season's 15 races so far. However, to be crowned champion this weekend, he'll not only have to out-score Vettel by at least nine points but will also have to finish ahead of Rosberg - a double undertaking that has only been achieved in eight of the 15 races to date. 
Hence, as we say, it's about a 50-50 shot - although, to be precise, the Sky F1 calculator insists on putting it 53-47. 
Hamilton, as is the wont of all champion-elects, says he is not fussed about when and how he wins the championship just as long as he wins it. In respect of his 2007 title collapse, it's an understandably cautious approach. But it's fair to assume that Hamilton will want to end the matter as soon as possible and almost as reasonable to assume that he would prefer to win in America, a country where he habitually travels and where he spends the bulk of the off-season, rather than Mexico, Brazil or Abu Dhabi.
Given the importance of 'cracking' the American market to F1 and the automobile companies which are the financial lifeblood of the sport, F1 would almost certainly prefer it too.
PG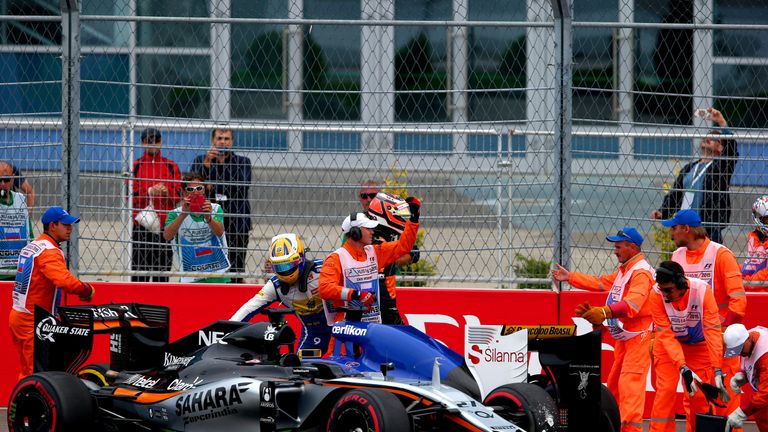 Time for Hulkenberg to rediscover his consistency
It's been a curious old season for Nico Hulkenberg. First there was the low-key start, when Australia was the Force India driver's only visit to the points in the opening six rounds. Then there was the 'Le Mans effect' of the summer when the German claimed three strong top-10 finishes either side of extra-curricular success in the 24-hour race. But since then? Well, for a driver who has built his reputation in recent seasons on consistent points-scoring, Hulkenberg's recent run has been characterised by uncharacteristic inconsistency.
Since a fine seventh on the B-spec VJM08's debut at Silverstone in July, the 29-year-old's results card shows two points finishes, two DNFs and one DNS. By contrast, team-mate Sergio Perez, not a driver previously famed for such reliability, has delivered four top-10 finishes in that time - headlined by an impressively opportunistic run to Force India's first podium of 2015 last time out in Russia. By the time Perez was gleefully donning a Cossack on a rostrum flanked by Vladimir Putin, Hulkenberg's interest in the race weekend had long since ended after he spun into terminal trouble, while battling Perez, on lap one.
Perez's third place means that with four races to go he has pulled 16 points ahead of Hulkenberg in the Drivers' Championship, putting him on course to become just the second team-mate to finish ahead of the German over a season after Rubens Barrichello at Williams in 2010. Hulkenberg's not exactly been outpaced at Force India this year - he leads the qualifying head-to-head 10-5 and the team-mates are tied 5-5 on race day when they have both finished - and has suffered more mechanical retirements than Perez. Yet, his recent mistakes in Sochi and Singapore, when he collided into Felipe Massa as the Williams exited the pit lane, have cost him and the team points which would probably have seen them all-but wrap up fifth place in the Constructors' Championship by now.
Even before his Russian podium exploits, Perez was already bound to be the centre of attention for local fans in the US-Mexico double-header, but what better time for F1's 'Hulk' to showcase the form which had long seen him tipped for one of the sport's top drives.
JG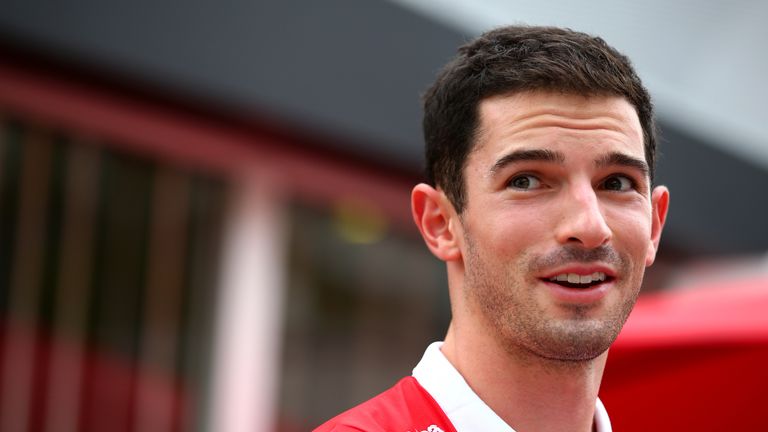 Will the fans take to Rossi and Haas-bound Grosjean?
The reception given to two drivers will be interesting this weekend as F1 returns to the United States.
For the first time since 2007, when Scott Speed raced at Indianapolis for Toro Rosso, there will be an American driver for the home fans to cheer on as Alexander Rossi lines up for Manor.
The other driver who could be the darling of the fans at the Circuit of The Americas is Romain Grosjean. The Frenchman will lead Haas' charge into F1 next year and with the outfit being promoted as 'America's F1 team' it will be interesting to see if Grosjean has already become a favourite with the public in the States.
As F1 looks to establish itself in the American market, how the fans respond to Rossi and how much they get behind 'their' team in Haas and Grosjean could be critical. This weekend could be very telling.
WE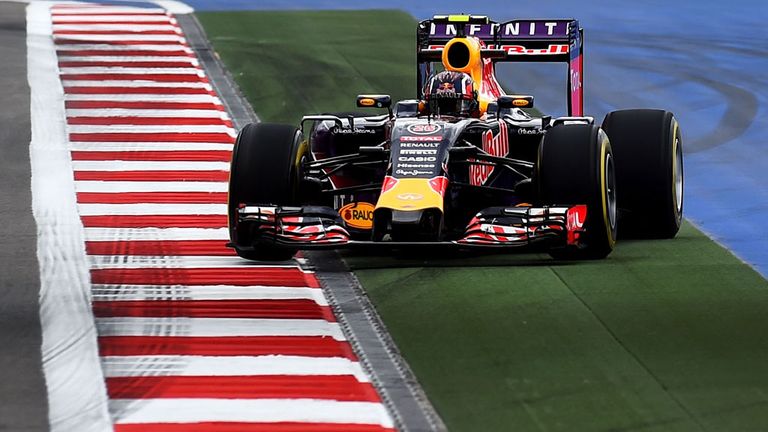 Red Bull's best option
So might Red Bull have been forced to make overtures to Renault once again? It's an outcome that leaves them looking like one of those 'on again, off again' couples who seem to thrive on the excitement of it all. Yet at the same time it's a solution that could offer the best, most dignified, exit for the former world champions down the line.
The feeling that they might, against all odds, kiss and make up surfaced in Sochi, where news that Ferrari had rejected Red Bull's request for a 2016 engine supply dominated headlines. Whether the Scuderia actually follow Mercedes in spurning them remains to be seen; unlike Mercedes, they have said nothing official yet, but it seems the door has shut.
Then, of course, there's the nuclear option: Dietrich Mateschitz is said to be a man who operates on gut instinct and has used it in the past to make snap decisions, for example when Red Bull pulled out of NASCAR. But they were never successful in that particular arena. F1 is different, both in terms of Mateschitz's attachment to it and the success they've achieved. You can see the emotion in all the threats they've issued in recent months; tied in with the success, though, is a hefty bottom line: that pulling the plug could breach their contract with Bernie Ecclestone and cost an estimated $500m.
Mateschitz might be a billionaire with an ego to match but at those prices, even the perceived humiliation of going back to Renault, tail between his legs, is the better option - assuming Renault are open to it, of course. People have short memories (if they even care about such things) and anyway, Renault might finally start getting their act together. They're finally going to spend some engine tokens in Austin, so perhaps an indicator might come this weekend?
Potential is actually there: there are still plenty of tokens to spend next year, meaning lots of re-design work; and development will again be allowed in-season. Expectations set in the glory days would have to be reined in, but that process might already have started. And assuming Mateschitz decides not to make good on his threat(s) to flounce out of F1 at the end of the season, wouldn't the budget follow suit?
If he is looking to exit in the most dignified way possible ie by selling up, then surely the best option would be to go out in a style befitting the brand and what it purported to be when they first arrived: as mavericks challenging the establishment and sticking it to 'The Man'. Not challenging for the title, but getting the odd win here and there, all the while remaining an attractive proposition to potential suitors.
If Red Bull really are in it for marketing reasons then this is the option that makes sense. Being genuine world beaters never really suited them because their relentless success became as tedious as their current posturing. If they are bidding F1 farewell then doing it in much the same way as they arrived over the next few seasons - being different, fun and interesting - would be the best way. 
MW
See if Lewis Hamilton clinches the 2015 world title in Austin with the United States GP LIVE ONLY on Sky Sports F1. Race-day coverage on Sunday October 25 begins at 5.30pm with lights out at 7pm.