2014 Brazilian GP Practice Two: Nico Rosberg maintains advantage at Interlagos
Hamilton two tenths slower than team-mate after mistake on flying lap; Session interrupted by three red flags; Perez forced to miss P2 after Juncadella's P1 accident
By William Esler
Last Updated: 25/11/14 5:52pm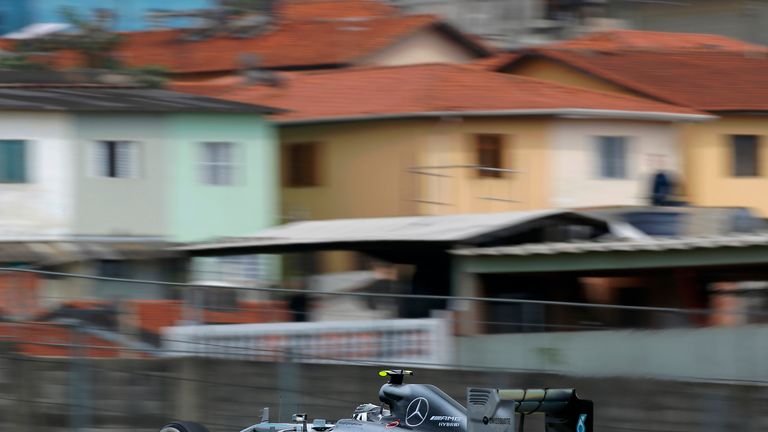 Nico Rosberg maintained his advantage of two tenths of a second over team-mate Lewis Hamilton in Practice Two for the Brazilian Grand Prix at Interlagos.
It was an encouraging display from the title outsider, who also topped the morning's Practice One session.
The soft tyre was seemingly only durable for one flying lap during the qualifying simulations and a mistake on the exit of Turn 11 which saw Hamilton run wide prevented him from challenging the benchmark of 1:12.123 set by Rosberg.
"The unusual thing was with the asphalt being completely new it is very different to last year and that has a big impact on the car," Rosberg told Sky Sports F1.
"Initially the balance was completely wrong and I had understeer and we made the front-end softer and the rear-end harder and that worked out and then I felt quite comfortable on one-lap. Then on the long-run we topped the car right up and did a lot of laps to practice for Sunday.
"It was extremely hot, I think historically they have never seen as hot asphalt temperatures as today on this track and so the tyres were completely blistering and that was a bit of a worry today so that is something we need to keep an eye on."
The 2008 World Champion closed the gap with his second attempt, but by that stage the tyres we arguably past their best. Interestingly though, on his third flying lap Hamilton was up on Rosberg's time through the first two sectors before pitting and abandoning the lap.
Perhaps a little gamesmanship from the Briton then to his title rival, suggesting he has something left in reserve for Saturday – although with heavy rain forecast for the session the picture could be very different in qualifying.
"I didn't [mange to hook-up a lap]," Hamilton admitted. "It is not a big issue though, it is practice so that is what you go out there to try and do.
"Obviously there was quite a few red flags at the end so we didn't really get the best of long-running but that is the same for everyone."
Whilst the quick lap simulations went relatively smoothly for most teams, there will be frantic calculations going on ahead of Sunday's race after the long-runs were interrupted by a series of red flags.
Fernando Alonso's Ferrari caught fire as the teams were in the middle of their race-simulations leading to the Spaniard having to jump out of his car, grab a fire extinguisher and put the blaze out himself before fire marshals got to the F14 T. Whilst the engine was always to be changed ahead of Saturday's running there will be a worry for the Scuderia as to any potential damage caused by heat soak from the fire with Alonso already having used five of each component which makes up the power unit.
There had been speculation Ferrari may follow the example of Sebastian Vettel in Austin and start Alonso from the pitlane to allow the Spaniard to take a sixth part of each component. However, the team say there are no plans thus far to take the penalty.
"For the moment we don't have that planned, we don't need that, we can manage the allocation of all the power unit components," Head of Communications Renato Bisignani said.
"We are managing that, it is a challenge for us, it is a challenge for every team, but so far so good in terms of power unit and race-spec engines."
Moments after the session resumed Esteban Gutierrez stopped in nearly the same spot as Alonso had. The Mexican had been suffering from KERS problems early in the session, compounding a difficult Friday for the man currently without a 2015 after he managed just six laps and failed to set a time in Practice One.
That was still more than Jean-Eric Vernge managed after the Frenchman was ordered to stop at Turn Four after his car suddenly lost power on the run to the left-hander. He had already been forced to sit out the day's opening session to allow 2015 driver Max Verstappen to gain more experience and will head into qualifying relying on his simulator work and Kvyat's data having had no chance to work on set up.
Another man to suffer from giving up his seat during P1 was Sergio Perez. Daniel Juncadella crashed the Mexican's Force India during that session and heat soak whilst the car was sat in the barrier meaning the team were worried about damage to engine hydraulic parts at the rear. Changing these components meant removing the entire engine – a two hour job in itself – meaning Perez didn't get an opportunity to take to the track at all on Friday.
It was a disappointing session for McLaren with Kevin Magnussen only tenth fastest and Jenson Button only quicker than Vergne and down in 16th. The 2009 champion managed only one lap in P1, but the promised wet conditions of Saturday could play into his hands in what could be his penultimate F1 qualifying session.