2014 Brazilian Grand Prix qualifying: Nico Rosberg edges Lewis Hamilton to pole
Just 0.033 seconds separate the Mercedes team-mates; Rosberg claims pole position trophy; Williams blow chance to take pole
By William Esler
Last Updated: 25/11/14 5:50pm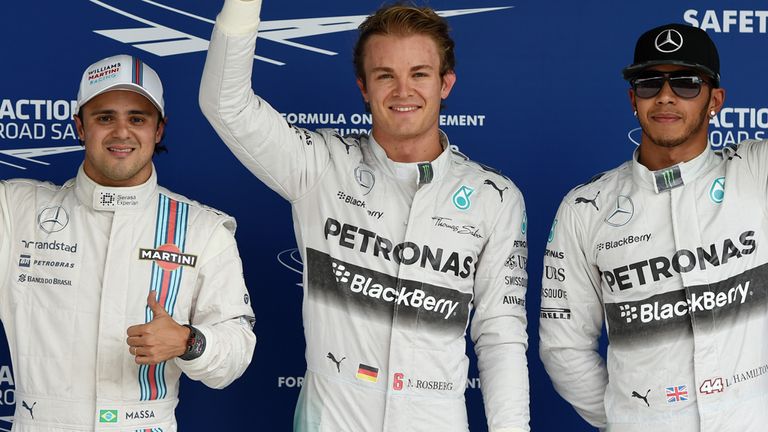 Nico Rosberg took his tenth pole position of the season as he maintained his record of heading every session in Brazil.
The German was quickest in all three practice sessions and all three parts of qualifying as he headed team-mate Lewis Hamilton by just 0.033 seconds.
Felipe Massa was third quickest for Williams, ahead of team-mate Valtteri Bottas, with McLaren's Jenson Button fifth.
"It is the perfect job only if it works out tomorrow unfortunately," Rosberg said. "Up to now it has been going well and I am in the best place to be in tomorrow, but of course I need to make it happen in the race unlike Austin for example."
With such fine margins between the pair it only took a small error to lose out on pole and Hamilton carried too much speed into Turn Ten causing the rear to step out on him as he turned in costing him valuable fractions of a second.
"It was great fun, Nico did a great lap and I lost a bit of time at Turn Ten and perhaps a tiny bit in Turn One," Hamilton confessed.
"But it was great – just having to keep going out and fighting. That is what qualifying is all about and it should always be that kind of gap and that close.
"Of course pole position is the best place to start, but it is a long race tomorrow and it should be quite exciting with all the pitstops and we don't really know about the weather.  I am here and I want to win so I am going to work as hard as I can tomorrow and hope we get to have a race at least."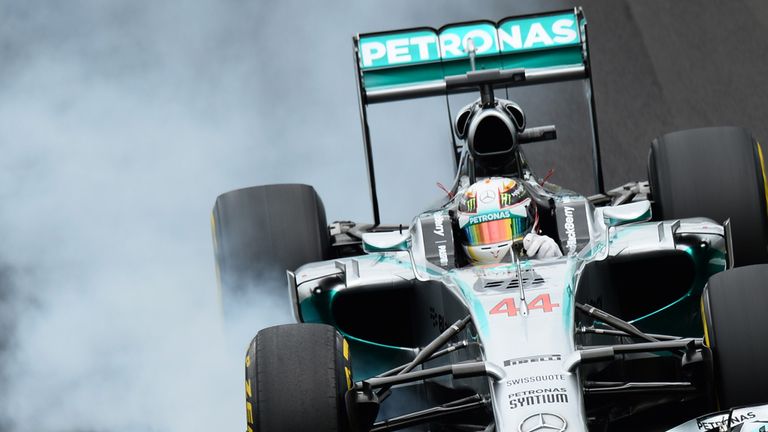 The result means Rosberg becomes the inaugural recipient of the pole position trophy, but you can guarantee he would trade it for the world title should he lose out in the Drivers' Championship fight with Hamilton. 
The two Williams cars threatened to spoil the Mercedes party, but both Massa and Bottas failed to hook-up their final runs. Massa locked-up at Turn One on his final attempt and made an even bigger mistake in the final sector leading to him abandoning the lap, despite the roars of his home crowd.
Button was next up for McLaren as Mercedes engines locked-out the top five spots on the grid, but the Briton was some nine tenths off pole and over six tenths slower than Bottas.
After limping through the first part of qualifying with what sounded like an ill Renault engine, Sebastian Vettel was a surprise sixth for Red Bull as he split the McLarens. It was the first time since Monza that the departing German has out-qualified Daniel Ricciardo.
Despite opting against a final qualifying simulation in P3 to look after his engine Fernando Alonso once again was the lead Ferrari in eighth, with Ricciardo ninth and Kimi Raikkonen rounding out the top ten.
One of the standout performers of the session was Esteban Gutierrez who, just days after finding out he wouldn't be driving for Sauber in 2015, produced his best qualifying performance of the season to take 11th.
The two drivers who missed out on P2 running on Friday both struggled and made early exits from qualifying.
Jean-Eric Vergne went out in Q1 after lapping some six tenths slower than team-mate Dannill Kvyat. The Frenchman had had next to no time on Friday to work on his set up after giving up his car to Max Verstappen on in P1 and making an early exit with reliability problems in P2. "The car was undriveable," he told the team over the radio.
Speaking to Sky Sports F1, Vergne added: "The car was impossible to drive for me. This is not an easy track and when you don't have the right balance you lose a lot of time.
"I think we are struggling a little bit with the tyres. The problem is I arrived with a set up that was never mine and therefore I don't perform at all because I don't know how the car would be. Abu Dhabi will be better as I will drive in P1 and P2 hopefully if I don't have any issues on the car and I can set up the car in a proper way because right now it is impossible.
"Not getting out in P1 makes it difficult, but not getting out in P2 makes it impossible."
The Frenchman did at least finish ahead of Sergio Perez who was 17th quickest, but knew he would take a seven-place grid penalty for his collision with Adrian Sutil in Austin.
He will be joined at the back by the second Toro Rosso of Daniil Kvyat who made it through to Q2 but opted not to set a time as he too will take a grid drop after carrying over an engine penalty from the race at the Circuit of the Americas.