Faultless Nico Rosberg holds off Lewis Hamilton to win the Brazilian GP
German driver claims fifth victory of season at Interlagos; But second place in Abu Dhabi will be sufficient for Hamilton to win the title; Williams' Felipe Massa third ahead of impressive Jenson Button
By Mike Wise
Last Updated: 25/11/14 5:45pm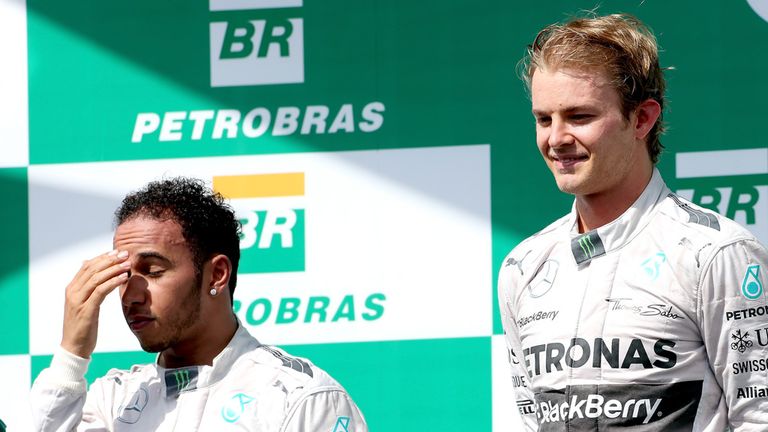 Nico Rosberg held off Lewis Hamilton to claim his fifth victory of the season at the Brazilian Grand Prix on Sunday.
The German driver completed a clean sweep of all three practice sessions, qualifying and the 71-lap race at Interlagos, but only after Hamilton spun off the track while pushing hard for the lead ahead of his second pit stop.
That error, on lap 28 at Turn 4, came as Hamilton tried to use pit strategy to get ahead of his team-mate. Staying out two laps longer, he set the race's fastest lap on the first but spun on the second. As a result, he rejoined seven seconds behind his title rival.
Hamilton was right on Rosberg's tail again after both drivers made their third and final stops but while the last 20 laps saw the two Silver Arrows in close company, he was not able to get close enough to try and overtake.
Of course, double points are on offer in Abu Dhabi on November 23 and a repeat of this result will still be enough for Hamilton to take his second world title.
Yet Rosberg's fifth win of the season, in a race which has brought a number of hectic title deciders in recent years, but now stands in the shadow of F1's first-ever double points finale, means that his chances suddenly seem a little rosier.
That wasn't the case after Hamilton had breezed past him to win last weekend's U.S. GP and, speaking afterwards, Rosberg made it clear how important he felt it was to bounce back.
"It's been a great weekend all-in-all," he said. "In Austin, it was a tough Sunday so it was important for me to improve because I didn't do a good enough job of the race in Austin."
"I think ultimately it cost me the win, yes," Hamilton said of his spin. "I was much quicker up until that point and then on that lap I got a second quicker after Nico pitted.
"I thought I was going to pit at the end of that lap so I used everything I had in the tyres and the next lap I had nothing left."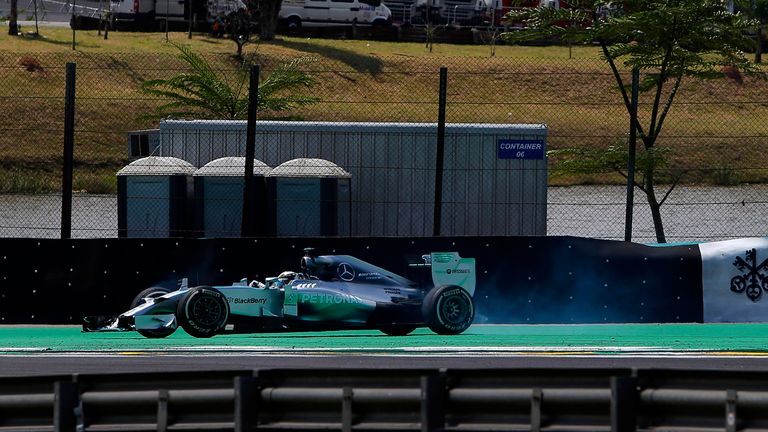 Hamilton remains the favourite but it was the Briton who made the race's crucial error. More of the same in a fortnight's time might, perhaps, have much greater consequences for him, particularly if Rosberg enjoys another trouble-free weekend.
It would be wrong to suggest his race was without its headaches, however. If withstanding the pressure applied by Hamilton during the closing laps wasn't enough, Rosberg - like everyone - had to contend with severe tyre degradation, particularly at the start of the race.
Rain had been forecast at the start of the week but not a single drop has fallen whilst cars have been on track and track temperatures climbed as high as 55 degrees C in the opening laps.
As such, cars were pitting as early as lap six and with Rosberg leading Hamilton off the line, both Silver Arrows had switched from soft to medium tyres by lap nine.
But the medium wasn't lasting too long either. Hamilton reported blistering by lap 17 and when Rosberg stopped again ten laps later, his attempt to gain the 'undercut' instead saw his W05 flying sideways through the Turn 4 run-off.
He soon gathered it up but the spin put paid to Hamilton's chances. Further back, Felipe Massa gave the local crowd plenty to cheer about by taking the final podium position - which in fact came as something of a surprise given his eventful afternoon.
Starting third, the Williams driver picked up a five-second penalty for speeding in the pitlane while his final stop started with a visit to the McLaren pit.
Team-mate Valtteri Bottas had less luck, however, as running behind Massa, his second stop was delayed when his seatbelt came loose. The Finn dropped down the order but claimed a point with tenth place.
Jenson Button served to remind F1 what it could be missing with a fine fourth place, five ahead of McLaren team-mate Kevin Magnussen, and while World Champion Sebastian Vettel was fifth, Red Bull team-mate Daniel Ricciardo retired on lap 40 with suspension failure.
But while the anticipated battle between Rosberg and Hamilton never came to pass in the closing laps, further down the order their Ferrari counterparts were suddenly going at it hammer and tongs.
The fight for sixth place was eventually won by Fernando Alonso but only after Kimi Raikkonen - who bucked the trend with a two-stop strategy - made life very difficult for the Spaniard.
Time was when the Scuderia would have ordered Raikkonen aside but times have clearly changed: Alonso tried in vain for a good four laps to find a way past before, eventually, his fresher rubber told.