Vettel slams straightline speed
Sebastian Vettel branded his Red Bull's straightline speed "ridiculous" following the Chinese GP over his team radio.
Last Updated: 15/04/12 12:33pm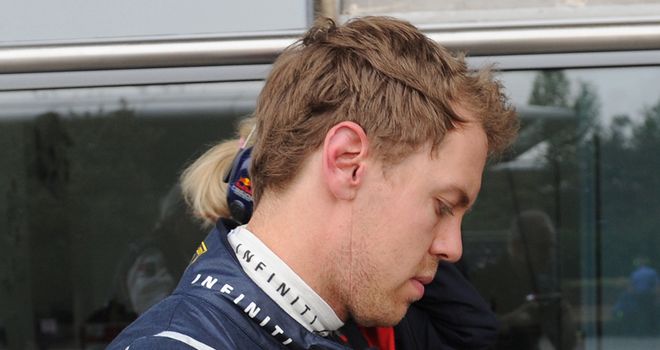 A disgruntled Sebastian Vettel branded his Red Bull's lack of straight-line speed "ridiculous" over his team radio after finishing fifth in the Chinese Grand Prix.
The World Champion's troubled start to his title defence continued in Shanghai as he failed to make the qualifying top-ten shootout for the first time in over two years, which meant he qualified behind team-mate Mark Webber for the third time in as many races.
And although a two-stop strategy in the race brought him within three laps of third place despite a poor start having earlier dropped from 11th to 15th - Vettel eventually powerless to prevent Hamilton and Webber passing in the DRS zone as his tyres lost performance - the German continued to appear frustrated with his RB8's performance relative to other cars.
Speaking in a radio message to the Red Bull pit wall on his slowing-down lap which was played out by Sky Sports F1 following the end of the race, Vettel said: "Shame [about the] last five laps, I had nothing left in the tyres.
"And we had absolutely no straight-line speed whatsoever the whole race. Unbelievable. People pulling away...ridiculous."
In a later interview with Sky Sports F1's Natalie Pinkham, Vettel cut a calmer figure and said both he and Red Bull should be reasonably content to have picked up six positions in the race.
"Well I think pretty difficult to imagine where you're going to be in the last stint given the start of the race we had. So I think it was a good recovery, but obviously it was a long time on those tyres at the end - and too long, so the last five laps were really difficult," he explained.
"It was obvious I would struggle to keep position and stay in second so I had to give way to Jenson [Button] and Lewis, and then Mark in the end.
"Nevertheless I think we can be happy with fifth. We've been only P15 in the first lap so all in all an interesting race."
Vettel reiterated the need to improve the car's straight-line performance but said the team had managed to gain a lot of data on the different performances of its various exhaust configurations, the German having reverted to the launch-spec for this weekend while Webber continued to run the newer version.
He said the team would now analyse the statistics over the coming days before deciding which one to use in Bahrain next weekend.
"Qualifying is poor, we know we have a couple of weaknesses. One is the speed on the straights, the other one is surely that the car is probably not yet working the way we want it to be," he said.
"Nevertheless I think it was an interesting weekend. We collected a lot of data on different cars - we ended up more or less in the same place which is quite funny - but I think both packages have their advantages and next week we'll see what we do."