The Chinese GP: A difficult race to love
It's probably not at the top of most fans' lists of must-see races. But with the country's economy now the world's largest and the city of Shanghai growing fast, it looks here to stay
By Mike Wise
Last Updated: 16/04/15 4:02pm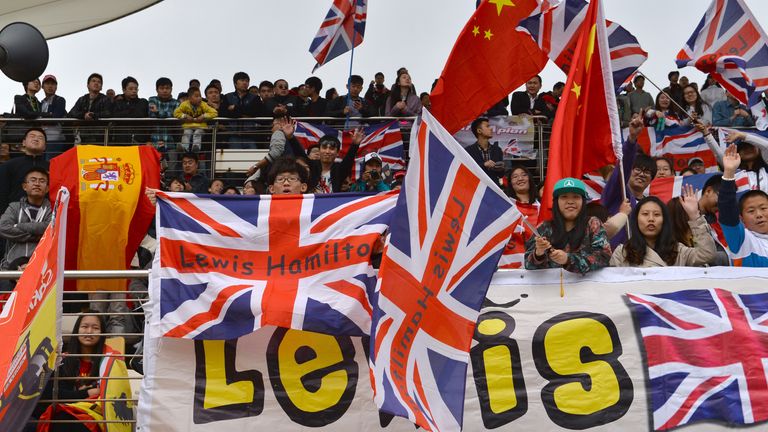 You know that globalisation is in full bloom – if growing slightly askew – when you find yourself sat in a Costa on the outskirts of Shanghai in April and they play Wings' 1979 festive smash 'Simply Having A Wonderful Christmas Time'.
F1's reach has also grown in the last 15 years or so, which explains why the sport now finds itself in China every spring.
It's easy to see why. In December 2014, the country was named the world's largest economy by the IMF, larger than the USA which had held the record for 140 years. China's car market is also now the world's largest, with an estimated 23 million vehicles sold last year. But it almost goes without saying that the appreciation of motor sport lags far behind that found in, say, Japan.
Although it does now have a foothold, it's debatable how strong that foothold is. But what's undeniable is that, much as was the case in India when that country hosted a race between 2011-13, the interest comes from the growing number of middle class urbanites. And how the numbers grow: Shanghai's population grew from 16m to 24m between 2000 and 2014; pretty much every view is dominated by high-rise apartment blocks.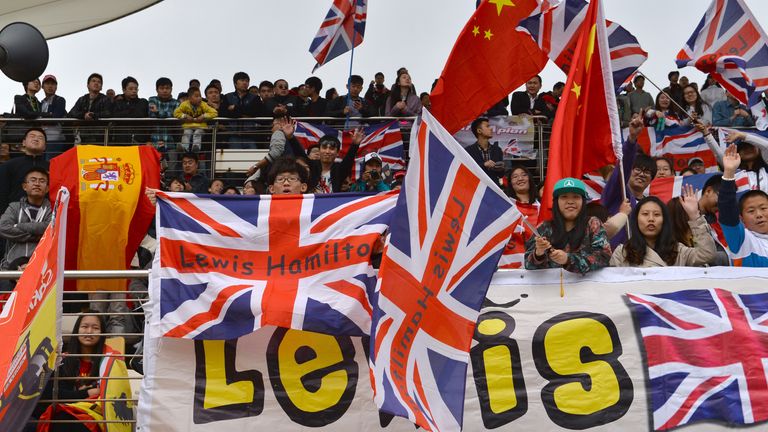 As sprawls tend to, it's heading outwards, which is why most blocks in the northwestern suburbs of Jiading and Anting – those closest to the Shanghai International Circuit – seem to have cranes perched on top. High-rises are a noticeable backdrop to the race now; that wasn't the case when the first Chinese GP was held in 2004.
But in fact that race featured the largest crowd to date. "The first year was different because it was the first one ever," explains Chinese journalist Frankie Mao. "We started to know about F1 in the early 1990s with highlights on TV shows. We knew Ayrton Senna, Alain Prost, McLaren-Honda. But for most Chinese people it was Michael [Schumacher].
"At that stage, Michael presented F1 and people came to watch Michael and it was curiosity. In Chinese culture, they want the top things, the most famous people, and F1 is the pinnacle of motorsport. In that year, every stand was full."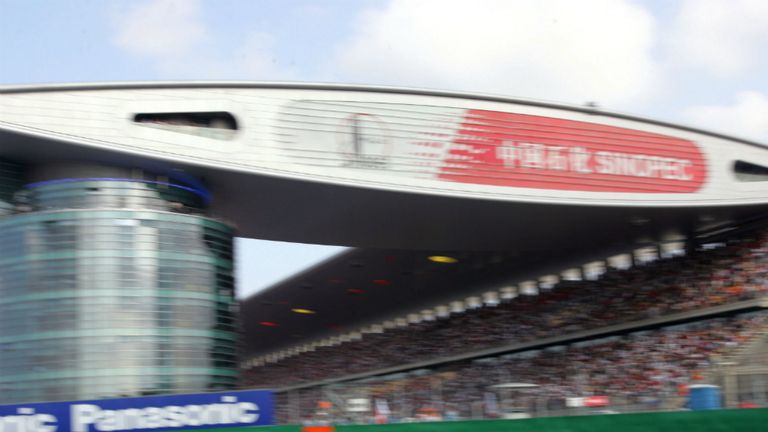 The track is dominated by the cavernous main grandstand, which holds around 27,000 and which was full for Sunday's race. But stands elsewhere are now empty: those overlooking Turns 1,2 and 3 were closed this year for safety reasons while those at Turns 11, 12 and 13 are used as giant advertising hoardings.
Schumacher wasn't the only big draw for the local crowd. "The biggest drop came because Michael left," says Mao, "and then because Kimi [Raikkonen] left. But after that, in 2012 it went up again, not only because they were back but because fans' knowledge of F1 is growing."
There have been stories that the crowd has been boosted by army recruits in mufti, although Mao denies this. "The first two or three years it was maybe true but it's not the military people; it's just students," he insists.
And just as fans are learning more, so Chinese companies are gaining a greater understanding of F1's marketing potential. But according to Mao, it's a slow process. "As we all know, F1 is sport but also a commercial platform as well, where a bunch of brands show their images to the world. However, from my source, most senior managers of Chinese companies, who were invited to watch the race on the circuit, hadn't realised the marketing function of F1 until someone explained to them. That is the reason why we rarely see Chinese companies invest F1 or teams."
But things are changing. Technology company Lenovo have sponsored Williams in the past while logos for Hisense (electrical appliances) and Weichai (diesel engines) adorn Red Bull and Ferrari cars respectively.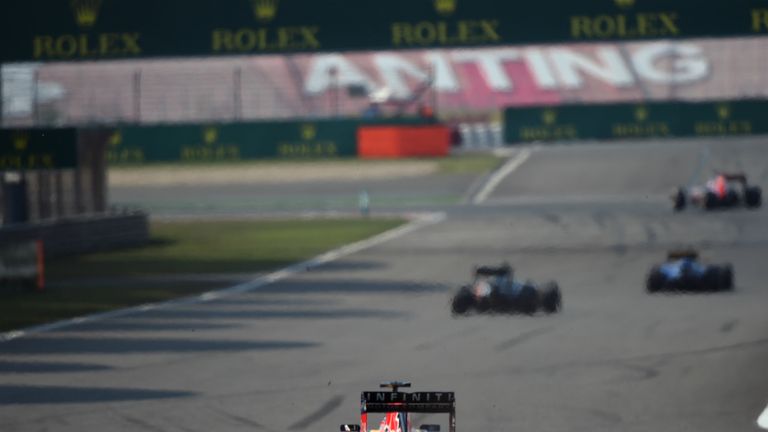 So how important is the race to Ferrari, for example? The U.S. GP is often cited as being a vital presence given the importance of that country's automobile market. Yet in terms of premium and luxury cars, China is on target to overtake the States by 2020.
According to new Ferrari team boss Maurizio Arrivabene, these things can be overplayed. "It's a very important market as it is in USA," says Arrivabene, whose background is in marketing. "I think a good result is helping [but] it's not really changing a lot - the enthusiasm could help but it's not fundamental. Because if somebody wants to buy a Ferrari, they're going to do it.
"Of course, winning or having a good result is helping because then enthusiasm is sometimes like a wave and it can help if somebody is uncertain and they can take a decision."
If local fans flocked to see Schumacher in his Ferrari pomp then it stands to reason that a Chinese star would also boost interest. To date, both Ma Qinghua and Adderly Fong have taken part in practice sessions, although realistically an F1 equivalent of, say, Yao Ming appears a long way off. Perhaps one of these youngsters (pictured) might oblige if local businesses step up and back them?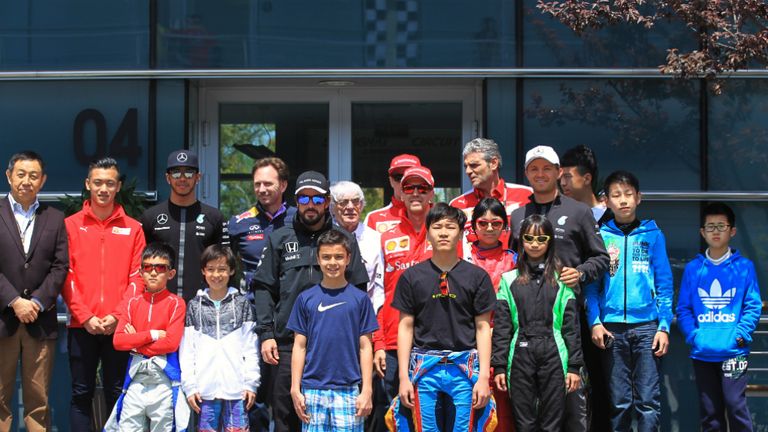 It's a difficult race to love. The drivers like the track well enough, but both the location (Anting is to Shanghai sort of what Croydon is to London) and the weather (spring usually means leaden skies and chilly temperatures, although this year was an exception) aren't necessarily what dreams are made of. However, such trifles are irrelevant in the wider context.
The sanctioning fee - said to be around $30m - doesn't seem a problem for the organisers of a race first dreamt up by the Shanghai government while the sheer magnitude of the economy dwarfs all other considerations. At present the Chinese GP has a contract until 2017 but make no mistake, the race is here to stay. 
MW
Catch every session from the Bahrain Grand Prix weekend live on Sky Sports F1. You can also watch on the move with SkyGo. The race starts at 4pm on Sunday April 19, with comprehensive build-up underway from 2:30pm.