Lewis Hamilton & Nico Rosberg in confident mood ahead of Abu Double showdown
"Lewis can do something to keep it clean, which is to drive cleanly himself," warns Rosberg in tense press conference
By Sky Sports Online
Last Updated: 21/11/14 11:37am
Formula 1 title rivals Lewis Hamilton and Nico Rosberg are both in confident mood ahead of Sunday's title showdown in the Abu Dhabi Grand Prix.
Hamilton, who holds a 17-point championship lead over his Mercedes team-mate, told the pre-race press conference at Yas Marina that he was excited and looking forward to winning the race rather than aiming to finish second – a result which would guarantee him his second world title.
He said: "I am excited for the weekend. After the race in Brazil, it gives me a lot of confidence going into this weekend. It's a track that's suited my driving style so I hope to take this positivity into the weekend.
"I come into the weekend and try to win as I do every race weekend, so nothing changes there.
"In terms of the pressure I don't really feel any, I have had plenty of experience through my racing career and through the whole 20 years of racing to be prepared so there is no special recipe for it."
As the man with it all to do in the championship fight, Rosberg was in noticeably spikier mood on Thursday and gave a more pointed response to a question posed to both Mercedes drivers about whether they would speak before the race to ensure that it will be a clean fight in Abu Dhabi.
Hamilton, who was judged to be the innocent party when the pair clashed on track back at Spa in August, simply responded: "We don't need to, things have already been discussed at the beginning of the season, and several times during the season and after Spa - so there is no need to revisit it. We are not children and we should know what is wrong and what is right."
Rosberg, however, when asked if he had anything to add, responded: "Lewis can do something to keep it clean which is to drive cleanly himself, so it's not like he can't do anything."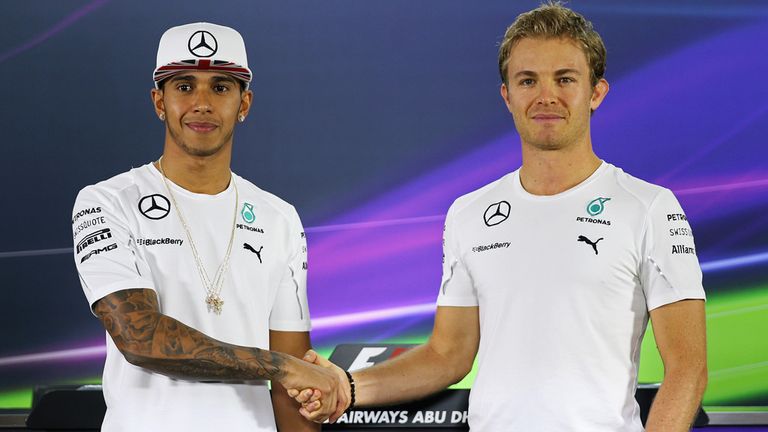 Whether or not attempting to play psychological games on the eve of their title showdown, Rosberg later insisted to Sky Sports News HQ that all the pressure was on Hamilton's shoulders in Abu Dhabi.
"Lewis has everything to lose, I have everything to gain, with the points advantage that he has and the way things have been playing out the last couple of races. So from that point of view the pressure is definitely on him," the German said.
Asked if the frequent unpredictability which F1 title deciders produced gave him additional optimism of a final-day turnaround, Rosberg added: "That's one of the areas where I take my hope from because in sport so many things can happen and so many unusual things can come in. So I'm definitely optimistic."
Rosberg did concede that he needs help to win the title, but says his main focus will be on winning rather than worrying about where his rival finishes. 
"It's going to be intense and a great battle and I look forward to it, that's what I have been working towards for a while now, for that sort of chance," he said.
"Lewis is a great competitor and opponent, it will be a great end to the season. I am here to try and win the race, I need a bit of help from Lewis that he doesn't finish second and that's it - I am hoping Lewis can come up with something."
Whichever driver triumphs in Sunday's desert showdown, Mercedes are guaranteed to be the winners and end their all-conquering campaign with both World Championship titles.
But with any small mistake on either side of the garage potentially having major ramifications on the outcome of the title fight, Hamilton added to Sky Sports News HQ: "My job as a driver is to lift up the team, to energise the team, to inspire the team. For sure they're going to be nervous this weekend and I would like to see if I can ease them a little bit.
"They've just got to continue doing the great job they've been all year. We should be seeing a great weekend."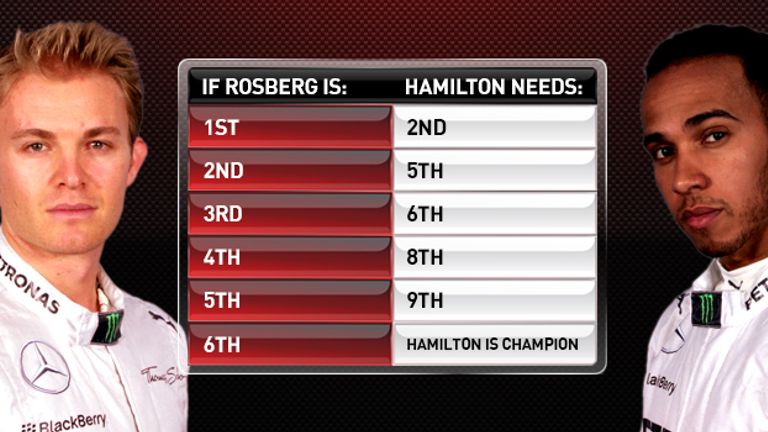 The 2014 Abu Dhabi GP is live on Sky Sports F1 this weekend. Extensive coverage of the title-deciding race begins at 11:30am on Sunday with lights out at 1pm.