Arden's Johnny Cecotto takes pole for GP2 Feature Race in Monaco
Team-mate Mitch Evans completes front row in Monte Carlo
By William Esler
Last Updated: 17/09/13 1:24pm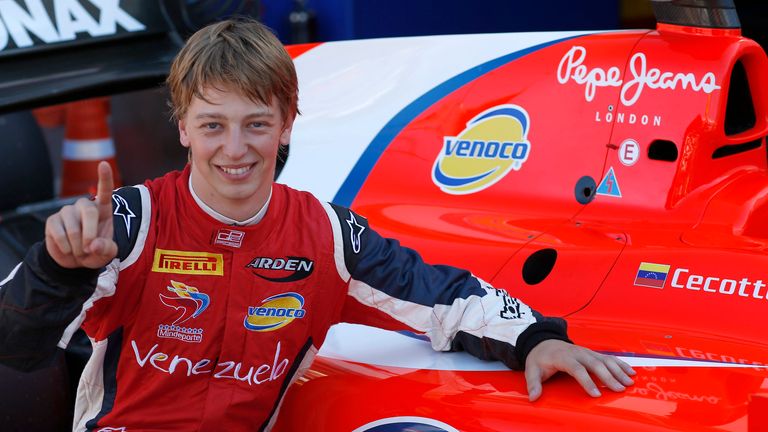 The qualifying session in Monte Carlo takes on a different format to that at every other race on the calendar with the cars split into two groups of 13 cars based on odd or even car numbers. Each group is then given a 15-minute session, with both timed individually.
The driver who sets the quickest overall time takes pole position, with the rest of the drivers in his group filling the odd-numbered grid slots, whilst the fastest driver in the other session lines-up second, with the rest of their group completing the even-numbered side of the grid.
After a slow start to the first part of qualifying as the drivers fought to find a clear section of track on which to complete a timed lap, the action came alive in the final eight minutes.
Cecotto went fastest, before a mistake at Sainte Devote from Jon Lancaster brought out the yellow flags, giving the drivers time to cool their tyres and prepare for one final push for pole.
With three minutes to go, Sam Bird went second quickest as he edged towards the Arden driver's time, but the Venezuelan responded immediately to move half a second clear.
As the chequered flag fell, Bird started his final flying lap, going purple in the first sector, but he lost six tenths in the final two sectors and finished three tenths shy of Cecotto.
The action in the second session was even tighter - 2012 GP2 race winner in Monaco Jolyon Palmer went fastest, but was immediately pipped by Robin Frijns in the Hilmer.
The British driver continued for another lap, however, and was up through the first two sectors before catching Stephane Richelmi at the end of the lap and having to back off.
Despite his tyres now being past their best, the Carlin driver tried once more to find a clear lap and duly improved with a 1:21.198.
Fabio Leimer then pipped him by a hundredth of a second before Mitch Evans went even quicker to finish the session on top, but he was still 0.16 seconds slower than his team-mate had been in the first group.
Session One
1) Johnny Cecotto (VEN) - Arden - 1:21.141
2) Sam Bird (GBR) - RUSSIAN TIME - +0.368
3) Kevin Ceccon (ITA) - Trident - +0.845
4) Julian Leal (COL) - Racing Engineering - +0.951
5) Felipe Nasr (BRA) - Carlin - +1.022
Selected others
9) James Calado (GBR) - ART - +1.536
13) Jon Lancaster (GBR) - Hilmer - +2.302
Session Two
1) Mitch Evans (NZL) - Arden - 1:21.157
2) Fabio Leimer (SWI) - Racing Engineering - +0.028
3) Jolyon Palmer (GBR) - Carlin - +0.041
4) Tom Dillmann (FRA) - RUSSIAN TIME - +0.230
5) Robin Frijns (NDL) - Hilmer - +0.261
Selected Others
13) Adrian Quaife-Hobbs (GBR) - MP Motorsport - +2.171
The 2013 Monaco Grand Prix this weekend is live only on Sky Sports F1. Don't miss out, upgrade or subscribe to Sky Sports today or purchase a 24-hour day pass from Now TV