Le Mans: Toyota and Fernando Alonso on pole position
Can Alonso move one step closer to a Triple Crown by winning Le Mans at the first attempt? He's got a very good chance...
By Matt Morlidge
Last Updated: 16/06/18 7:57am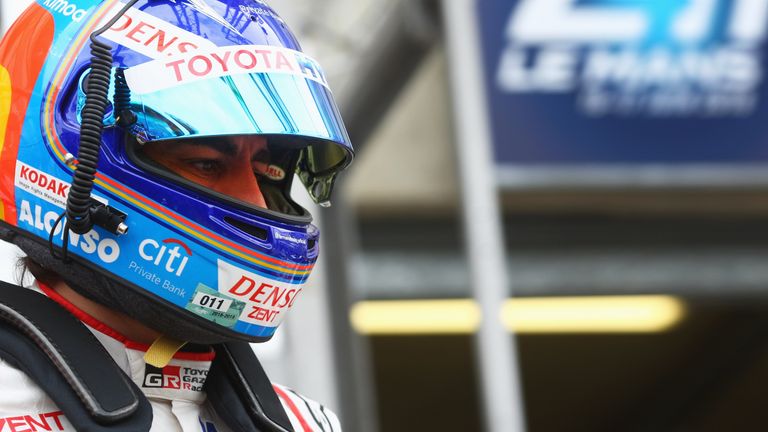 Fernando Alonso and Toyota will start the Le Mans 24 Hours race on pole position after the Spaniard's team-mate Kazuki Nakajima set the fastest time in qualifying.
McLaren driver Alonso is sharing the Toyota car with Nakajima and Sebastien Buemi as he makes his Le Mans debut in a bid to secure the second leg of the triple crown.
Another former F1 driver, Kamui Kobayashi, set the second-fastest time in a rain-affected qualifying session, two seconds down on Nakajima, to guarantee an all-Toyota front row.
The race starts on Saturday afternoon.
Why is Alonso at Le Mans?
The Le Mans 24 Hours offers Fernando Alonso welcome relief from another disappointing Formula 1 season with McLaren, and the chance to display his immense talents in a competitive car.
It also gives Alonso an opportunity to write his name in the motorsport record books - it's been almost 50 years since a driver can claim to have won both the Monaco GP and Le Mans - while it could also have a major impact on his F1 future.
So can Alonso, one of the modern F1 greats whose performances have surely been deserving of more than his two championships, move one step closer towards a momentous Triple Crown?
The Spaniard hasn't been able to say this many times in recent years, but he will line up on the grid as a favourite.
Drivers to have won Le Mans and Monaco GP
| Driver | Le Mans winner | Monaco GP winner |
| --- | --- | --- |
| Tazio Nuvolari | 1933 | 1932 |
| Maurice Trintignant | 1954 | 1955, 1958 |
| Bruce McLaren | 1966 | 1962 |
| Jochen Rindt | 1965 | 1970 |
| Graham Hill* | 1972 | 1963, 1964, 1965, 1968, 1969 |
| | | |
| * Also won Indy 500 | | |
After declaring his interest in taking part in the iconic race for the first time, Alonso was picked up by a Toyota team who, though without a Le Mans win to their name, were only denied by unreliability last year after locking out the front row with their two cars in qualifying.
In 2018, Toyota will be the only factory team in the LMP1 class after last year's winners Porsche pulled out - meaning they will be running against non-hybrid rivals and privateer outfits.
Alonso will drive the number eight car alongside ex-F1 drivers Buemi and Nakajima, who formed a Toyota team with Sky F1's Anthony Davidson last year, and that trio romped to victory at the World Endurance Championship opener at Spa, and dominated practice for Le Mans before Nakajima took pole.
Insiders are already suggesting that while this year's LMP1 class has been opened up to private teams, it is a two-horse race between the number seven and number eight cars, with Toyota themselves targeting a distance record.
Alonso, however, rebuked: "I think this year is the best Le Mans. We normally saw four cars fighting and this year there are 10.
"The people who said there are two [fighting for the win] this year, I think they have never seen the 24 Hour Le Mans."
Current/Ex-F1 drivers in 2018 Le Mans - LMP1
| Driver | Team | Time in F1 |
| --- | --- | --- |
| Andre Lotterer | Rebellion Racing #1 | 2014 |
| Bruno Senna | Rebellion Racing #1 | 2010-12 |
| Kamui Kobayashi | Toyota #7 | 2009-12, 2014 |
| Fernando Alonso | Toyota #8 | 2001, 2003-18* |
| Sebastien Buemi | Toyota #8 | 2009-11 |
| Kazuki Nakajima | Toyota #8 | 2007-09 |
| Jenson Button | SMP Racing #11 | 2000-17 |
| Vitaly Petrov | SMP Racing #11 | 2010-12 |
| Stephane Sarrazin | SMP Racing #17 | 1999 |
| | | |
| *still active | | |
There's a strong F1 presence alongside Alonso in the field, and not just within his Toyota team.
The number seven car's stable includes Kamui Kobayashi, while the Rebellion Racing team - who are expected to be Toyota's main rivals - includes Bruno Senna and Andre Lotterer.
Elsewhere in LMP1, Jenson Button makes his Le Mans debut with SMP Racing alongside Vitaly Petrov.
The LMP2 field includes Pastor Maldonado and Sky F1's Paul Di Resta, among others, while it is also contains a man with a similar agenda to Alonso.
Juan Pablo Montoya, formerly of Williams and McLaren, is, unlike Alonso, just one step away from a Triple Crown having already won both the Monaco GP and Indy 500.
Ex-F1 drivers in 2018 Le Mans - LMP2
| Driver | Team | Time in F1 |
| --- | --- | --- |
| Paul di Resta | United Autosports #22 | 2011-13, 2017 |
| Will Stevens | Panis Barthez #23 | 2014-15 |
| Jean-Eric Vergne | G-Drive Racing #26 | 2012-14 |
| Giedo van der Garde | Racing Team Nederland #29 | 2013 |
| Jan Lammers | Racing Team Nederland #29 | 1979-82, 1992 |
| Pastor Maldonado | DragonSpeed #31 | 2011-15 |
| Juan Pablo Montoya | United Autosports #32 | 2001-06 |
| Felipe Nasr | Cetilar Villorba Corse #47 | 2015-16 |
How would Le Mans victory impact Alonso?
There's the chance to etch himself into motorsport history.
While competing in both championships was frequent many years ago, only four active F1 drivers have won Le Mans in the last 40 years - Nico Hulkenberg being the latest in 2015.
Alonso would also be just the sixth driver to have won both Le Mans and the Monaco GP. Graham Hill was the last man to do so in 1972, and he is the only man to have ever claimed motorsport's iconic Triple Crown.
And Alonso is keen to chase that dream himself, telling Sky F1: "The Triple Crown is an attractive target because it is so difficult to achieve.
Active F1 drivers to have won Le Mans (last 40 years)
| Driver | Le Mans team + year | F1 team |
| --- | --- | --- |
| Didier Pironi | Alpine, 1978 | Tyrell |
| Bertrand Gachot | Mazda, 1991 | Jordan |
| Johnny Herbert | Mazda, 1991 | Lotus |
| Nico Hulkenberg | Porsche, 2015 | Force India |
"These are the three biggest races in the world of motorsport: the Indy 500, Monaco and Le Mans. It is challenging because all three require different style and a different driving technique."
"If you challenge yourself and try to be the best in all areas, you have to be a complete driver.
"I don't want to just be a good driver, I want to be a complete driver and hopefully the best driver in the world."
Victory this weekend would surely therefore make a decision on his F1 future a whole lot easier.
Though McLaren have improved this year with Renault, they haven't challenged F1's Big Three as hoped and Alonso, after four years of uncompetitive cars, is running out of patience.
The 36-year-old has already said he has a "big decision" to make this summer - with IndyCar speculation mounting - and a Le Mans win would almost certainly mean Alonso attempts the Indy500 in the future.
With his F1 fortunes not improving, why would he not think IndyCar is therefore his best solution in 2019 and beyond? Particularly as McLaren are considering entering the series themselves.
It's set to be a big weekend in Le Mans - the start of four races in four weeks for Alonso - and by the end of it we know may a little bit more about his future...
Sky Sports F1 is the only place to watch every Formula 1 Grand Prix, qualifying and practice session live in 2018. Get Sky Sports F1.