Exclusive Graeme Lowdon Q&A: Marussia Sporting Director on engines, appeals & 2014
Will F1 have to turn up the noise? And what of Marussia's points hopes?
By James Galloway
Last Updated: 24/03/14 3:18pm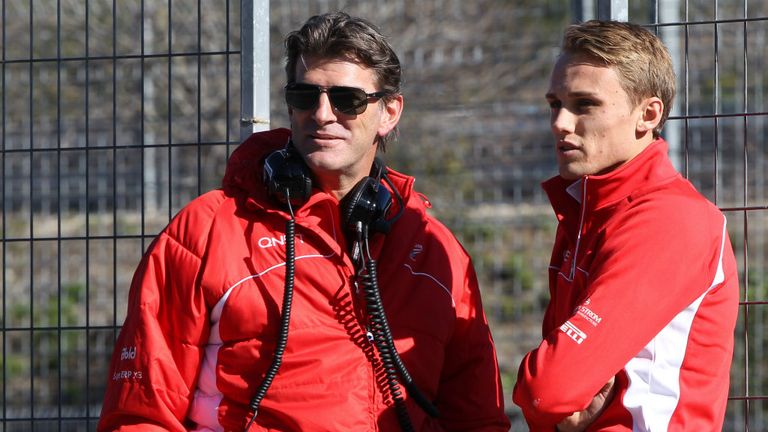 There has been a big outcry since Australia over the quieter sound of F1's new generation engines. Bernie Ecclestone has said he was "horrified", what's your take on it?
Graeme Lowdon: "I wouldn't go as far as to say horrified, but one of the things that we observed was on TV the difference in sound doesn't have quite the same impact. The show so far on TV has been more spectacular than it has been for quite a long time - you can see the cars are moving around and the field's jumbled up a little bit.
"For the TV viewers, who represent by far the biggest proportion of the people who are watching the sport, I think they're set for a fantastic season. I think as well that the spectators who go to the circuits themselves what they're seeing is just a different sort of sound. It's obviously quieter but that allows them to hear a lot of other things that are going on. You can hear cars locking their wheels up and everything, which is a texture that's not been there before. So for the spectators who are at the track there's something different to look at.
"I think where it has changed and there is an impact is that kind of 'wow' factor. For the teams we spend a lot of time taking key decision makers who are looking at sponsoring the team to a race track and one of the things that has always been there is that they're visibly impressed when a Formula 1 car starts up because typically they've been incredibly noisy.
"It's helped to show that Formula 1 really is another world and we've always found that useful and always found that's one of those moments that can make a key change in a decision. Quite often these decision makers are people who don't have an awful lot of time so they might not necessarily be quite so interested in the change in texture of sound and stuff like that, they're looking at the high impact.
"That without any question is a big change and we're yet to see whether that has a negative impact. But it certainly has removed that element of 'wow' factor - call it what you want - but for the fans there's still lots of positives and lots of fantastic things, it's just an element of the whole mix which has now changed."
Do you think there might be a move among the teams or the sport to try and amplify the sound?
GL: "Probably not from the teams because they are just so preoccupied at the minute with just trying to make their cars work, but I wouldn't be surprised if there was a little bit of a move towards that. In particular when we start getting support programmes which will have significantly more impactful noise linked to them, then there could well be that sort of move towards something like that.
"Like all these things, it's a balance. As I said before, at the moment the TV audience, who are significantly the biggest area of people watching Formula 1, I think are seeing a significantly better product than they saw last year. But we have to look at the overall mix, so perhaps there is something that could be done to get the 'wow' factor back."
The other big talking point post-Melbourne was Daniel Ricciardo's disqualification, of course. Red Bull have cited in their defence "immature" fuel flow sensor technology, have your own team Marussia had any particular problems with it during testing or even during the weekend in Australia?
GL: "I think most of the teams have probably observed something. These are massive technical changes that have occurred, so I'd be completely surprised if all of these rule changes were introduced and there weren't any small problems or [differences in] how we should interpret different things. I'd be surprised if there wasn't that.
"For all there were various issues and problems, and certainly we experienced some circumstances on the fuel flow where we had to make some decisions, I think most of the teams made those decisions in accordance with how the FIA thought the teams would act, which is to err on the side of ensuring that your car is safe and legal at all times, which is the stipulation that's in the Sporting Regulations. I know whenever we were presented with a decision to make we took it into accordance with the guidelines that have been issued with the FIA."
Red Bull are obviously pushing ahead with their appeal and there's been some talk that this kind of technical issue with the new regulations could dominate the season, resulting in more post-race disqualifications. Is there a worry that due to the complexity of the rules there could be a lot of challenges to the FIA, particularly if Red Bull win their case?
GL: "I certainly hope not because the fans don't like that. They want to switch on, watch a race and then know who's won it and not have to stay up another day or something like that to find out who actually won or who came second or whatever. So I certainly hope we don't have that kind of thing.
"Obviously the International Court of Appeal is the final arbiter on these things, so there is a process which is well laid out. My own view is, and it's purely a personal view, that it would open the floodgates to all sorts of things if this appeal were to be successful because, yes, the ICA is the final arbiter, opinions given by the FIA outside of the Technical Regulations are meant for guidance and they are guidance, it doesn't constitute part of the Technical Regulations as such, but I think some things should be reasonably straightforward.
"If Red Bull chose to ignore the guideline from the FIA then they will have only done that to make their car go quicker - there's no reason why they would have done anything other than that. Therefore if that was the approach that every single team took then without any question every single result would always be decided in the International Court of Appeal, and that's not really what it's meant for and it wouldn't be good for the fans and, you'd argue, it wouldn't be good for the sport."
We've seen plenty of examples over the years where a key result has been overturned several hours after the end of the race. In this latest case the stewards were dealing with complex issues, would it be possible to have more instant judgement?
GL: "That's why we have this system where the FIA give their opinion. It happens on things all the time. We seek Charlie Whiting's opinion on a lot of things and he gives it and I think there's a general view that it's good for the teams to follow that advice, even though it might not necessarily constitute a part of the Technical Regulations.
"It is an opinion and if we were just to ignore all of those opinions and constantly test them in a court then the sport would just stutter along endlessly. From what I understand, a number of teams were given advice by the FIA on what they should do with regard to fuel consumption and I think most of them followed it. It really is going to be difficult for the sport to operate races in a way that the fans are really going to understand if the advice is simply ignored because you can make a car go quicker.
"It's not good for Daniel [Ricciardo] either. He drove pretty well but the team made a decision to allow his car to go quicker. As I say, I'm sure they wouldn't have made the decision to make it go slower, so you have to assume it made the car go quicker. For sure they would have known that certainly if they're doing it against the advice of the FIA they would have known that the stewards would pick up on it. So why they would really want to challenge that I'm not too sure - it's quite a risky strategy really."
Looking at Marussia's Australian weekend, getting two cars to the finish might have looked a massive challenge in itself a month ago, so you must be pleased with that?
GL: "We didn't get the mileage in pre-season testing that we wanted, that's absolutely for sure, but every time we've run the car we've learnt something. We had really good reliability last year and we were really keen to bring that into this season because it looks as if reliability is going to be rewarded.
"I guess we had two frustrations over the weekend. One was I really felt we could have been in Q2 on pace. So that was a little bit frustrating because I think we didn't show as well as we could have, we could have really turned a few heads there. So that was a little bit of a shame for everyone after all the hard work that had gone in, but these things happen. Then in the race itself we had just the worst possible start, one car having a problem at the start of the formation lap and then having a problem to abort the start.
"We had something similar in China 2010 but 2010 we were designing and building race cars at the same time we were building factories and hiring people! That still is the biggest challenge we've faced, way bigger than the 2014 challenge. So I thought those days were long gone and then when I heard all the intercom traffic at the start I just thought 'oh no', especially after we've worked so hard, and it turned out to be really tiny software problems and scenarios and combinations of scenarios which hadn't arisen [in testing]. Certainly they're things that can be ironed out so they won't happen again, but that was a bit frustrating because clearly the cars were perfectly capable of doing the race distance; they both took the chequered flag. It would just have been so much nicer for us to have started with everybody else and got away.
"Although that said, maybe they could have got collected in the Kobayashi incident if that had happened because normally our cars are pretty good off the line and we did get collected a few times last year. So if there's one saving grace then it was that we avoided that carnage."
There were a lot of Doomsday scenarios doing the rounds during the winter about how many cars would finish in Melbourne, so the fact 15 were running at the end was a bit of a surprise. So, with that in mind, do you still feel there's going to be opportunities, particularly in these opening flyaway rounds, for Marussia to score their first point?
GL: "Yeah I think so. I don't think we showed our true pace in particular in the race and there were various reasons for that. So I do think that pace-wise we have made a step forward, it's just I don't think we've really shown that yet.
"I think the first four flyaways in particular still represent quite an opportunity for mayhem because typically it's when the cars get back to Europe and Barcelona the more major fixes get applied and the like. As we found in the race with our start, there are scenarios occurring all the time with versions of software and all sort of things that seem quite minor and then you can trip up.
"The key thing for us is to make sure we're as reliable as we possibly can and all the things that are within our remit to keep reliable, so the mechanical side of the car and everything, we've just got to work as hard as we can to make sure if the opportunities arise we're not stuck on the grass at the side of the track."
And just looking at the challenge the sport as faced as a whole with these new regulations, do you think it's even bigger than people envisaged six even months ago, for instance?
GL: "I think right from the very start everybody's technical department looked at it and thought 'wow, this is a proper job and this is quite a challenge'. I guess we looked at it in a funny way because we wanted one of two things for this season: we either wanted everything to stay the same so that we could finish catching up, or for there to be a radical change.
"So we welcomed the fact that at least this is a big change, not a middle of the road thing where we get caught between two stools. That said, we don't have the resources that some of the bigger teams have and one thing that's been shown already is you can buy your way out of problems in this sport. Certainly with the budget we have we couldn't afford to do that so we had to get everything right. So the biggest issue for us was that although we were limited in mileage in pre-season testing, the main thing was we didn't see any show-stoppers. We know what we need to do to improve speed, we know where we need to develop the car and everything like that.
"In terms of a challenge, for us 2010 made this look like a walk in the park! It is quite funny how some of the other more established teams who obviously didn't have that same challenge that year, so many people came up to us in Melbourne and said 'my god, I can see what you guys were doing now in 2010'. So I think from the operational side it's not as big a challenge as we've had in the past. It's going to be fascinating to see how the next few races go."