Force India slam 'unacceptable' Sergio Perez-Esteban Ocon crash
"We're back to the old rules," says Otmar Szafnauer as Perez and Ocon collide again; Force India endure miserable Singapore GP
By Matt Morlidge
Last Updated: 06/12/18 10:38am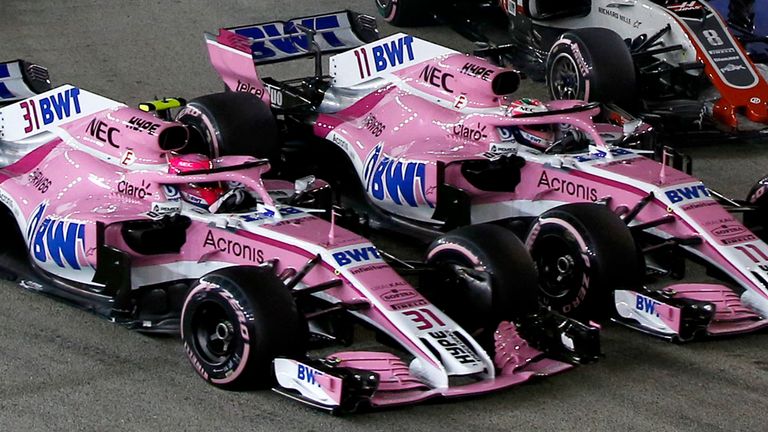 Force India have branded the Singapore GP collision between Sergio Perez and Esteban Ocon "unacceptable" and declared the pair will not be able to battle each other in future races.
The drivers, who both started inside the top 10, came together at the start of Sunday's race as Perez shunted Ocon into the wall after the Frenchman attempted an overtake around the outside at Turn Three.
The crash, which stewards decided was a racing incident, ended Ocon's race while Perez endured a penalty-littered evening and struggled to 16th.
Hamilton turns on style to win
Vettel: We beat ourselves
"It's unacceptable for them to come together like that in an area where there's no run-off room," an angry team boss Otmar Szafnauer told Sky F1.
"If it's your team-mate, you've got to give them room."
Perez and Ocon have had multiple clashes during their two-year partnership, and Force India enforced team orders on them after their collision at the 2017 Belgian GP.
And Szafnauer says those rules will now be returning.
"We're back to the old rules," he added. "The team is more important than one individual. If that's what they're going to do, we'll have to take control from here.
"We allowed them to race on Lap One whereas in the past we didn't let them race on Lap One and now we can remove that."
What the drivers said
Sergio Perez
"It was very unfortunate, one of those which is very hard to avoid.
"As I'm picking up the power I get a clip from one car, I didn't even realise that it was Esteban. I was very sorry for that.
"I'm just very sorry for the day the team had in general. I wish I could have seen Esteban there or something would happen differently. A tough day for us, but this is racing."
Esteban Ocon
"I had a great start and a great opportunity with good grip to go around Checo and the next thing I felt was a hit and I was in the wall.
"What I'm going to analyse is that we had great pace the whole weekend, it was supposed to be a great weekend for both of us and now I've come out of the race with 0 points and that is terrible."