Future stars?
Max Chilton, Rio Haryanto, Valtteri Bottas and Ma Qing Hua all took part in the young driver test, but who are these young stars?
By William Esler
Last Updated: 14/07/12 5:06pm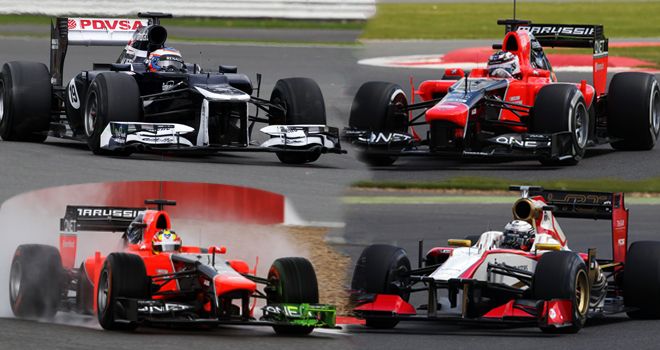 Max Chilton
Age - 21
D.O.B. - 21st April 1991
Nationality - British
Current Series - GP2
Current Team - Carlin Marussia GP2
Current position - 5th after 14 races
Like most young drivers, Chilton started his motorsport career in Karting, before graduating to the now defunct T-Car Championship for drivers aged 14-17 in 2005.
He finished runner-up in the drivers' standings in his second season and stepped up to British Formula 3, with the Arena team who also ran his brother in the British Touring Car Championship.
2008 saw a switch to Hitech Racing and Chilton's first pole position and podium finish in British F3. In 2009 he joined Carlin and took his first victory in the series in the final race of the season at Brands Hatch. He finished fourth in the standings, 104 points behind runaway winner and Carlin team-mate Daniel Ricciardo (now driving for Toro Rosso).
Chilton moved to GP2 in 2010 with Ocean Racing Technology and scored three points in his debut season. In 2011 Carlin entered GP2 and Chilton switched back to the British squad, finishing 20th in the standings with four points.
Marussia backed the Carlin team for the 2012 season, and results immediately improved. Chilton scored his first ever GP2 podium at the season opening race in Malaysia and currently lies fifth in the standings with 95 points.
"It was a great experience to be called up drive a Formula 1 car, it is what any driver dreams of really," Chilton told Sky Sports.
"It is my second time in a Formula 1 car and I thoroughly enjoyed it. It was great to be at an English track with an English team.
"I'd love to say there is a big chance (of being in F1 in the future), but I've just got to keep doing what I'm doing in GP2 and we will see what happens at the end."
Rio Haryanto
Age - 19
D.O.B. - 22nd January 1993
Nationality - Indonesian
Current Series - GP2
Current Team - Carlin Marussia GP2
Current position - 15th after 14 races
Haryanto has spent most of his career racing in Asia, where he picked up multiple Karting titles. In 2008 he competed in Asian Formula Renault, Asia Formula Renault 2.0 (where he finished third in the standings) and Formula BMW.
In 2009 the Indonesian took the Formula BMW Pacific title, dominating the Championship winning 11 of the 15 races.
He moved to GP3 for the series' inaugural season with Manor Racing (who were also making their F1 debut with the Virgin team) and he finished fifth in the drivers' standings, taking a race win in Turkey.
The team was rebranded as Marussia Manor Racing in 2011, highlighting the team's links with the Formula 1 team, and he finished seventh in the standings, taking race wins in Germany and Hungary.
Haryanto stepped up to GP2 in 2012 with Marussia Carlin and is currently 15th in the standings with 27 points.
"It was a great experience. As we all know track testing is limited and for a young driver to get the chance it is really good experience for the future," Haryanto said.
"The F1 car is so much quicker than the GP2 car, particularly through the high speed turns with the aerodynamics. I was 10 seconds quicker today, and was shocked at how much speed I could carry (into corners) with the F1 car today."
Valtteri Bottas
Age - 22
D.O.B. - 28th August 1989
Nationality - Finnish
Current Series - N/A
Current Team - Williams F1 - Test driver
Current position - N/A
Bottas started Karting aged six and spent 11 years honing his skills and winning many titles along the way. He also became part of the Finnish national Karting team in 2002.
In 2007 he made the switch to single-seater racing and finished third in the Formula Renault Northern European Championship, taking two wins. Later that season he contested four races in the Formula Renault 2.0 UK Winter Series, winning three times and finishing second in the other race.
In 2008 he continued in Formula Renault NEC and also competed in the Formula Renault Eurocup, taking both titles.
In 2009, Bottas moved to the Formula 3 Euroseries with ART and finished third in the standings. He repeated that feat in 2010 and became an official test driver for the Williams F1 team.
2011 saw a switch to GP3 with ART. After a disappointing start to the season, the Finn picked up four race wins at the final four race meetings of the season on his way to the title.
In 2012 his role with Williams was expanded to include running during first practice sessions on Formula 1 weekends.
"I was able to get so many more laps today than on a Friday (during Practice 1) and had so many more tyres and no traffic so was able to do my own test.
"It was really useful to gather some information on how the tyres behave over the various runs and I feel that I am continuing to improve as a driver."
Ma Qing Hua
Age - 24
D.O.B. - 25th December 1987
Nationality - Chinese
Current Series - N/A
Current Team - N/A
Current position - N/A
Ma Qing Hua has competed in numerous series around the world during his short career. In 2005 he competed in the Asian Formula Renault Challenge, and also made a one-off appearance in the Italian 3000 Series (now Auto GP). He also contested the Chinese round of the A1GP Series for Team China that winter.
In 2006 he got a further taste of racing in Europe when he contested six rounds of the Formula Renault Northern Europe Championship, with a best finish of 13th at Zandvoort.
Qing Hua spent 2008 racing in Spanish Formula 3, before contesting two rounds of British F3 in 2009, racing in the national class.
In 2010 he raced in the in the Chinese round of the Superleague Formula series for Team China. It was the only official round of the series that the team contested.
The 24 year old switched to touring cars in 2011, winning the 1600cc class of the Chinese Touring Car Championship.
"It was a fantastic feeling to drive a Formula One car for the first time. It's not easy to put into words what I felt.
"But I'm very proud to represent China and be a pioneer for my nation in this sport.
"I'm confident these tests, and the ones that will come in the future, will help motorsport grow in China and will grant more opportunities for everyone."