How should F1 remember Mark Webber?
In a sport all about timing, Sky Sports F1 expert Mark Hughes explains why the stars never quite aligned for the retiring Aussie
By Mark Hughes
Last Updated: 28/11/13 2:04pm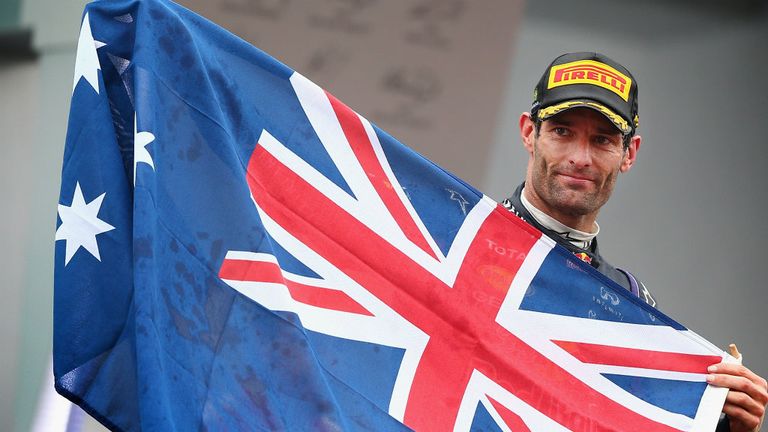 But how should we recall Mark Webber, the driver?
His career will forever be defined by that agonising moment at Korea 2010 when he essentially blew the World Championship. He crashed out trying to keep up with a team-mate in tricky wet conditions when he had no need to be doing so.
Yet back in 2007 Fernando Alonso blew the World Championship by crashing out at Fuji - trying in tricky wet conditions to keep up with a team-mate he had no need to be racing. But because Alonso had already won titles, the 2007 incident does not define him.
Although his F1 career lasted 12 seasons, Webber's window of opportunity for demonstrating his full potential was actually very limited. Only in 2010 did he have both a fast car and tyres that did not unduly punish his driving style - and he duly went head-to-head with the great Sebastian Vettel for a world title. In a team that had, not unnaturally, come to be based around Vettel, a man 11 years younger. What might have been Webber's peak years, as a guy in his mid-20s in a tyre-war era with rubber that perfectly matched his strongest asset, was wasted in second-rate machinery.
The core skill of Webber, the thing he does arguably better than anyone else, is extract every ounce of potential from the car through fast, aerodynamically-loaded corners. Right to the end, as a 37-year-old about to retire, he still held a small edge over Vettel in any fast sections.
Webber's problem was that Vettel held a bigger advantage through the slow sections - which have for the last few seasons been all about adapting driving technique to the effect exhaust-blowing has on the balance of the car - than Webber held over him in the fast sections. Furthermore, there is always more lap time to be found in slow corners than fast ones, simply because the car is in them for longer.
Back in his Jaguar days (2003-04) Webber consistently transcended the level of his car in qualifying. It was a mediocre, midfield machine at best yet he invariably put it in places on the grid it had no right being. It had Michelin tyre war tyres that had huge grip over a single lap, even on a car, like the Jaguar, that was abusing them.
Webber had a very special feel for the braking grip of them and how quickly that grip came off as the speed came down in the braking zone, so he could modulate the pedal supremely well. At the beginning of a braking zone from high speed, with lots of downforce on the car, your retardation rate was initially determined simply by how hard you could press the pedal. Webber could always achieve more than anyone else.
But as the downforce bled off the car as the speed came down, then you'd need to modulate the pressure and the more sensitively you could do this, the longer you would stay at the tyre's grip limit. He was fantastic at it, as any number of race engineers attested.
The move to control tyres (from Bridgestone) in 2007 took away some of that advantage as the rubber was not as high performance as that of the tyre war. The move to Pirellis (in 2011) that were much less durable than the Bridgestones hurt him further in that fast high-downforce corners ripped them to shreds - so he could no longer use his advantage over Vettel in the races.
At much the same time came the arrival of exhaust-blowing technology - the intricate, mental dexterity required to get the best from this in terms of using the throttle was perfect territory for Vettel and worth a lot of lap time. This came along towards the end of 2010 and took off in a big way in 2011.
The brief neutralising of the feature at the beginning of 2012 as Red Bull initially struggled to adapt to new restrictions on the technology restored Webber to level-pegging for speed with Vettel. But as soon as the feature was restored to full power, Vettel was back in the ascendant.
Webber was born too late. Had he been a 25-year-old in an active ride Williams in the 1990s - where being committed through the fast corners was an absolute key to maximising the technology - his talents would have melded with the demands as perfectly as Nigel Mansell's.
MH