Nico Rosberg's Spa code of conduct shaped by critical moments in Hungary and Bahrain
Sky Sports F1's Mark Hughes explains how events earlier this season influenced Nico Rosberg's approach to tackling Lewis Hamilton in Spa
Last Updated: 28/04/15 12:04pm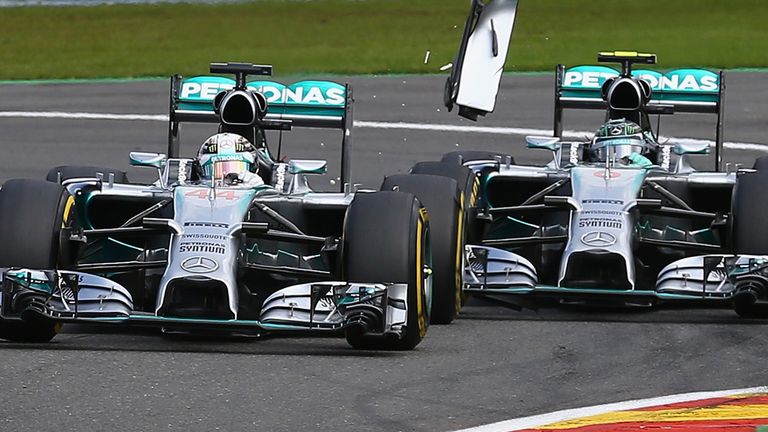 Lap 52 of the Bahrain Grand Prix in April: Nico Rosberg was trying to pass Lewis Hamilton around the outside of Turn Four. What happened in the following moment was at the root of their clash in Spa last weekend.
Rosberg entered the Bahrain corner alongside but partly behind his team mate. But from the outside line his speed into and through the corner was potentially much less compromised than Hamilton's. So by around three-quarters of the way through the turn Rosberg was almost – but not quite – completely level. Only at this point did Hamilton begin to edge out towards Rosberg, forcing him to back off and concede the corner. "That was unacceptable," said Rosberg over the radio immediately.
On the final lap of the Hungarian Grand Prix Rosberg was again trying to go around Hamilton's outside – at Turn Three of the Hungaroring. He had got his car around three-quarters of the way alongside Hamilton's as they reached the exit kerb – and Hamilton then simply chopped across his bows, staying out wide on the kerb and again forcing Rosberg to concede. This time Rosberg had no problem with Hamilton's defence – as he later explained, saying: "It's up to the guy behind to get far enough alongside to prevent the guy ahead from being able to cut him off and I didn't quite manage to do that."
The distinction between the two incidents is how far alongside Rosberg was on each occasion. In Rosberg's interpretation of racing etiquette, Hamilton transgressed in Bahrain, but not in Hungary.  But we are talking here about individual drivers' interpretation of what is acceptable – not of breaking any sporting rule. A driver must leave at least a car's width of race track for his rival (the race track being defined as having at least one wheel inside the white line defining the outer edge) but the regulations do not get into the fine detail of when in a corner it is permissible for one driver to start leaning on another, nor of how far alongside the challenging driver must be before the other has to yield.
These are intuitive, of-the-moment split-second decisions that will vary from corner to corner, situation to situation and cannot be legislated for. Drivers develop their own code for such situations. The stewards can, however, judge a move to be dangerous and apply a penalty – and that process has been aided immeasurably in the last few years by having at each grand prix a highly experienced driver - usually ex-F1 – as one of the stewards. In Spa the driver steward was Emanuele Pirro.
Because each driver has his own definition of what is acceptable etiquette as the margins of a dice are being squeezed, there is always potential for strong disagreement. Rosberg felt that Hamilton broke Rosberg's own code in Bahrain. But it's only his code. Others – Hamilton included – don't share that code. There is a narrow, albeit risky, nebulous area that can be worked between what one driver might deem the acceptable limit and what might be judged as dangerous.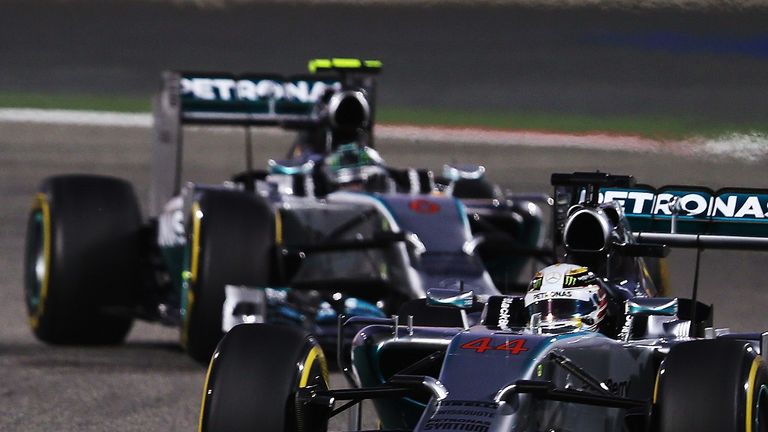 As car and circuit safety improved in the 1980s there crept into racing the mentality that it was acceptable for a driver trying to make a pass to simply aim himself at the car ahead, essentially giving the guy ahead the option of moving aside or having a collision. Alan Jones was one of its early exponents and it was subsequently taken up by Ayrton Senna and Michael Schumacher. It was only used in extremis but there was nothing in the regulations specifically prohibiting it – and there still isn't.
For a great case study, see Schumacher's move on Jean Alesi at the Nurburgring for the lead of the 1995 European Grand Prix. There wasn't room if the guy ahead stayed on his line – but the guy ahead was essentially bullied out of the way. It's a risky strategy for if the guy ahead refuses to back down and the accident ensues, it's the attacking driver's fault. But such a move, even if it did result in contact, would not automatically be judged as dangerous.
Context is everything and what Rosberg did on lap two at Spa last weekend was not judged as such. He declined to surrender a place that, conventionally, he had already failed to make work – once into the corner his front wheels were never any further forward than level with the front of Hamilton's sidepod. But he's not obliged by any regulation to surrender at this point. He's perfectly entitled to attempt to bully the guy ahead out of the way by leaving the nose of his car there. To suggest it was a deliberate attempt at puncturing Hamilton's tyre is ludicrous - as Sky F1's Martin Brundle later pointed out: "The chances of puncturing the other guy's tyre if you hit him from behind: about 30%. The chances of damaging your own front wing: 100%," – but to effectively place the decision of contact in Hamilton's hands is not necessarily dangerous; it's just racing. Hard and resolute, ruthless even. But not necessarily dangerous and therefore not necessarily worthy of a penalty.       
The stewards judged at Spa that Kevin Magnussen's move to the right on the Kemmel straight as he went to lap Marcus Ericsson's Caterham, when Fernando Alonso was already partly alongside Magnussen on the right, trying to pass, as dangerous. Alonso had to put half his car on the grass at over 200mph to avoid what would have been a potentially enormous cartwheeling accident. Magnussen was duly penalised. The difference in speed, in the likely outcomes of contact, of the two situations are starkly different.  
What Rosberg decided to do at Spa in the split-second of the moment was to be belligerent with Hamilton, just as he felt Hamilton had been with him in Bahrain. It was, as he was confirmed to have said in the debrief, to prove a point. With a comfortable points advantage over Hamilton going into the race it was a point he could more afford to prove – i.e. Lewis could less afford a collision than he. In other words, this was nothing more than classic, hard racing. Rosberg's actions naturally displeased his team enormously in that it cost it an easy 1-2. But from a racing perspective he did nothing wrong - just as Hamilton did nothing wrong from a racing perspective in Bahrain. The other driver disagrees in both instances – which is hardly surprising.
Niki Lauda said a few races ago that F1 had become over-regulated and too sanitised, that penalties were applied too readily to drivers trying to race. He was absolutely right. Hard racing that sometimes results in contact and controversy is as the core of what the sport should be about. In the meantime, the stewards are there to prevent that escalating into outright dangerous moves. The controversy and noise about the Spa Hamilton/Rosberg clash is out of all proportion to what was ultimately a light contact at low speed resulting from two hard-headed drivers fighting for the world championship.     
MH