2014 Singapore GP analysis: Delving into the detail and strategies from the race
How Hamilton put the hammer down, why the Safety Car didn't work out for Alonso, and how Vergne made light of his time penalty
By James Galloway and William Esler
Last Updated: 23/09/14 2:21pm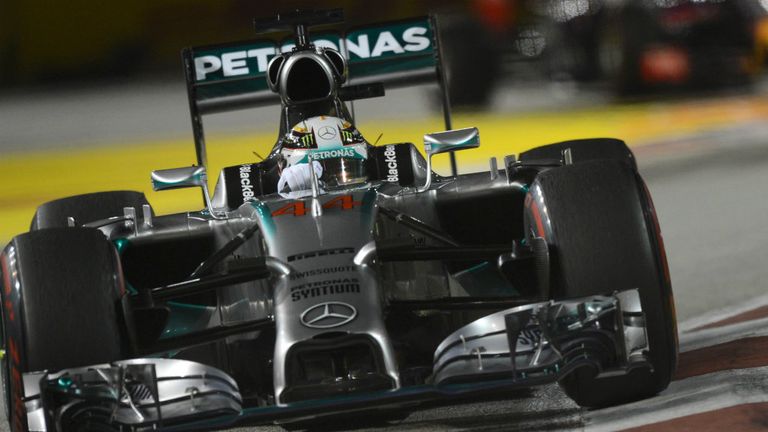 How did 'Hammertime' make the difference?
As the 1990 song of enduring longevity goes, 'you can't touch this'. Or, in the case of Sunday's Safety Car-enlivened Singapore GP, the challengers couldn't touch Lewis Hamilton. That fact had already been established to a lesser extent through the first two stints of the race when the Briton eased away from the Nico Rosberg-less field. Hamilton's advantage over then closest pursuer Fernando Alonso was just a fraction under six seconds when the race was neutralised on lap 31 for the front-wing debris strewn across the circuit in Sergio Perez's tangle with Adrian Sutil.
Stop, Hammertime: How Lewis built the gap to Seb
End of lap 37: Race restarted.
Lap 38: 3.294 seconds.
Lap 39: 5.844s.
Lap 40: 7.610s.
Lap 41: 9.713s.
Lap 42: 11.580s.
Lap 43: 13.551s.
Lap 44: 15.316s.
Lap 45: 17.369s.
Lap 46: 18.769s.
Lap 47: 20.396s.
Lap 48: 21.157s.
Lap 49: 22.733s.
Lap 50: 24.014s.
Lap 51: 25.276s.
Lap 52: Hamilton pits.
Having wiped out their hard-earned advantage, the Safety Car presented Mercedes with two strategy alternatives: pit again immediately to make the mandatory switch to the soft tyres – ala Ferrari with Alonso – or hold track position and send Hamilton on the attack in order to try and build enough of an advantage to pit towards the end of the race and still win. Thankfully, for the spectacle of the final 23 laps, the Merc pitwall chose the latter and F1 fans were treated to a no-holds-barred 15 laps of 'Hammertime'.
With the advantage of supersoft tyres which had completed just four full-speed laps prior to the seven-lap-long SC phase, Hamilton had the tyre life – and, of course, the fastest car in the field – as his basis from which to surge flat-out and the 3.2-second gap he opened up on Sebastian Vettel on the restart lap alone firmly underlined his intention. In total, Hamilton opened up a 25-second lead over the Red Bull in just 15 laps – an average speed advantage of 1.7-seconds per lap. While it may not have quite been enough to pit and join the track back in the lead, such was the advantage of fresh tyres that it took him just one lap to get back ahead. Job done.
In fact, Hamilton's post-Safety Car surge bore remarkable resemblance to the one Vettel himself performed at Marina Bay 12 months when the F1 world remained very much a Red Bull-dominated arena. On that occasion, Vettel lost a 13-second lead to a mid-race pace car and then had to put the hammer down at the restart to build a gap over the cars behind that were attempting to run without stopping again. By remarkable coincidence, Vettel also opened up a 3.2-second lead – over Rosberg – on the first restart lap and then actually exceeded Hamilton's 2014 rate of progression by gaining a full 30 seconds over second place in just 14 laps.
Both wins aptly demonstrated just what happens when the fastest car on the grid is truly let off the leash.
Did the Safety Car cost Fernando Alonso second?
Fernando Alonso felt the timing of Sunday's Safety Car robbed him of a potential second-place finish in Singapore, so could the Spaniard have climbed onto the podium for the third-time this season? When the Safety Car was deployed to recover the debris from Perez's Force India on lap 31, the Spaniard was running six seconds behind Hamilton, six seconds ahead of Vettel and 15 seconds clear of Ricciardo. Prior to that Alonso was pulling away from Vettel at around a second per lap – helped by running on the supersoft tyres compared to the German's softs - having used the undercut to leap ahead of the Red Bull at the second round of stops.
"We were a little bit unlucky with the Safety Car really, when it happened we found ourselves with the supersoft," the Spaniard told Sky Sports F1. "With Hamilton the strategy worked, but he has a two-second per-lap advantage to open the gap enough to do the final stop and we don't have that margin. So we stopped and in the end we were not able to overtake the Red Bulls on fresh tyres. The strategy was good, but just the timing of it was a little bit unlucky."
Alonso pitted behind the Safety Car on lap 31 and dropped behind both Red Bull cars, leaving him with tyres which were only four laps newer than Ricciardo's and six fresher than Vettel's. That, however, wasn't enough to make a difference and for the next 20 laps the gap stayed at a steady two seconds between each car before slowly tightening at the end of the race.
Having run for 12 laps on each of his opening stints on the supersoft tyres, it is likely Alonso's third and final stop would have come between laps 36 and 40, by which stage his advantage over Vettel would have been between 18 and 22 seconds had the current trend continued. The average time in the pitlane across Alonso's three stops was 28.904 seconds so he was always likely to re-join behind the two Red Bulls even without the Safety Car's intervention. However, by that stage the difference in tyre degradation would have been higher – particularly given the Red Bulls would not have had seven laps behind the Safety Car to cool their tyres. Indeed it may even have forced them into a third stop themselves. Thus, it appears Alonso has a case and would likely have finished second had the race not been neutralised.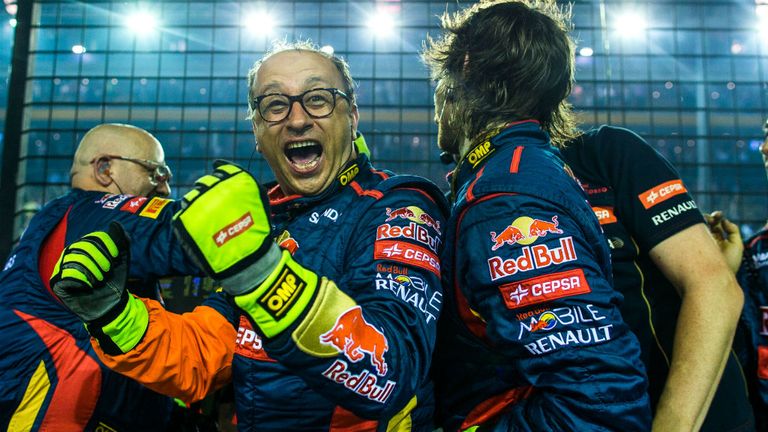 How did Jean-Eric Vergne finish sixth?
Jean-Eric Vergne showed an incredible turn of pace in the final three laps as he went from ninth to sixth and opened up enough of a gap to negate a five-second time penalty at the chequered flag.
The Frenchman was cruising to the finish in Singapore as everyone nursed their tyres to the flag, but when Toro Rosso radioed him to inform him of the time penalty for "gaining a last advantage by leaving the track at Turn Seven" – the second occasion the stewards had pulled him up for the same offence – and he was in danger of falling out of the points, they must have wondered where the surge in pace that followed had been before then.
Vernge was handed the penalty with only four laps remaining and having been given the hurry-up, he quickly dispatched the Force India of Nico Hulkenberg before then chased down Kimi Raikkonen and Valtteri Bottas, lapping over four seconds quicker than the pair as he passed them on the penultimate lap. The move on the Ferrari driver was particularly bold with a late lunge into Turn One leading Martin Brundle to exclaim "wow".
He would lap even faster on the final tour, within two tenths of Hamilton and between three and five seconds faster than the cars around him. That enabled him to open up a seven second gap to Sergio Perez, who got past Raikkonen and Bottas on the final lap, and effectively render the five-second penalty meaningless.
"I had to push as much as possible in the last laps and pull away and this is what I've done," Vergne said after the race. "I had a lot of fun overtaking the ones in front of me, an incredible race."
One caveat was that Vergne was running on fresher tyres than those he was racing after pitting for a third time on lap 44, but his pace in comparison to Hamilton who pitted on lap 52 still proves that it was an impressive performance from the Frenchman as he bids to stay in F1 next season.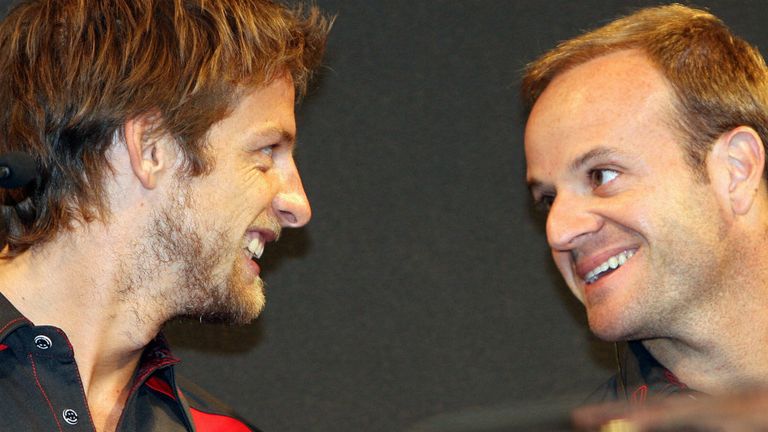 When did Button last win an intra-team qualy duel?
There's still enough time for McLaren's experienced team leader to emerge on top in his qualifying head-to-head with Kevin Magnussen this year, but Jenson Button's sixth Q2 exit of 2014 at Marina Bay condemned him to his eighth Saturday defeat to his rookie team-mate in 14 races this year. Yet, for a driver who has openly admitted himself that his single-lap speed is not his ace card, perhaps that record shouldn't be regarded as all that surprising given the record books show that Button hasn't outqualified any team-mate over the course of a season since back in the days before he was a World Champion, at Honda in 2007.
Since edging that '07 battle with Rubens Barrichello 9-8, Button was beaten by the Brazilian in their final two seasons as team-mates – which includes JB's 2009 title-winning campaign – and conclusively so by Lewis Hamilton across their three years together at McLaren. Sergio Perez also won out last year in qualifying, despite the fact the Mexican was unceremoniously dropped at season's end.
Still, for all of that, and showing that starting position is not always everything in F1, it has been Button who has accrued more total points compared with the combined scores of his various team-mates on race day since the start of the 2008 season – 915 versus 833 up to and including Sunday's race. Sunday consistency remains the 34-year-old's calling card.
Button's recent qualy head-to-heads:
2014: Magnussen 8 Button 6 (season ongoing).
2013: Perez 10 Button 9.
2012: Hamilton 16 Button 4.
2011: Hamilton 13 Button 6.
2010: Hamilton 14 Button 5.
2009: Barrichello 10 Button 7.
2008: Barrichello 10 Button 8.
2007: Button 9 Barrichello 8.
Note: Grid penalties discounted but disqualifications counted