Tough love for F1 in Australia
Sky Sports F1's Martin Brundle reviews a tough weekend for F1 in Australia - and for all those who love the sport.
By Martin Brundle
Last Updated: 01/04/15 2:31pm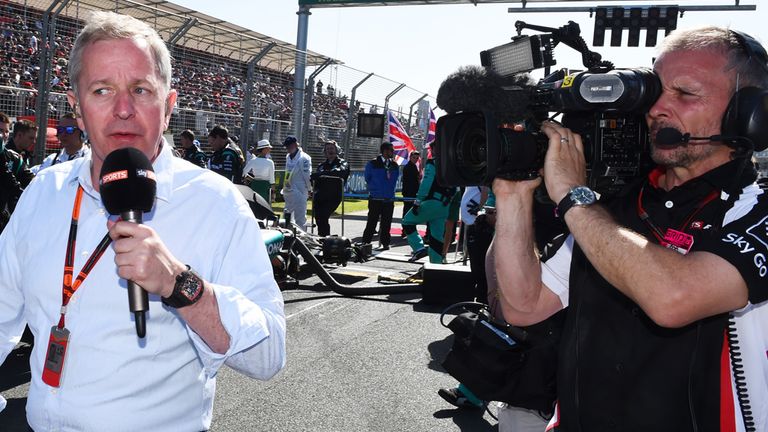 Let's look at the positives first.
The Australians put on yet another great overall event with wall-to-wall action on the track, in the sky, and out in the public areas. They've negotiated a position in Melbourne where they control the racing schedule and it makes for a much better spectacle than some events we go to where very little happens except the GP such as Sao Paulo.
The new young stars on the F1 grid did a fine job showing speed, control, and aggression in equal measures. That will generate both inspiration and abject misery for the plethora of supremely well prepared young drivers who will take the satisfaction of confirmation that their generation is very good, while wishing it was them who had the chance to prove it.
The average age of the grid was the youngest ever at well under 27. This bodes well and the likes of Max Verstappen, Felipe Nasr and Carlos Sainz represent themselves and F1 very well.
Another positive has to be the return to form of Ferrari, and therefore the Ferrari-engined Sauber too, just as it will eventually Manor and Haas. Maurizio Arrivabene, the new Ferrari team boss, has impressed me with his motivational and open style. In Melbourne, he was much more likely to be found engaging allcomers in the middle of the paddock rather than hiding behind a hospitality partition. Like Flavio Briatore, he probably doesn't know too much about the car, but he employs others for that. It's great to hear Ferrari talking about taking the fight to Mercedes and not having to make excuses.
It wasn't a great race of course, and that's being kind. I've commentated on much worse mind you and well remember shrugging shoulders in unison with the great Murray Walker in the commentary box during an advert break on ITV wondering what the hell to say next.
The record of least classified finishers was four in Monaco 1966, the first year of the 3.0 litre motors. We've actually had as few as three cars running at the finish in Monaco 1996 and very often less than the 11 who saw the chequered flag on Sunday.
Fifteen cars starting the race was a shocker, having lost Valtteri Bottas to a back injury and Danny Kyvat and Kevin Magnussen on the formation lap. That's the problem when you have minimal cars showing up, when a first-corner shunt can also decimate several more especially in these days of few red flags and no spare cars.
Formula 1 is supposed to be the pinnacle of motor sport and so watching the Manor GP cars being built through the event was painful. It's our shop window to the world. Build them properly in the factory, shake them down at a track or airfield, then take them to the track when they are ready. I see no point in transporting all that freight and personnel to Australia and back to Malaysia and basically hold up the build process in a temporary garage restricted by curfew working hours.
From what I could see, that car had no chance of running at all let alone in a representative way. I'm also very uncomfortable that creditors of Marussia have not been paid while significant future TV revenues remain a key team objective. Yes we need cars on track, yes we need David and Goliath battles, but F1 is about excellence of performance, not a 'build a car' competition at a county show.
The whole Sauber 'three drivers into two cars doesn't go' (or is it four with Adrian Sutil?) should have been sorted out long before Melbourne to avoid the embarrassing saga. Giedo van der Garde must have some pretty watertight paperwork to win cases in Switzerland and Australia and I don't blame him for fighting his corner. Nobody came out well in the end, and the legal folk for Sauber played a potentially catastrophic hand by claiming a driver with so little experience of the car would be a danger to other competitors and the public. One hell of a precedent that would have been; at some point every driver is new to an F1 car in a public environment and we are always dropping them in raw for Friday practice and last minute substitutes. Thank goodness Sauber lost that one, but well done to them for weathering it all and putting on a great show on Sunday.
At least it gave us something to talk about on Friday while the track was so quiet as everyone saved their four precious engines. That will be a feature of 2015 and beyond.  Many will end up using a fifth engine and transporting spare packs to every race anyway so they may as well be used, even if only on Fridays. The fans can't be expected to sit and watch an engine in a crate…
These new engines (or power packs) were created by engineers. This means they are technically brilliant, hugely complex, impractical to work on, stratospherically expensive, and with no regard to the show in terms of sound. In the process, the rule makers forgot to apply a budget cap and a fixed price to customer teams, and a commonality of parts which would have massively reduced development costs and kept the competition closer. That horse has long bolted.
The new for 2014 engine was the right idea executed in the wrong way. It had to be done to keep Mercedes and Renault onboard and attract Honda and hopefully others. F1 has been, and must always be, the pinnacle of technology and innovation. Imagine in five years' time if we had normally aspirated V8s we'd look like dinosaurs. Every new supercar is hybrid, as will be most road cars soon enough, if they are not electric or hydrogen.
A small family car already has many things an F1 car doesn't have such as ABS brakes, traction control, stability control, air bags and so on. Sports cars and even 4x4s and motorbikes often have active aerodynamics or suspension. We are between rock and a hard place in F1 trying to manage the show versus the technical excellence and big brand participants, in a media space which is a whole new and fast moving world. And we're not handling it well.
The whole process of deciding the F1 rules is unwieldy and complex and we allow the competitors to be heavily involved which will never work. Let the regulators regulate; the competitors are totally blind-sided by their own needs and desires. They must have input because they have the knowledge but IF the regulator is strong enough, it should stop there.
F1 teams continue to prove they struggle to run their own teams, let alone the whole of F1. Each to their own skill sets I would say.
Which brings me to Red Bull. Yes, it seems rather hypocritical for them to try to haul Mercedes back when they themselves dominated for four years. It reads very much like 'if I can't win anymore, then I'll take my ball away'. Mercedes say 'get your act together and work harder', which is fair enough but this is different. Where Red Bull excelled and stretched the rules with items such as blown diffusers, engine software and floppy low front wings, other teams could copy given time, as has always happened with technical advantages such as Brawn GP had with double diffusers. But current engine performance variations could well be set in stone for several years, although Ferrari and hopefully Honda can prove otherwise. I can see Christian Horner's point here, but his main issue is that Renault have massively under-performed over the winter. F1 has been good for Red Bull, and vice versa. 
F1 felt rather like a captainless ship to me in Melbourne. Neither Bernie Ecclestone nor Jean Todt was there, or any key people from the financial stakeholders. What we saw in Melbourne has been so obviously developing for a number of years and action is urgently required. I can only assume it suits some people for the situation we find ourselves in.
Let's finish on a positive note and hope that the great talents of Valtteri Bottas and Fernando Alonso are on the grid in Malaysia, that the teams deliver their relentlessly impressive rate of improvement and evolution, that Manor find out where the starter button is, and that we have an awesome race with a surprise thunderstorm and a crazy finish. Then all will be fine again. Until China at least.
We must also enjoy and respect the level of excellence of the Mercedes-Benz team and drivers and not see that as a reason to lose faith in the others. We can also eagerly observe McLaren Honda from their lowly start because I suspect, sadly later than sooner, that they will come on strongly.
I still love F1 overall, through thick and thin, don't you?
MB