Bad luck, not a Mercedes conspiracy, hurts Lewis Hamilton
Sky Sports F1's Martin Brundle on why the conspiracy theories around Lewis Hamilton's engine failures don't add up as Mercedes team-mate Nico Rosberg rides his luck in Malaysia...
By
Last Updated: 10/10/16 10:53am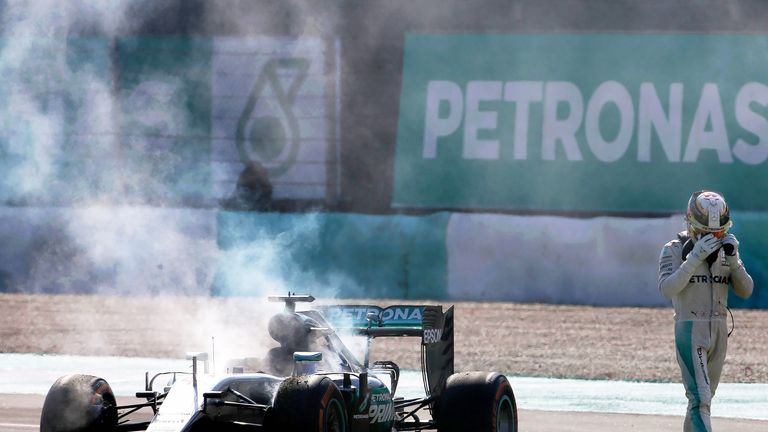 I enjoyed the Malaysia Grand Prix, it had a little bit of everything.
The newly-laid track surface generated plenty of grip and it felt as hot on the grid as I can ever remember at a GP, the heat literally radiating up through the soles of your shoes at 56 degrees Celsius.
It was an event which Lewis Hamilton largely dominated, both he and his car were so dialled in it was pure poetry in motion. I made the comment that it looked the best balanced car I had ever seen, and certainly in the Pirelli era. His economy of motion on the steering wheel was a pleasure to see, a driver at one with his car and the racing line. A man about to significantly regain the championship lead with five races to go.
Hamilton lights the fuse after blow-out
Let's get into the contentious issues. The start looked like it was going to be delayed when Carlos Sainz had technical issues on the grid. There was a clear pause before the lights came on but calm wise heads in race control read it well and everything was fine.
With the powerful slipstream effect on the 650+ metre charge to the tight apex of Turn One inevitably several drivers who fancied themselves on the podium arrived in a cluster. Nico Rosberg was busy moving about slipstreaming Hamilton and covering off others, and Sebastian Vettel saw a gap down the inside of Max Verstappen.
It was reminiscent of Verstappen's move in Spa, in principle fair enough but carrying a high risk of contact and damage approaching a tight apex from a narrow angle. And so it proved to be with Rosberg turned around and Vettel out of the race.
The Stewards do make allowances for the first few corners of a GP with inevitably close action, but with many camera angles and copious amounts of car data they decided to penalise Vettel, who was in their office making an impassioned plea for over an hour, with a three-place grid drop in Suzuka this coming weekend. I called it marginally a racing incident live, but only he could be found at fault in that contact and it transpires he cost Rosberg a victory.
Rosberg had the first of his good fortune for the afternoon when there was little or no damage and nobody else hit him while facing the oncoming and unsighted pack, even though three of them ran into each other in the concertina.
Virtual Safety Cars followed, including for Romain Grosjean's once again brakeless Haas. They'll need to have that sorted before the unyielding Suzuka in a few days time.  
Meanwhile, Red Bull split the strategy of its two drivers who nonetheless ended up disputing turns 4/5/6/7/8 brilliantly side-by-side. I can only assume they have told young Max that if he crashes into his team-mate or doesn't follow instructions he'll be immediately swapped back into the Toro Rosso because, like Ricciardo, his manners are exemplary when in team combat. It was the race deciding moment as they would later pit in tandem during a Virtual Safety Car and strategies would be aligned with Ricciardo getting first service and a new set of tyres compared with Max's scrubbed ones.
It was a fight for victory, although I'm not convinced there was too much racing going on, because of Lewis' engine blow up. Yet again.
When he got out of the car, full of adrenaline and disappointment, Lewis' words to the media were incendiary suggesting someone didn't want him to win the title. He later clarified he meant "the man above or any higher power". 
Mercedes reassure 'pained' Hamilton
The must-have F1 accessory these past three seasons has been a Mercedes engine, and Lewis's point is accurate, seven of the eight cars supplied have been super reliable this season and only his keeps having problems. He even quoted off the top of his head the number of 43 engines supplied. I can understand his anger and confusion.
Could it be installation problems? Very unlikely because there have been different failures and given the experience, processes and data this would show up quickly.
How about driving style? With the latest seamless shift gearboxes it is impossible to miss a gear or over-rev on downshift. If he's bouncing off all the kerbs and putting extra load through the transmission and power plant it would be clear to see in the data. I refer back to my earlier comment about his fluidity on Sunday.
So how about sabotage? I've been to Brixworth in Great Britain where the engines are largely designed, created and relentlessly tested. It is hugely impressive, hundreds of highly-qualified people with the best equipment creating a world-dominating hybrid engine. They didn't show me the department focussed on controlled destruction of specific engines though.
So let's imagine a James Bond-like set up in a German hillside where someone has a red button to press if Hamilton is looking a bit handy. Except no instruction or data can be passed from pit to car, only ship to shore. They would have to instruct Lewis to change a setting.
The engine did P3, qualifying and most of the race. So how about about software which can blow the engine up after a predetermined time? All cars must be run through the standard FIA engine control units (supplied by McLaren) and all data and software is available to the FIA in the greatest detail.
If Mercedes were to be determining international sports results in such a way it would be right up there with Olympic doping and Volkswagen's dieselgate. People would need to be involved, and in time they move on or get fired, then often get competitive or angry, and alcohol can loosen tongues in the 'greatest of confidence'. Somehow this would surface, and all their good work would be undone along with being banned from all Motorsport in global disgrace, with an avalanche of legal actions from competitors to gamblers and everyone in between.
Do the conspiracy theorists think Mercedes want Rosberg to win that badly while throwing away many constructors points and a race victory to Red Bull?
Of course not but Lewis is having some cruel luck, a little like 2007 when he could have been champion. It is bizarre that only his car is failing at the moment but he has the best engine engineers currently in F1 trying to find out why. They'd better hope it's not a batch problem such that his remaining new engine forced through in Spa is also a hand grenade, otherwise more engine grid penalties loom.
Conversely, Rosberg had the rub of the green. Having survived Turn One intact he later launched a rugby tackle style pass on Kimi Raikkonen in Turn Two which miraculously left them both still in the race fighting for third place. His 10-second penalty was relatively easily overcome and he leads the championship by nearly victory's worth of points with five to go including some traditionally very challenging events such as Suzuka and Sao Paulo.
Opinions are like noses, everybody has one, and some were exasperated that Rosberg was penalised for hitting Kimi, while others were outraged that he was not given a stronger penalty. That's why we love live sport, it gets the juices going, and if we were all like-minded the world would be a dull place.
I do like the lad Ricciardo both on and off the track, he's my idea of how a racing driver should be. Honorable mentions too for the one-stopping Valtteri Bottas in 5th and Jolyon Palmer scoring his first and very important F1 point in 10th, along with Fernando Alonso's storm from the back of the grid once more.