Cars beat drivers in Barcelona and a wish-list of changes for 2017
Sky Sports F1's Martin Brundle reflects on another processional race at the Circuit de Catalunya and reveals how he'd improve F1 for 2017
Last Updated: 19/05/15 1:43pm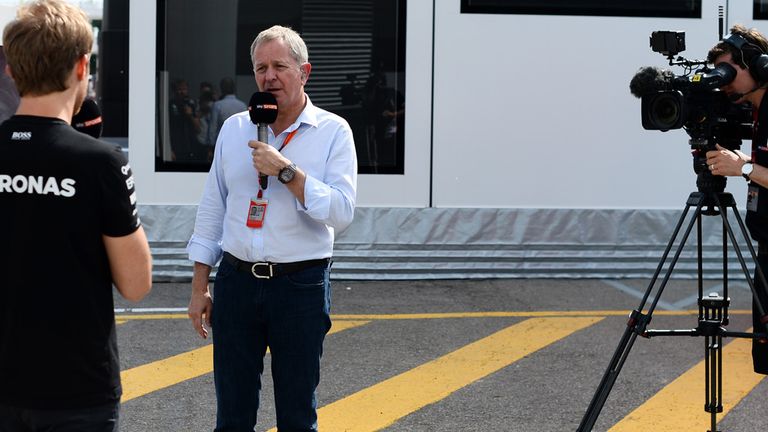 It would be reasonable to expect that any annual sporting event which had nine different winners over nine years would be quite a spectacle but unfortunately F1 in Barcelona can be rather steady on occasions.
This is backed up by another statistic that three quarters of the 25 races held at the track have been won by the pole sitter. It's a car circuit.
Things could have been so different but for two fleeting moments. First, the wheelspin Lewis Hamilton had off the startline which put him behind Sebastian Vettel and so nearly Valtteri Bottas too. The other was the lumpy first pit-stop which prevented any chance of him undercutting Vettel's Ferrari with a banzai lap on fresh tyres.
The resulting need to stop three times to ease his Mercedes past the Ferrari meant that he didn't have a realistic chance of catching the serene Nico Rosberg out front, who was calmly taking his first victory of the year which he deservedly earned by seizing pole position on Saturday.
Ferrari were 45.3 seconds behind at the finish but it's worse than that. Rosberg was cruising up front and the Italian team have much to do in order to understand their numerous updates and to close the real performance gap to Mercedes outside of any track and temperature variations.
To compound that Kimi Raikkonen had a relatively miserable weekend, struggling to stop his car sliding around and even going back to the old set-up which is always a sign of lost direction and desperation, and which the man himself described as a 'sacrifice' to help the team back-to-back car set-ups.
Once again the ever-impressive Bottas placed his Williams between the two Ferraris for another very assured performance.
With no Safety Car to spice up the action, we were left with the tail end of the top ten to entertain us. Pastor Maldonado was on the move early on and once again looked impressive before enduring a series of mishaps.
He had one of those unnecessary Turn Three contacts with his team-mate Romain Grosjean which I've had myself, and although the damage was relatively slight it would force him in the pits for repairs and eventually out of the race again.
For McLaren it was all a rip-off with regard to Fernando Alonso. Not a comment on his annual salary mooching about in the lower midfield but unfortunately one of his visor rip-offs which caught in his own rear brake duct. Everyone is trained not to release those plastic strips into their own engine air box just above the driver's head, so it was doubly cruel that it should end up blocking an equally crucial cooling duct.
With electric generators to help the cars slow down the rear brakes are essentially passengers from time to time and so in true F1 style are minimised to the extreme for weight and drag inducing cooling anyway. Front jack men are the unsung heroes of F1 as yet another had to jump out of the way of the brake-less Alonso.
More troubling for McLaren were the handling woes on particularly Jenson Button's car. Watching out on track on Friday afternoons you will often hear me mention the apparently poor driveability of the Honda engine on part throttle and this can't help their rear tyres.
It's a grave time for this great team. Poor speed, questionable reliability, and no World Championship points after five races. It was thought that the chassis was good but it's hiding that speed at the moment, and Barcelona was the place to shine through in that respect.
Once again the Toro Rosso juniors were on terrific form despite carrying far too much wing and drag for the race. Carlos Sainz put a move on the improving but still slightly shaky Danny Kvyat in the parent Red Bull car. Sainz secured ninth position by driving across the run off area and got away with it which, although I applaud his aggression and determination, sets a difficult precedent. I can only assume a compliant pair of drivers and team managers in the ensuing stewards' enquiry between the two Red Bull teams so as not to compromise each other and lose HQ any points.
Meanwhile, there's lots of talk in various meetings about changes for 2017. Here's my initial discussion list.
1) Increase downforce, lowering the car by reducing the step and plank underneath, and improving ground-effect especially with front-wing end fences. Make the front-wing much less complex and susceptible to turbulence while following another car, and therefore hugely cheaper too.
Open up a few of the imaginary exclusion 'boxes' around the car to ensure ingenuity and evolution. Have a much cheaper and wider fixed specification two-piece rear-wing which creates drag and slipstream effect, thereby moderating absolute top speed to maintain circuits run offs, but also keeping sponsorship space. Get this right and then lose DRS.
2) Wider and 18" diameter wheels and tyres with much more grip and durability.
3) Lose 50kg from the cars. They are currently 125kg overweight compared to days gone past. Difficult, but try to find a way.
4) Keep the same hybrid engines, they will migrate towards 1000bhp peak anyway, but work on improving the sound and also a much lower fixed-price for customer teams. A discount is massively cheaper for the manufacturers than a redesign. Commonality of parts will slash costs and equalise motors. This should have been done from the outset.
5) Open up the rules on sharing components. It's crazy that everyone must create bespoke items to identical regulations. We can't see these parts so share them, slash costs, equalise the cars more, and knock the money off the grandstand prices. I'm talking about brakes, gearboxes, chassis for customer teams, and so on. We want to watch racing, we don't have X-ray eyes to see under the bodywork or in the CAD and CFD computers.
From 2017 onwards I never want to hear a driver saying he's holding back to protect his tyres again, or an engineer say on the radio 'to avoid interaction at the end of the race we'll...'
MB