Jenson Button said McLaren made a "strange" pit call in the United States GP
Briton limps home 12th after tyre stop mix-up in Austin
By Mike Wise
Last Updated: 03/11/14 12:53am
Jenson Button was left to lament a "strange" pit call by McLaren as he limped home a disappointing 12th in Sunday's United States GP.
Clearly frustrated as he battled rear tyre degradation, Button was called to make a second pit stop midway through the race, only for McLaren to change their minds and instead pull team-mate Kevin Magnussen in.
"Is there anyone else you want to let in first?" an exasperated Button asked when he was finally allowed to stop on the following lap.
Speaking to Sky Sports F1 later, he explained:  "You're given a lap, you're told you've got the lap – and then it's taken away from you. It's quite unusual, but there you go."
Magnussen, who eventually finished eighth, was also ahead of Button at the time, with the 2009 World Champion explaining: "The car in front has a call on pit stops - but not when the car behind is told he's stopping that lap.
"Very weird and I lost three places on the next lap, so it did destroy it a little bit.
"I don't think it would have cost Kevin much because he had a big enough gap to me. But sometimes strange calls are made."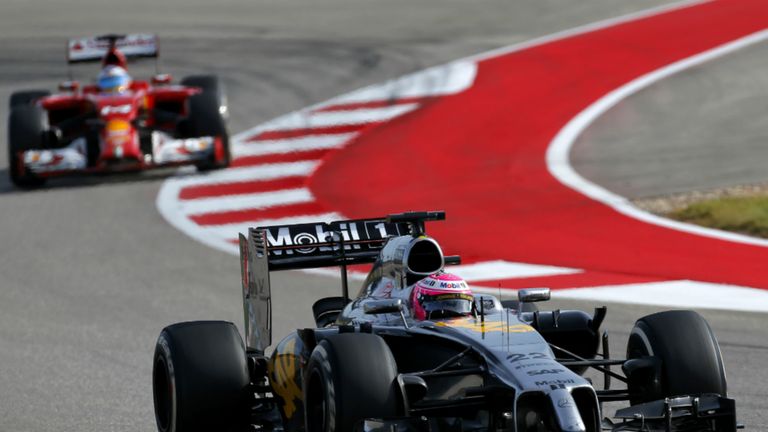 Button, who remains without a contract for the 2015 season, admitted that he didn't enjoy the race.
He said the surface temperature of his car's rear tyres were too high, unlike the bulk temperature, meaning that the Briton was forced to spend most of the race fighting a rearguard action.
"I had massive issues with the rear; the surface temperatures were getting really hot and bulk was really dropping a lot, so that means you're just slipping around," added Button, who fought in vain against the likes of likes of Romain Grosjean, Jean-Eric Vergne and, notably, Fernando Alonso.
"It's unusual to struggle with degradation. It was very strange. It's a weird one, this one, with the rear degradation. I think our pace was sort of similar to Toro Rosso's, which is sort of a surprise.
"It's a little bit of a surprise we're not quicker, so hopefully Brazil, Sao Paolo, will suit us a little bit more."