Lewis Hamilton says changes to Mercedes W06 car since Singapore have swung Nico Rosberg duel
Hamilton to work on way to get back ahead of Rosberg for Abu Dhabi
Last Updated: 17/11/15 10:56am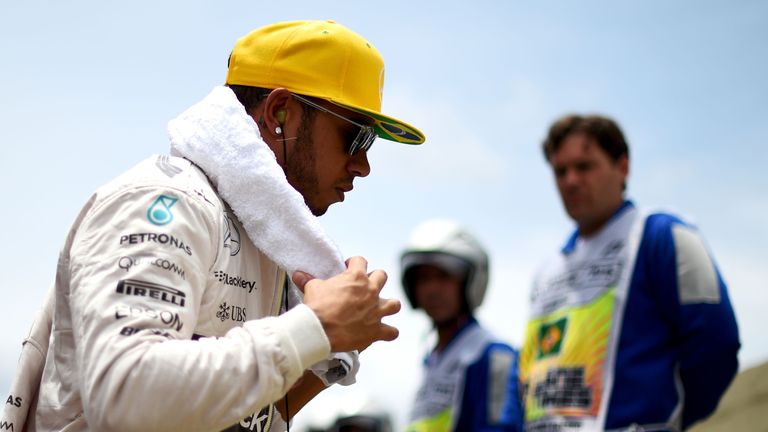 Lewis Hamilton reckons changes to Mercedes' car since September's Singapore GP have contributed to Nico Rosberg gaining the upper hand in the closing weeks of this season.
The world champion, who clinched the 2015 title three races ago in Texas, has been beaten to pole by his German team-mate in the five races after F1's night race - a complete turnaround from the start of the year when Hamilton opened a 12-1 lead in qualifying.
The sequence, the second-worst of Hamilton's F1 career against a team-mate, has now been followed by back-to-back race victories for Rosberg in Mexico and Brazil.
Having ruled out the theory that he has eased up since his title victory, Hamilton has instead cited changes to the W06 as a reason behind Rosberg's strong run of form - unspecified tweaks which he has vowed to get on top of himself in time for next week's Abu Dhabi season finale.
"Since Singapore there have been some changes to our car which seem to have shifted the direction of the waves," he told Sky Sports News HQ.
"So I need to try and figure out why that is and how I can get back on it."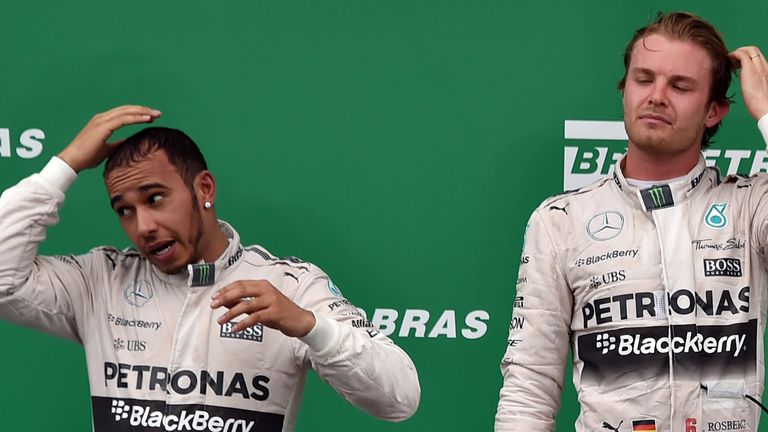 Although Hamilton did not elaborate on what he thought the changes were, one suggestion is that it could be related to Pirelli's mandatory minimum tyre pressure increases in the wake of the blow-outs at Spa in August.
Mercedes are also thought to have been trialing 2016 developments in recent races, although have not specified what, if any, parts have been raced.
Writing in his post-Interlagos column for Sky Sports, Martin Brundle said: "Rosberg is suddenly realising he can win in a straight fight, a huge psychological hurdle, and Hamilton can't compute where his quarter-second advantage has disappeared to.
"If not great racing it's certainly intriguing. Some feel it might be due to the tyre pressure rule changes after Monza suiting Rosberg better. That may be the case but I feel it's more in their heads and approach post the championship being decided."
Hamilton's final chance to get on top of the W06 in its end-of-season specification comes next week and Brundle added: "I fully expect he will head to Abu Dhabi with a renewed and strong purpose for maximum attack, he has to stop this confidence-boosting performance of Rosberg before the winter. If he can."
Hamilton is a two-time winner at the Yas Marina Circuit, with his 2014 win in the one-off double points decider clinching him last year's drivers' crown.
Mercedes boss Toto Wolff, meanwhile, suspects even his drivers do not really understand why the balance of power on track has shifted between them recently, although he does believe Rosberg is showing his "class".
"You could say that Lewis has reached his target and his adrenalin is not as high as it was - and Nico is driving without pressure - and this is the result. But I am not sure that even they know themselves why it is now how it is," Wolff told F1's official website.
"Probably we will all spend time over the winter reflecting on what has happened towards the end of the season. But one thing is very clear: you can see Nico's class now. And we always knew that Nico's class is important to make Lewis perform like he did - and to make the car faster and the team progress. Mexico and Brazil were showcases for Nico's class."
Don't miss the F1 Midweek Report for analysis of the Brazilian GP and all the latest F1 news. NBC's F1 reporter Will Buxton and journalist Peter Windsor join Natalie Pinkham on Sky Sports F1 at 8:30pm on Wednesday.