Lewis Hamilton seeking answers for car changes after unbalanced finish
But Rosberg denies any changes have been made to the W06
By Pete Gill
Last Updated: 26/11/15 9:52pm
Lewis Hamilton says his focus in the season-ending Abu Dhabi GP is fathoming the recent changes to his Mercedes car rather than beating Nico Rosberg.
Since securing his third world championship last month in America, Hamilton has suffered defeats to team-mate Rosberg in Mexico and Brazil - losing out in qualifying and the race at both events.
The world champion has attributed the reversal in fortunes to tweaks made to the W06 since Mercedes were mysteriously humbled in Singapore last month - although paddock observers have also questioned whether Hamilton's form may have been affected by the mandatory minimum tyre pressures introduced by Pirelli.
In any case, Hamilton, who was spotted deep in consultation with a cabal of Mercedes engineers in the team's garage on Thursday, is determined to solve the conundrum before the conclusion of Sunday's race signals the start of the sport's two-month winter shutdown.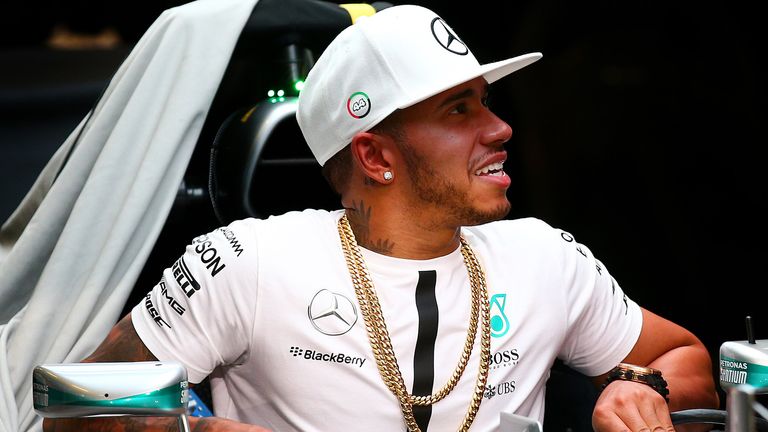 "I've not come here thinking about Nico, I've come here thinking about the changes which have been made to the car from Singapore onwards and how l can understand them - I've got one more race to understand that and rectify it," Hamilton told Sky Sports F1.
The Mercedes driver suggested immediately after the Brazilian GP "there have been some changes to our car which seem to have shifted the direction of the waves," but team-mate Rosberg is adamant that there has been nothing unnatural about the tide turning in his favour since Austin. 
"There's no big change in the team or the car or anything," Rosberg told reporters. "I'm not really sure what he's referring to. It was always very close before but now it's just swinging the other way. It's very close, but I'm ahead lately and I've been quicker - that's it.
"Last year I was quicker in qualifying, the beginning of this year not, and now I am again. It's just toing and froing a little bit and at the moment I'm the one who's got the upper hand.
"There are always small bits and pieces where I'm always trying to get them to change some stuff which I feel could be beneficial. But most of the time it also helps the other driver, it's not something that will help me and not Lewis."
After previously trailing Hamilton 12-1 in qualifying, Rosberg has registered five successive pole positions - a run which began shortly after Pirelli imposed a new restriction on tyre pressures in the wake of the blow-out suffered by Sebastian Vettel at Spa. In his latest column for Sky Sports, analyst Mark Hughes pondered whether the subtleties of the Mercedes drivers' contrasting styles meant the imposition had proved a bigger handicap to Hamilton than Rosberg. 
"The facts: the reduction in grip will be greater at the back than the front - simply because the rear tyres are bigger. This in turn will have narrowed down the car's set-up window, which will now be more defined," wrote Hughes.
"Traditionally, Hamilton has not been as precise or fussy about his set-up as Rosberg, his more free-wheeling improvisation allowing him to get pretty much the same lap from a variety of set-ups. But if the set up window through which the car works has now been narrowed, has it made getting that set up sweet spot exactly right more crucial? And if so, does this suit the way Rosberg was already working anyway but not Hamilton? That's the theory."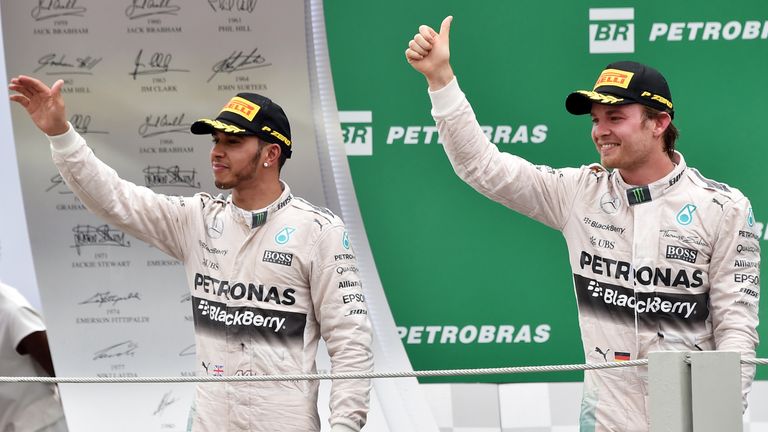 But the fact remains that whatever happens in Abu Dhabi it is Hamilton who will end the year as world champion; Rosberg may have won a few recent battles, but it is Hamilton who has already decisively won the 2015 F1 war.
"I'm still definitely above cloud nine," Hamilton told Sky Sports News HQ. "I'm riding a beautiful wave and enjoying the moment - it is lasting longer than it did last year because I've had more weeks to enjoy it. 
"The balance in my personal life is the best I've ever had.  I've had an amazing year, for sure it's been the best year all round and l think that has shown in my results."
Watch the Abu Dhabi GP live on Sky Sports F1. Race-show coverage begins at 11:30am on Sunday with lights out at 1pm. Watch all three days of the Abu Dhabi GP for £10.99 on NOW TV. No contract.