Lewis Hamilton & Mercedes officially crowned 2015 world champions
Hamilton collects Drivers' Championship trophy for third time, while rookie star Max Verstappen wins three separate awards.
By James Galloway
Last Updated: 07/12/15 10:23am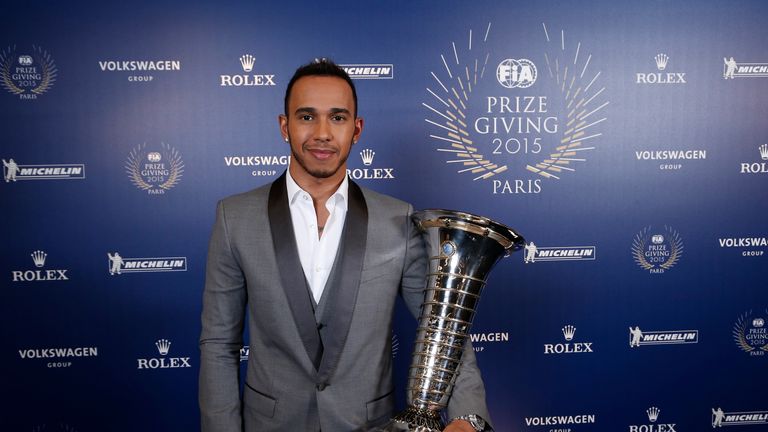 Lewis Hamilton and Mercedes have officially been crowned F1 world champions for the second successive year at the FIA's end-of-season gala in Paris.
Six weeks after clinching the 2015 title at the US GP, Hamilton collected the Drivers' Championship trophy for the third time in his career at Friday night's star-studded prizegiving ceremony at the Lido on the Champs-Elysees in the French capital.
Mercedes, who wrapped up their second successive Constructors' Championship at the Russian GP on October 11, were also presented with the teams' trophy again.
However, the driver who scooped the most awards was youngster Max Verstappen - who claimed an unprecedented hat-trick of gongs. After a stunning debut F1 season, the 18-year-old was voted Rookie of the Year, Personality of the Year and the winner of Action of the Year, earned for his around-the-outside overtake of Felipe Nasr at Blanchimont in August's Belgian GP.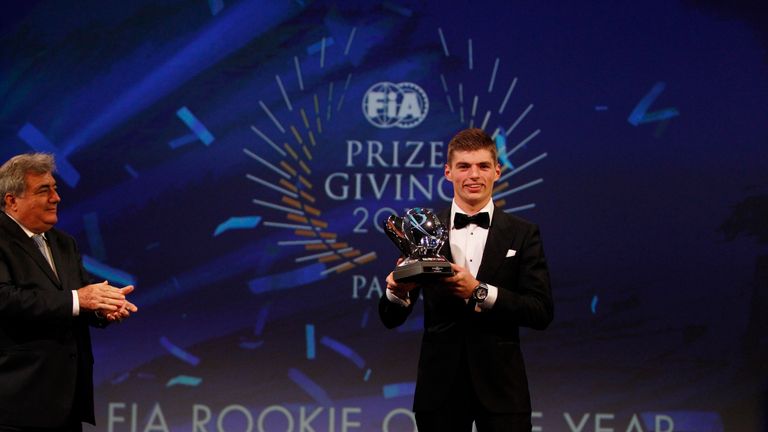 Hamilton's team-mate Nico Rosberg was also in attendance to collect his prize for finishing second in the standings, with Sebastian Vettel returning to the annual ceremony after a year's absence after he finished third in his debut season at Ferrari.
Although it was Rosberg who ended the year with a hat-trick of wins, Hamilton had been dominant en-route to wrapping up the crown with three races to spare. His final title-winning margin was 59 points.
The Briton became the first driver to win 10 or more races in successive seasons - his 10 victories in 2015 added to 11 from last year - and also claimed F1's pole position trophy by topping 11 qualifying sessions to Rosberg's seven.
Hamilton's consistency over the season also meant he equalled the records for 17 podiums and 18 front-row starts in a single campaign. 
"It's pretty much impossible to put into words what it means to be a three-time world champion," said Hamilton. "It is a dream, it's an incredible feeling and I'm very proud of my family for everything they did to get me here today.
"I remember how hard my Dad and my Mum worked to make sacrifices for me. It's been a long, long journey - I've been racing for 22 years.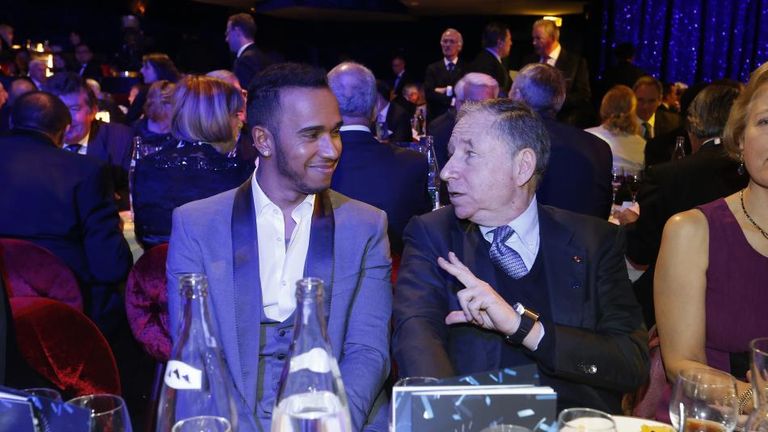 "This year, winning the race in Austin and sealing the championship there was one of the most special races - there's a huge sense of pride in what I have achieved."
Verstappen's immediate success on his arrival at motorsport's top level after just one season in single-seater racing has already seen the Dutchman earmarked as a future potential team-mate for Hamilton at Mercedes. 
"I am amazed and very happy to have won three awards this evening at such an important event, and at the end of only my first year in Formula 1," said Verstappen.
"It's nice to win the Action of the Year for the second time, because I really enjoy overtaking on track. Personality of the Year? I'm not sure why I won that, but it's nice to know the media like me!" 
Friday's Paris ceremony honoured title winners from across the motorsport spectrum for their 2015 achievements, including former Red Bull driver Mark Webber who, along with Porsche team-mates Brendon Hartley and Timo Bernhard, won this year's World Endurance Championship.