Lewis Hamilton doubts he can score points in Hungary after qualifying drama
But Toto Wolff and Jenson Button both think podium still a possibility; Nico Rosberg on pole; Race live on Sky Sports F1 from 1pm
By Mike Wise at the Hungaroring
Last Updated: 27/07/14 12:48pm
For the second time in the space of a week, Lewis Hamilton has been handed a 'damage limitation' mission in Sunday's Hungarian GP. But can he make the podium this time?
Hamilton came from the back of the grid to finish third in Germany last weekend, but seven days on he faces an even steeper mountain to climb after fire engulfed his Mercedes during the opening minutes of Saturday's qualifying session.
With the team therefore forced to ready their spare chassis, the Briton must start the race from the pitlane. And with overtaking at the tight, twisting 4.381km Hungaroring more difficult than at Hockenheim, Hamilton doubts he'll finish in the points, never mind on the podium.
With team-mate and title rival Nico Rosberg odds-on favourite for victory after securing his third straight pole position, Hamilton told Sky Sports F1: "I think I will struggle to get into the top ten. I fear that I will leave tomorrow more than 20 points behind [Rosberg] in the standings.
"The only comfort is that there are still many races to go. That's what keeps my chin up."
However, Hamilton's downbeat prognosis is not shared by Mercedes team boss Toto Wolff, who said they're hoping to ease his progress as best they can by using an alternative race strategy.
A long opening stint last weekend enabled Hamilton to climb as high as second place behind Rosberg before Valtteri Bottas relegated him to third at the chequered flag.
Speaking on Saturday evening, Wolff was optimistic his driver, who was fastest in all three practice sessions earlier this weekend, has another podium shot.
"I wouldn't exclude a podium, honestly," he said. "Because he had huge speed today and if we get it right, strategy-wise – different to [the] others – so maybe he needs an offset strategy."
If anything Jenson Button was even more certain of Hamilton's progress, saying that his former team-mate has "a very, very good chance" of finishing in the top three.
The McLaren driver, who lines up seventh on the grid, has twice taken advantage of wet conditions to win the Hungarian GP and although rain could fall again on Sunday, Button thinks Mercedes' advantage makes such considerations more or less irrelevant.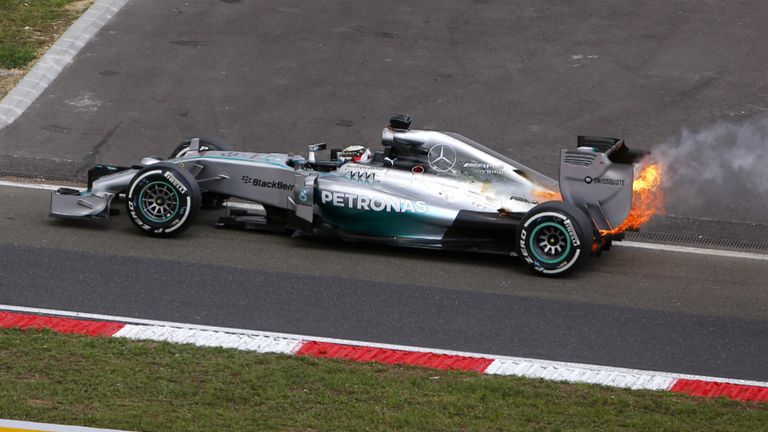 "If it's dry tomorrow, it's obviously hard to overtake round here. But that car is by far the best car out there," he said.
"I remember the first few laps at Silverstone; they were 2.5s quicker than anyone else when they want to be, when they turn it on in a race.
"So he can use his tyres in certain ways to gain advantage, even if he's going to degrade the tyres, because his pace is so good."
Button, who was hit by Hamilton as the latter's Silver Arrow carved its way through the field in Germany, added: "As long as he keeps clean and doesn't have contact with people then there's a good chance he'll be on the podium.
"Qualifying hasn't been great for him the last few races, but he'll fight his way through I think."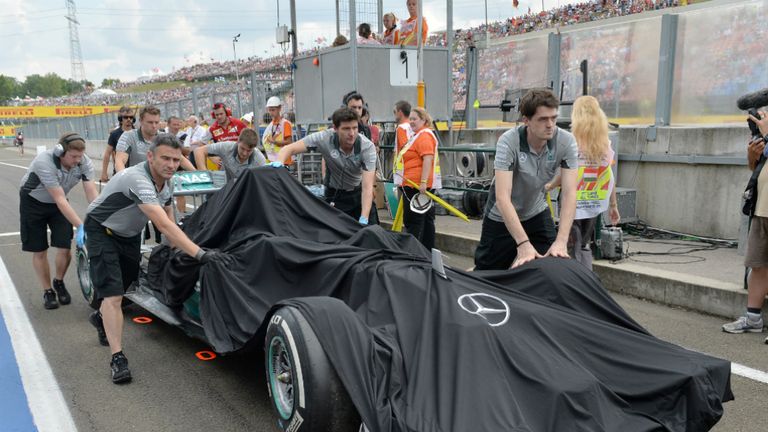 Hamilton's sternest opposition, certainly in the early stages, could come from Button's team-mate Kevin Magnussen, who also starts from the pitlane after crashing out of Q3.
Like Mercedes, McLaren have been forced to press their spare car into action, but because the Dane's own exit came after Hamilton's, he'll be allowed to start in front.
Hamilton may be pessimistic but he won the race 12 months ago after saying beforehand that he'd need a "miracle" to do so.
On that occasion it was Rosberg's car that caught fire – the German pulling off the track with six laps to go.
Today's Hungarian GP is exclusively live on Sky Sports F1, with coverage underway from 11.30am