Lewis Hamilton believes he caught Nico Rosberg unawares with winning move in U.S.
Hamilton wins fifth consecutive race but title fight guaranteed to go down to the wire in 'Abu Double'; Hamilton has now won more GPs than any other British driver in F1 history
By Pete Gill
Last Updated: 03/11/14 11:23am
Lewis Hamilton believes he caught Nico Rosberg unawares with the bold overtaking move on his Mercedes team-mate that clinched victory in the U.S. GP.
Hamilton's move, on lap 24 of the race at the end of the backstraight, was made with barely any daylight between the Mercedes W05s as the championship rivals went wheel-to-wheel in the grand prix's decisive moment. As Hamilton's Mercedes suddenly appeared alongside his own, an apparently-surprised Rosberg was forced to back out, and almost came to a standstill as the two cars came within inches of touching. The fine line between brilliance and disaster in F1 has rarely been so apparent.
"You have to decide how much risk you're willing to take," a relieved Hamilton admitted afterwards. "I was just waiting for the moment and to be close enough to turn up the inside."
Victory for Hamilton represented something of a transformation in fortunes at Mercedes this weekend, with Rosberg securing an emphatic pole position on Saturday while his out-of-sorts team-mate struggled with a brake issue. But after Hamilton's lock-ups on Saturday, it was Rosberg who was locked out from the winner's enclosure a day later as the Englishman finally found his rhythm.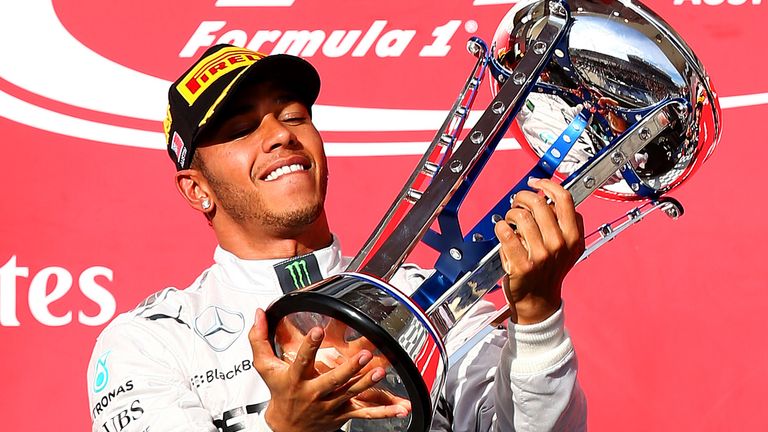 "Going into the race, there wasn't a moment when I didn't think I could win the race and eventually the opportunity presented itself," Hamilton told Sky Sports F1. "On Saturday, I was turning too early into the braking zones and that was also catching the front-left. I looked back at my previous years here and I always kept it straighter for a lot longer - why I didn't catch up on that earlier, I don't know. But I also had a braking issue that magnified it."
Rosberg has invariably been reduced to second best in wheel-to-wheel combat with Hamilton this term and although the pair warmly embraced before the podium ceremony, the German's frustration with his performance was plain afterwards when he reflected on his failure to convert his resounding pole position into victory.
"I just didn't drive well enough," a frustrated Rosberg admitted to Sky Sports F1. "It took me too long to reach my rhythm. By the time that Lewis got past, five or six laps later I started to nail it but by then it was too late.
"I overdrove the front tyres and a lot of the understeer I created myself."
Despute the aggression of Hamilton's near-miss overtaking move, Rosberg had no complaints with his team-mate's driving.
"I knew there was a chance he would give it a go and I just defended sort of halfway – but he just did a good job and braked too late," he conceded graciously.
Courtesy of his fifth successive victory, Hamilton has extended his World Championship lead to 24 points – but with fifty on offer in the season-concluding 'Abu Double', the title battle is guaranteed to go down to the season finale regardless of the result in next week's Brazilian GP. In a potential credibility blow to the sport, Rosberg could still be crowned World Champion despite winning less than half the number of races as Hamilton this year.
"What is clear is that I still have a chance of the championship even until the last race whatever happens in Brazil," said a relieved Rosberg. "That's fantastic news and a positive. I just need to keep pushing. There's not much missing but I need to find it somewhere."
Hamilton, meanwhile, is vowing not to change the approach that has seen him effect a 50-point swing in the title race since Belgium.
"I'm going to attack," he assured Sky Sports F1. "I need those 25 points in the next one and I want those 50 points in the last one. It's a strange decision they have come up with to put 50 points in the last race but it's the same for everyone. 
"I've done everything I can to win this World Championship. There have been difficult times, but I feel confident that things are going to go well and [I'm] prepared for whatever is ahead."