Frustrated Lewis Hamilton blames himself for race-costing spin at Interlagos
"It was no one's mistake but mine," admits Lewis; But second place in Abu Dhabi will still be good enough for Hamilton to win the title
By Pete Gill and James Galloway in Interlagos
Last Updated: 25/11/14 5:45pm
Lewis Hamilton has blamed himself for the mid-race spin which cost him victory of the Brazilian GP.
Having harried Nico Rosberg throughout the first half of the race, Hamilton stayed out for two extra laps after his team-mate's second pit-stop. The first was delicious as a charging Hamilton set the fastest lap of the race; the second, however, was a disaster as the World Championship leader spun off at Turn Four. The mistake cost the Englishman about seven seconds and was to prove decisive as he trailed Rosberg over the line.
Nevertheless, second place in the season-concluding Abu Dhabi GP will be sufficient for Hamilton, whose title lead has been trimmed to seventeen points, to secure his second F1 title.
"I think ultimately it cost me the win. I was much quicker up until that point and on that lap I went a second quicker after Nico stopped. I thought I was coming in on lap 27 and had used up my tyres, so when I had to go to lap 28 there was nothing left. I locked the rears in turn four and that spun me round. It was no one's mistake but mine," Hamilton admitted afterwards.
Post-race analysis by Sky Sports F1 calculated that, but for his spin, Hamilton would have returned to the track approximately half a second ahead of his team-mate.
"Naturally, you'll be disappointed when you make a mistake, and I did, but I felt great out there. I didn't give up, I caught up and I kept on pushing," Hamilton told Sky Sports F1.
Hammertime has become a feature of the 2014 season but on this occasion Hamilton himself admitted that he had been on a different wavelength to his pitwall strategists.
"Normally, the protocol is – or has been – is that when he says to push, that means I'll be coming in after that lap. It caught me a little bit by surprise and the rear tyres were dead by the end of that first lap," he added.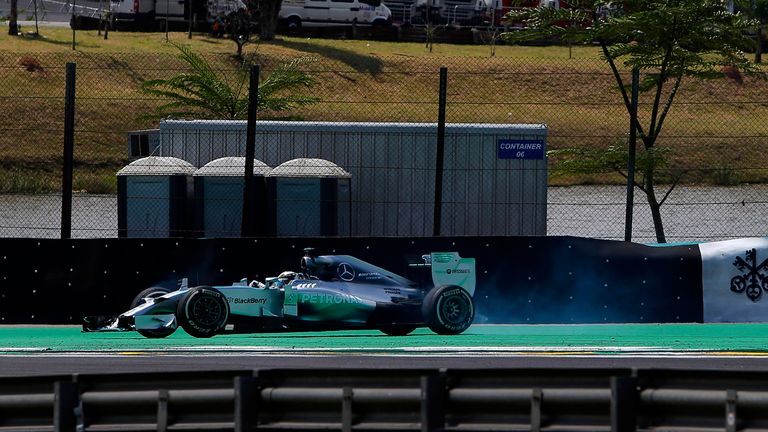 Despite the scare, Hamilton produced a stirring response to close within one second of Rosberg for the final ten laps, but the German, severely criticised earlier in the year for cracking under pressure, never put a wheel off line to clinch the win that his form over the weekend as a whole arguably deserved.
"It was a great weekend all in all. Austin it was a tough day for me on Sunday, so it was important for me to just improve as I didn't do a good enough job. Today I improved and it's a big step in the right direction. I need to keep this going now," a relieved Rosberg said.
If he finishes third, Hamilton is certain to win the World Championship unless Rosberg wins in Abu Dhabi – a fact that the German was evidently aware of in the post-race press conference when he called upon Williams' Felipe Massa, who finished third in front of his home crowd, to give him a helping hand on November 23rd.
"I can win!" exclaimed Felipe.
"Not that much help!" responded Rosberg. "In the middle!"
Now the two-week wait begins to learn who will have the last laugh in Abu Dhabi.