Fleet Street predicts Lewis Hamilton will be the greatest British driver of all time
Mercedes driver becomes only fourth British driver in F1 history to win multiple titles; After Hammertime, will it be Hamilton's time for years to come?
By Sky Sports Online
Last Updated: 24/11/14 9:42am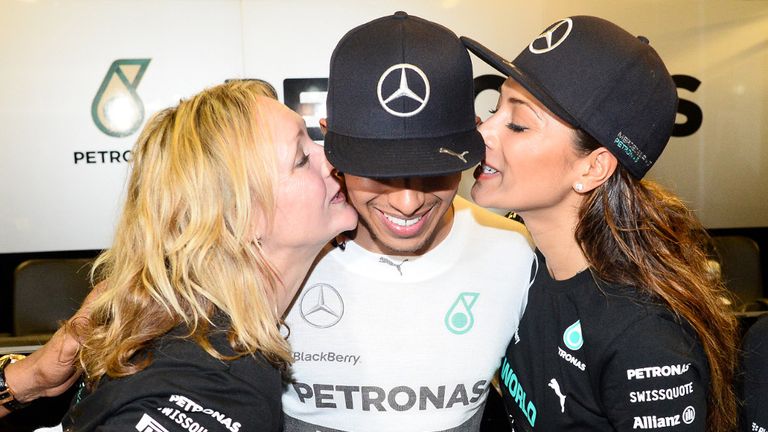 Fleet Street has hailed Lewis Hamilton as a deserved World Champion and predicted that the Mercedes driver will end his F1 career as the most successful British driver of all time and a legend of the sport.
Six years after lifting the World Championship with McLaren in 2008, Hamilton was crowned champion for a second time on Sunday after cruising to victory in Abu Dhabi.
And the backpages are convinced that Hamilton's time at the top of the sport may only just be beginning.
'Hamilton's victory moves him into the highest echelon of drivers,' declares Kevin Eason in The Times. 'The bookmakers are taking bets that it will be Sir Lewis by the end of the year end, as well as BBC Sports Personality of the Year. Legend, knight, television star and the first driver to win a world championship in a Mercedes since Juan Manuel Fangio in 1955. Wow.'
But it is a historical perspective which could get better still in the next couple of seasons, according to The Sun's Steven Howard.
'Truth be told, once Hamilton had got his nose in front, there was precious little drama. That only came at the end when he fought back the tears during the playing of the national anthem,' Howard writes.
'In the end, the bloke who deserved to win the title did. Hamilton also joins Graham Hill and Jim Clark as double world champions. Only triple winner Jackie Stewart stands ahead of him. On Hamilton's current form, two years can see him go down in history as the greatest Brit of all.'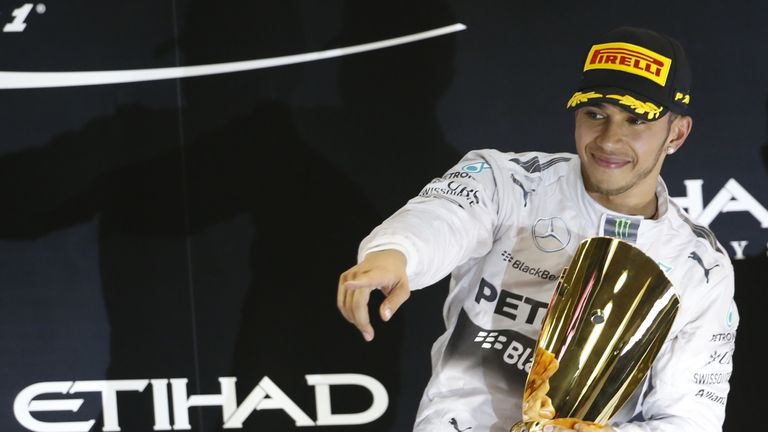 In The Guardian, Richard Williams goes even further and suggests Hamilton could yet become one of the legends of F1 as well.
'The greatest champions are serial winners by nature. Since 1973 and the last of Stewart's three victories the championship has been won seven times by Michael Schumacher, four times by Alain Prost and Sebastian Vettel, three times each by Niki Lauda, Nelson Piquet and Ayrton Senna and twice by Mika Hakkinen and Fernando Alonso. In those three decades Britain has had five champions: James Hunt, Nigel Mansell, Damon Hill, Hamilton and Jenson Button, each of whom, until this weekend, had managed only a single victory,' he notes.
'At 29, Lewis Hamilton has won his second title, banishing his own residual uncertainties while removing any lingering doubts among others about his standing...The opportunity for further glory lies ahead on a trajectory that will perhaps be a little smoother. The story is far from over.'
For Martin Samuel in The Daily Mail, meanwhile, Hamilton was effectively crowned champion at the start of the race when he bolted past Nico Rosberg into the first corner: 'Hamilton is nothing without that perfectly tuned clutch; but it still needs flesh and blood to create the surge — and under the most intense pressure, too. That was Hamilton's masterwork in Abu Dhabi: under the greatest stress of his career, he produced his absolute best. 
'The finest athletes perform at precisely the moment required. And this was Severiano Ballesteros from the car park, Botham's Ashes, the last-minute intervention of Sergio Aguero or Jonny Wilkinson. It was a man at the top of his game. 
'It was an emphatic win, a mature win, a brave win. He was right. He didn't need to fight dirty or be naughty to win; he didn't need mind games or skulduggery. This was a victory for pure racing. Coming out of turn one, he was free. From that moment, there was only one champion.'
In The Independent, Kevin Garside offers a reminder of how Hamilton found himself in a position to win the championship in the the field's dominant car this year after stunning F1 by leaving McLaren for Mercedes.
'It was a huge risk and looked anything but promising during a first year when he was no closer to a second crown than he was at McLaren," Garside wrote. 'It took a radical engine change to clear the ground and the sharp thinking of the now departed Ross Brawn to sacrifice the 2013 season and organise instead around the new regulations. The reward was the best car on the grid in 2014.'
But, as Oliver Brown points out in The Daily Telegraph, Hamilton's achievement in winning the World Championship with two different teams only serves to add further significance to his triumph in Abu Dhabi:
'Just as Niki Lauda, that paternal figure at the Silver Arrows, did for Ferrari and McLaren, he has tasted glory as a consequence of his refusal to stick with the same overalls for his whole career. Just as his idol Ayrton Senna did, leaping from Lotus to win championships at McLaren, he took a risk that proved to be the making of him.
'While a teenage sensation for McLaren, having famously approached Ron Dennis at an awards dinner when he was only 10, he was not content to ride the Woking magic carpet until retirement. It was intriguing to hear Hamilton declare that this, his greatest day, "felt like the first time". A six-year wait will do that to a driver.'