Red Bull's 'camouflage' livery inspired by Sebastian Vettel's Italian GP helmet
Kvyat means team have to run without a front-wing in Jerez; Christian Horner says Mercedes were "just showing off" on Day One
By Pete Gill in Jerez
Last Updated: 02/02/15 12:57pm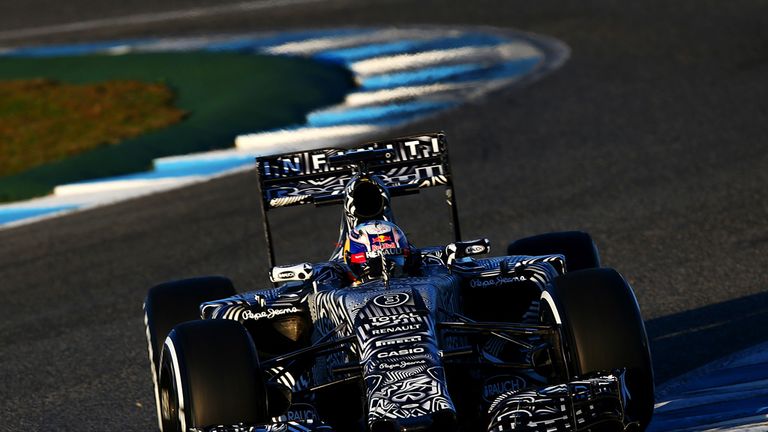 Christian Horner has revealed the RB11's 'camouflage' livery was inspired by a Sebastian Vettel helmet design.
After the former world champions shunned a traditional photo-call launch to signal the arrival of their 2015 challenger, the new Red Bull caused an instant stir at Jerez when it rolled out of the team's garage in a striking 'disguised' livery on Sunday morning.
Not that aesthetics were the team's primary consideration as they sought to prevent any prying eyes learning their design secrets.
"It came out of a helmet design which Sebastian ran last year," said Horner. "It epitomises Red Bull because we are not afraid to do things differently. It also makes it more difficult to take detailed pictures of the car because it confuses your eyeline."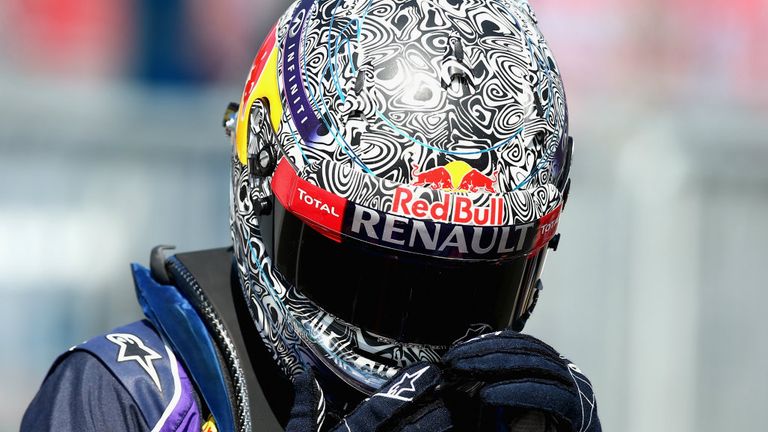 Despite the unexpected positive reaction to the Red Bull livery, a conventional look will be released for the new season.
After a solid first day in Jerez, when Daniel Ricciardo was fourth fastest, the team's progress was curtailed on Monday when an early-morning by mistake Daniil Kvyat meant the young Russian had to run without a front-wing for the rest of the day – something of an irony given the company's mantra of 'Red Bull gives you wings'. Not, it seems, in Jerez in early February.
"Daniil had an off on a cold track when he was changing something on the steering wheel on his installation lap. There was damage to the front wing and that was the only front wing we have."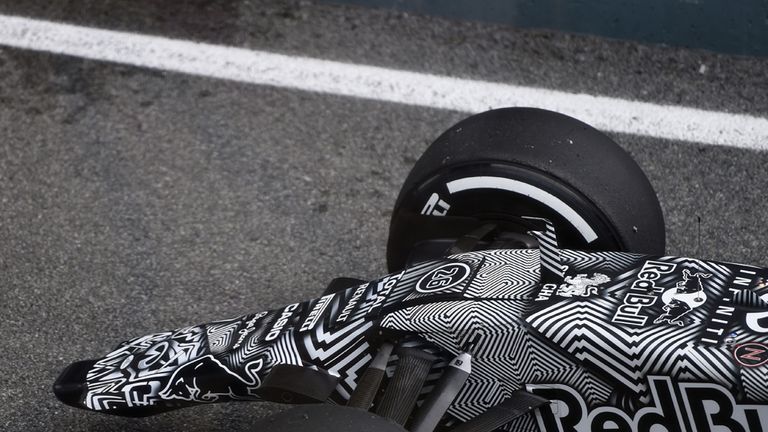 Nevertheless, Horner remains happy with his team's progress over the winter as they strive to regain the titles they lost to Mercedes in 2014 after four successive world championship doubles.
"We are moving in the right direction," he said. "It's an evolutionary car which addresses some of our weaknesses last year and our problems have been relatively minor compared to last year. Renault have made good progress and the initial signs are encouraging."
Nor was the Red Bull boss fazed by the prodigious mileage Mercedes recorded on the first day in Jerez when Nico Rosberg completed over 150 laps – almost as many as the rest of the teams cumulatively managed.
"I think they were just showing off," responded Horner. "But they are the benchmark."
The Sky Sports F1 Online team will be providing live commentary from all four days of testing in Jerez –  from dawn on Sunday to dusk on Wednesday. Sky Sports News HQ will also have live updates from trackside