Fernando Alonso was 'proud' of his British GP fight with Sebastian Vettel
Spaniard reckoned scrap with World Champion was "completely okay"
By Mike Wise at Silverstone
Last Updated: 08/07/14 3:02pm
Fernando Alonso said he felt "proud" to keep Sebastian Vettel at bay for as long as he did before being forced to settle for sixth place at the British GP.
After Nico Rosberg had retired from the lead of Sunday's race, allowing Lewis Hamilton to romp to victory, the battle between the defending World Champion and Alonso's Ferrari became a highlight for the 120,000 fans present at Silverstone.
Both drivers were nothing if not aggressive, with Alonso bravely passing Vettel's Red Bull around the outside of Copse corner after the latter made his second pit stop on lap 34 of the 52-lap race.
Vettel got back ahead with a similarly daring move at the same spot 13 laps later. In between times, however, the pair fought tooth and nail – with both also giving full vent to their frustrations over the radio.
Complaining that Alonso almost forced him off the track at one point, Vettel was also keeping tabs on the Spaniard's tendency to breach the limits of the circuit. "And another one," he said at one point after Alonso ran with all four wheels over the white line marking the track.
In turn, Alonso could be heard suggesting that the DRS flap on Vettel's Red Bull was opening where it shouldn't. But he also said his rival had exceeded track limits when he finally took fifth place back.
"I was not unhappy. I think he was reporting every time that I was going out and I have two or three warnings from the race direction," Alonso said afterwards.
"He was doing the same behind me; I was looking in the mirror and he was a little bit off track. Especially on the lap he overtook me, he was three or four times not one car but two or three cars out of the track."
With Alonso stopping just the once, he said he took satisfaction from keeping Vettel in check. "We have two seconds deficit of pace, so if we did 13 laps show to keep him behind it was welcome for the TV and for our sponsors," he said. "But after that we knew we would lose the position.
"He finished in front and I was very proud of my 13 laps. After he passed me, he left me by five seconds in two or three laps."
Button, with whom Alonso had fought over fourth place earlier on, had also reported that he exceeded track limits.
The double World Champion was warned by marshals waving black/white warning flags, yet he insisted: "I think I was completely okay today."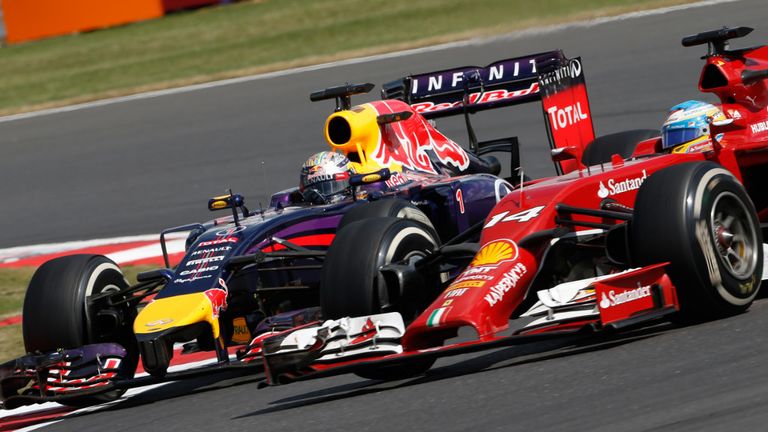 Alonso's battle probably helped him take his mind off a number of issues he experienced with his F14 T, including a rear-wing problem that could have led to his retirement midway through the race.
"I had an aerodynamic problem with the car, we were thinking to retire the car because we had a stall on the rear wing," he explained. "They were telling me to be very, very careful in the high-speed corners because it was easy to lose the car.
"We had battery problems and were completely discharged for part of the race. And in the last stint also, they told me to save fuel because we were out of [our] target.
And if that was not all, Alonso also had to serve a five-second stop go penalty at his pit stop after he overshot his grid slot – 16th – at the start.
"When I tried to see my board, I saw the number seven of Kimi and the next one is the number 77 of Bottas, so I missed completely the 14. I didn't know where it was," he said.
"I tried to engage reverse gear two or three times and it didn't engage. I was waiting, waiting, waiting and then two [start] lights were on.
"At that point, I had to put first and go and wait for a penalty."
And where might Alonso have finished without the penalty? "Sixth. If I start on pole position, sixth."