Eric Boullier says Fernando Alonso is talking to McLaren directly rather than Honda
Racing Director says they're biding their time because "preparing a winning team is not going to take a couple of months"
By Mike Wise
Last Updated: 25/11/14 5:52pm
McLaren's Eric Boulllier has confirmed that they are in direct negotiations with Fernando Alonso about a 2015 drive rather than using Honda as an intermediary.
With the Japanese manufacturer poised to renew their links with the Woking team next season, it has been suggested that, were Alonso to sign, it would be with Honda rather than McLaren.
The weight Honda carries in the partnership was reflected by this week's news that the team's entry for next season has been lodged as 'McLaren Honda'. They are also known to covet the Spaniard, yet speaking to Sky Sports F1 on Friday afternoon Boullier said that he was talking directly to McLaren.
"It's McLaren. Obviously the official competitor in the entry with the FIA is McLaren. McLaren is the contracting party with the drivers, nobody else," Boullier, the team's Racing Director, said.
Of course, the subtext surrounding any return by Alonso to McLaren is the manner in which he departed after just one season in 2007 - under a cloud having spectacularly fallen out with team boss Ron Dennis.
The double World Champion felt the team were wrong to support both his own title aspirations and those of team-mate Lewis Hamilton, with the fallout spreading to what became known as 'Spygate'.
McLaren were fined $100 million for possessing confidential information leaked from Ferrari, although Dennis has recently played down Alonso's involvement and also insisted that he "moved on years ago".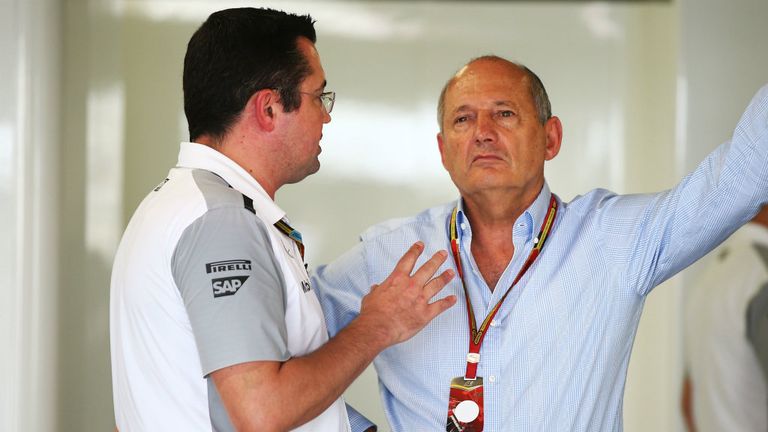 Speaking in the paddock at Interlagos, Boullier also hinted at why McLaren, whose last win was in Brazil two years ago, are biding their time.
"There's many reasons, obviously, and a lot of confidentiality, so we want to focus on the Brazilian weekend," he added.
"The only thing I can say is that preparing a winning team is not going to take a couple of months, or a couple of years maybe, and we want to win as long as possible.
"We already planned the driver line-up - or the strategy for the company - in two years' time, in four years' time and in six years' time and this is why it takes so long because we want to be ready at the right time with the right drivers."
Confirmation that Alonso will replace Jenson Button at McLaren for 2015 is expected before the season finale in Abu Dubai in two weeks' time.