Nico Rosberg feeling optimistic for the 2015 F1 season after a perfect winter
German sets fastest lap in Barcelona and also records more laps than any other driver in pre-season testing
By Pete Gill at Barcelona
Last Updated: 03/03/15 8:59am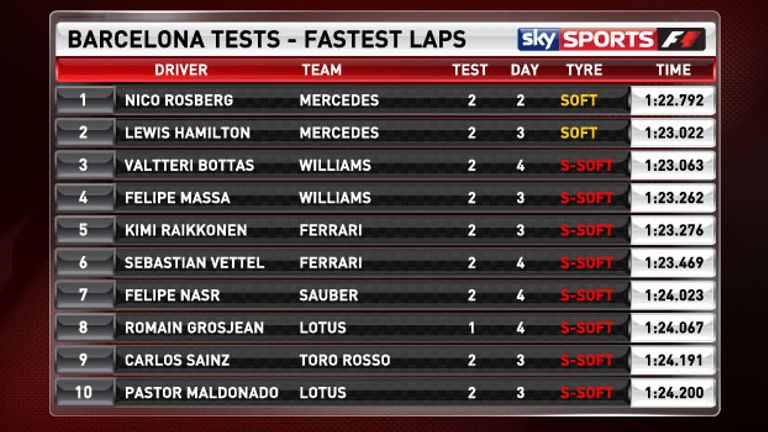 A happy Nico Rosberg says he is optimistic about Mercedes' 2015 prospects after setting the fastest laps of the two Barcelona tests.
Rosberg's lap of 1:22.792 was three-tenths faster than any other driver could manage over eight days at the Circuit de Catalunya.
Mercedes team-mate Lewis Hamilton, his nearest challenge in the fastest laps stakes, went faster than Rosberg on the medium compound, but, perhaps more importantly, Rosberg's total lap count for the winter – 759 – didn't only dwarf Hamilton's tally of 533 but was also the most any driver in the field registered.
If there's such a thing as the 'perfect winter' in F1, Rosberg has just enjoyed it.
"The car is good and I'm optimistic for the start of the season because things are going in the right direction," said the Mercedes driver. "I'm happy to be quickest - it's always useful."
Rosberg's mammoth lap tally included another 150 on Sunday, the final day of pre-season action, with the German relishing the warm temperatures on a sparkling day in Spain.
"We only have six days and it's really important to practice and get in a rhythm. I was rusty on the first day but now it feels good," said Rosberg.
"Conditions were consistent for the first time this winter. We kept the same amount of fuel in the car the whole time and we carried out a soft-tyre long run at the end."
Rosberg only finished the day seventh in the timesheets, a statistic as deceptive as any the sporting year of 2015 will produce.
"I'm pleased with the winter but that's not to say that the others aren't quick," he added. "It's a challenge to get these cars perfect and it is still a big challenge because we are so early in the season."