Nico Hulkenberg joins Renault for 2017 after leaving Force India
Renault confirm the German has signed a 'multi-year deal'; Force India 'respect' Hulkenberg's decision
Last Updated: 14/10/16 1:45pm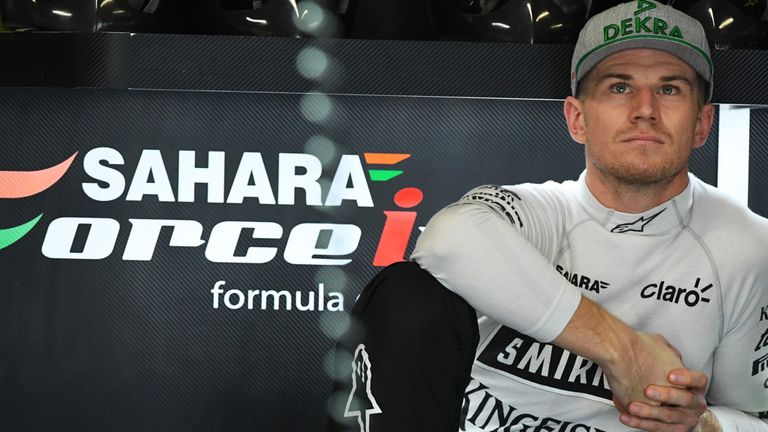 Nico Hulkenberg has been confirmed as a Renault driver for 2017 and will leave Force India at the end of the season.
The German has signed a multi-year deal with the French team and it's expected that either Kevin Magnussen or Esteban Ocon will be his new team-mate.
In a move that could shake up the transfer market, the Enstone team, who tried but failed to recruit both Carlos Sainz and Hulkenberg's current team-mate Sergio Perez, have landed the leading driver they have desired.
"Renault has always been a big player in the motorsport world that brings up incredible memories," Hulkenberg said. "In his stint with Renault, Michael Schumacher not only helped make Germany an F1 nation, he also sparked my enthusiasm and fire for racing. As a part of the Renault family, I want to develop the car and write new success stories.
"It has always been my dream to work for a manufacturer team. F1's new regulations will change the game and give our team a good opportunity. In the years to come, Renault will play a challenger role, which fits my approach to racing 100%. I can't wait to become part of the family."
Hulkenberg made his Formula 1 debut in 2010 with Williams after excelling in the junior categories and though his career has yet to truly match his early potential, the 29-year-old has been linked to Ferrari and McLaren in the past.
Nico Hulkenberg's Formula 1 stats
| | |
| --- | --- |
| Starts | 111 |
| Spells | Williams, Force India, Sauber, Force India |
| Debut | 2010 Bahrain GP (14th) |
| Podiums | 0 |
| Best finish | 4th (x3) |
| Best grid position | 1 (2010 Brazilian GP) |
| Fastest laps | 2 |
| Points versus team-mates | 344 v 358 |
| Championship best | 9th (2014) |
A consistent points scorer but with a best finish of fourth, his move opens up a seat at Force India - possibly for Mercedes proteges Ocon or Pascal Wehrlein, both currently at Manor.
"For our next step we required an experienced driver who is still hungry for podiums. Nico Hulkenberg fulfils this role perfectly and is an excellent complement to what we want to achieve," Renault chairman Jerome Stoll said.
"He is a highly talented, dedicated and motivated driver. Nico will enable us to harness all the hard work completed this season and translate it to improved results on track in 2017 and beyond."
Force India, set to finish five places above Renault in the constructors' standings, have thanked Hulkenberg following five years' service for the team.
"Everybody at Sahara Force India wishes Nico well as he embarks upon a different path in Formula One," said team principal Vijay Mallya. "Having spent five years with us, Nico has become a great friend and contributed a huge amount to the team's success.
Drivers confirmed for 2017
| Team | Driver | Driver |
| --- | --- | --- |
| Mercedes | Lewis Hamilton | Nico Rosberg |
| Red Bull | Daniel Ricciardo | Max Verstappen |
| Ferrari | Sebastian Vettel | Kimi Raikkonen |
| Williams | N/A | N/A |
| Force India | Sergio Perez | N/A |
| Toro Rosso | Carlos Sainz | N/A |
| McLaren | Fernando Alonso | Stoffel Vandoorne |
| Haas | N/A | N/A |
| Renault | Nico Hulkenberg | N/A |
| Manor | N/A | N/A |
| Sauber | N/A | N/A |
"He's an outstanding driver, who has scored more points for this team than anybody else. While it's true we will miss Nico, we respect his decision to explore fresh opportunities and it would be wrong to stand in his way."
German publication Sport Bild claimed Hulkenberg could land around 18m euros over three years with Renault, who hope to return to the top after a difficult return to the sport this year.
With Magnussen still fighting for a new deal, but now reportedly an option for Haas, Jolyon Palmer is expected to be the fall guy with the French manufacturer despite his improved form in recent months.
The Brit scored his first F1 points in Malaysia and felt he had done enough for a Renault seat in 2017.