Max Verstappen says Lewis Hamilton, many drivers, can prevent third straight title in Formula 1 2023
"He's been one of the greatest drivers ever in the sport, so for sure if he has the car to do it he can fight for the title again," Max Verstappen says of Lewis Hamilton; Red Bull launched RB19 car on Friday and revealed engine partnership with Ford from 2026
Last Updated: 04/02/23 1:00pm
Max Verstappen insists Lewis Hamilton is one of many drivers who could challenge him for the Formula 1 title this year, and has signalled his backing for Red Bull's newly-announced alliance with US car giant Ford.
Flexing their muscles off the back of dominating last year's championships, Red Bull kickstarted their 2023 season in style with a glitzy launch in New York on Friday as they debuted their RB19 car - which unsurprisingly looked a lot like last year's - and announced a mega engine deal with Ford for 2026.
Verstappen led Red Bull's charge by winning a record 15 races out of 22 last season, although the now double world champion expects a more competitive campaign a year into F1's rules revolution.
The Dutchman, speaking exclusively to Sky Sports News in New York, highlighted former rival Hamilton - who struggled with Mercedes in 2022 - as well as younger title hopefuls as threats this year.
"He's been one of the greatest drivers ever in the sport, so for sure if he has the car to do it, he can fight for the title again," said Verstappen of Hamilton.
He added: "But that's the same for George [Russell, Hamilton's team-mate]. it's the same for Charles [Leclerc, Ferrari], it's the same for Lando [Norris, McLaren] - if you give them the car that's capable of winning the championship, they can.
"But it's also about when you have the car then the pressure comes you cannot afford big mistakes.
"That's a bit of a different pressure you have but I'm confident once these guys get onto a roll like that it is all possible, they all have talent to do so."
Verstappen, whose Red Bull team have a cost cap penalty this year with a drop in wind tunnel time, also stressed that a third straight championship was no sure thing.
"You always try to go for it, but I don't know if we're going to be good enough," he told Sky Sports News' Craig Slater.
"Of course as a team we believe we are, we are very motivated, we come off the back of a very strong year and we are working flat out to try and achieve that."
Verstappen backs Red Bull's mega Ford alliance
Red Bull's launch also saw the team promise fans the chance to design their own livery for the US races in Miami, Austin and Las Vegas this year, and confirming a huge partnership with Ford.
Red Bull Power Trains and Ford, returning to F1 for the first time in two decades, will work together to design Red Bull and AlphaTauri's engines for the new regulations in 2026.
Verstappen's no stranger to engine deals at Red Bull - having seen the team struggle with Renault before making the inspired move to Honda - and fully supports the Ford deal.
"I signed twice without actually fully knowing what was coming in terms of engines, and people said maybe that's a crazy thing to do," said Verstappen, who is tied to Red Bull until at least the end of the 2028 season.
"I believed in the project and I believed that everyone involved would make the right decisions for the team.
"The first one they made going with Honda, I think that worked out really well and now for the future this is the next step - Ford in 2026 - and I believe in it.
"If we all believe in it, I'm sure we can create something really cool."
Ricciardo inspired by Messi and Djokovic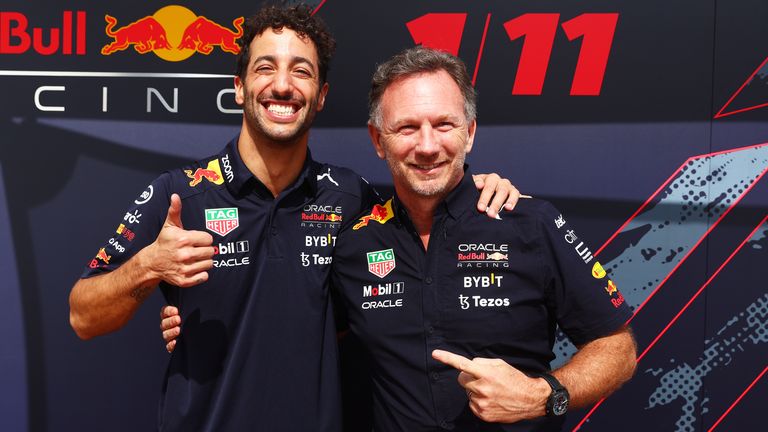 Daniel Ricciardo has added intrigue to the team's driver ranks by re-joining as a third driver ahead of a planned return to F1.
The 33-year-old, who last raced driving for McLaren, says he is inspired by the likes of Lionel Messi and Novak Djokovic still winning major silverware well into their thirties.
"I was reading some of the things Nico Hulkenberg was saying with the time off and you saw how good it was for him. You saw Timo Glock have a pretty phenomenal season after some time off an F1 seat as well," said the Australian.
"When I was younger I used to be so rushed about 'I need to be world champion. Time is running out, time is running out' but your perspective changes over time and through age, so I'm not concerned about age because I know if that desire is there, I'll put in the work and make it happen.
"I get on well with Max and Checo [Sergio Perez] so I'll just be that ray of light in the room and help when I can."
A busy launch season has begun and you can watch Williams' livery reveal live on Sky Sports F1 on Monday, February 6. Also live on Sky Sports F1 are pre-season testing (February 23-25) and the whole 2023 season.