Red Bull in profile
Last Updated: 25/01/17 1:50pm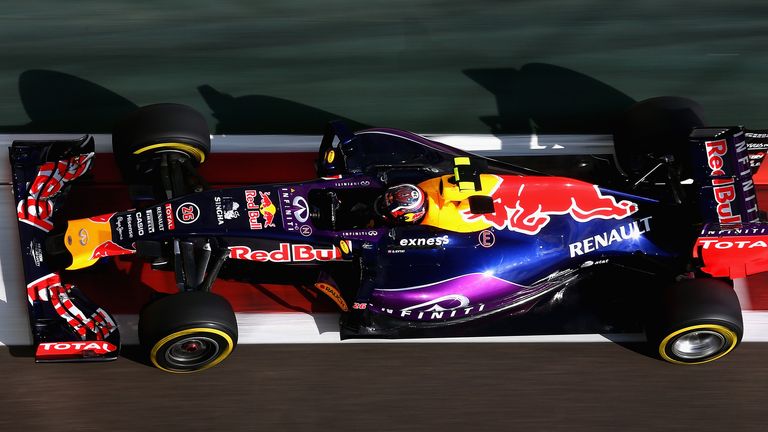 Red Bull returned to the winners circle in 2016, drawing a line under a tumultuous 12 months the previous season.
After their first winless year in seven years and a public spat with engine suppliers Renault in 2015, the team were back to the Red Bull of old, emerging as Mercedes' man rivals and finishing second in the constructors' championship.
Now with rule changes moving the emphasis back towards aerodynamics, the team are plotting ending the recent domination of the Silver Arrows.
Four consecutive Drivers' and Constructors' Championship doubles between 2010 and 2013 established the Milton Keynes squad as the sport's undisputed benchmark, with the cornerstones of that success undoubtedly star driver Sebastian Vettel, team principal Christian Horner and legendary designer Adrian Newey.
Such a blinding combination of talent, inspiration and hard work obscures, and also contradicts, initial perceptions of Red Bull's F1 arrival, which came about after energy drinks magnate Mateschitz took over the failed Jaguar project at the end of 2004. At that time, they seemed to be more interested in throwing lavish paddock parties than achieving on-track success.
It was a perception they heartily encouraged in the early days and success was slow at first, with Red Bull's first podium arriving courtesy of David Coulthard at Monaco in 2006. Yet behind the scenes, Mateschitz and Horner were surely putting all the pieces in place for their eventual domination. Proven title-winning designer Newey was hired that year, while other recruits also made crucial contributions. For example, Geoff Willis, who served a two-year stint at the team between 2007 and 2009, was widely credited with overhauling manufacturing process and improving reliability.
Mark Webber joined the team at the same time and but it was when Vettel arrived in 2009 that everything clicked. That coincided with the introduction of Newey's RB5, which might not have had the double diffuser sported by Brawn's title-winning car, but proved more than a match as the season progressed.
Despite securing the team's first win in China, Vettel's title challenge always appeared likely to fall short that year but the disappointment was short-lived as he became the sport's youngest ever world champion in 2010 instead. Yet a measure of Red Bull's newfound eminence was that Webber had been a title contender too; indeed, he appeared better-placed until his team-mate's opportunism (not to mention some poor strategy calls) prevailed in Abu Dhabi.
To say that their partnership flourished is clearly an understatement but what gave Vettel wings was the way he could adapt his driving technique to squeeze all the performance he could from his car's blown exhaust and diffuser. It was a trick Webber could never manage and with the technology developing rapidly in 2011, the young German easily retained the title with 12 wins and a record number of pole positions.
Webber hit back for a time in 2012 when new rules blunted the power of blown exhausts but as Red Bull started to claw their advantage back, it was Vettel who once again made hay as a late surge saw him overtake Ferrari's Fernando Alonso and take a third straight title.
He and Red Bull were even more dominant in 2013 - not that the season was without its dramas. Horner's authority was undermined by Vettel's decision to ignore team orders and pass Webber on his way to victory in Malaysia, with the Australian announcing his retirement from F1 by mid-season. An unbroken run of success after that with nine successive wins for Vettel told its own story.
However, the dawn of F1's new hybrid engine era for 2014 would usher in a new player at F1's top table, Mercedes. While the German manufacturer's big engine advantage was apparent from the early miles of pre-season testing, Red Bull found themselves in all sorts of trouble with their undercooked and underpowered Renault turbo amid repeated breakdowns with their RB10.
It was therefore a minor miracle which saw new boy Ricciardo qualify and finish second at the season opener in Australia - although his runner-up finish was later overturned after the team were found to have contravened fuel-flow rules. However, for a team that measures themselves on race and championship wins, the narrative of the opening months of the year was a depressing one as the first six victories all went Mercedes' way.
An unlikely, if fortunate, maiden F1 win for the increasingly impressive Ricciardo in Canada was followed by similarly opportunistic victories for the Aussie in Belgium and Monza, giving the team a glimmer of hope that they could yet snatch the drivers' crown from under the noses of the duelling Mercedes pair.
Such a dream never materialised and even race wins proved out of reach in year two of the regulations as Ferrari emerged as Mercedes' closest challengers. With Vettel, perhaps seeing the writing on the wall, defecting to Maranello, Ricciardo and the latest product from Red Bull's young driver scheme, Daniil Kvyat, endured largely frustrating campaigns - particularly early on as Renault's V6 turbo proved even more unreliable than the year before.
It was not until the 10th round of the season in Hungary that a Red Bull driver appeared on the podium - although Ricciardo and Kvyat did at least both make the top three in Budapest - with Singapore, when Ricciardo was beaten by Ferrari's Vettel on Mercedes' sole off-weekend, the team's only other top-three appearance.
While the pitwall remained as operationally sharp as ever - Red Bull arguably remain the masters of the pit-stop 'undercut' - and the RB11 was, after a slow start, one of the most aerodynamically-refined cars on the grid, the off-track hullabaloo and repeated quit threats ultimately came to define their season.
With the relationship with Renault smoothed over and a title sponsor deal for the power unit, Red Bull closed the gap to Mercedes significantly in 2016. A change of driver line-up came at the Spanish GP with Max Verstappen replacing Kvyat and the Dutchman delivered a victory on his debut.
With arguably the best line-up on the grid heading into 2017 and a new set of regulations, this could be the year Red Bull clinch a fifth constructors' title.