Big win for Nurnberg
Nurnberg pulled away from the Bundesliga relegation zone and brought an end to Augsburg's unbeaten streak with a 1-0 win.
Last Updated: 16/02/14 4:43pm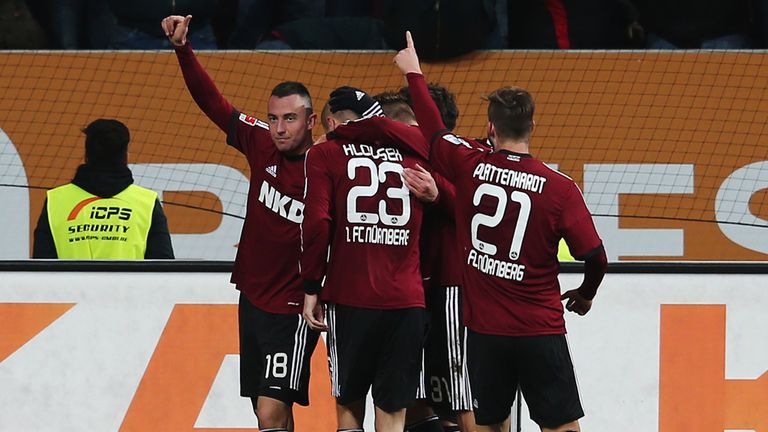 Nurnberg pulled away from the Bundesliga relegation zone and brought an end to Augsburg's eight-game unbeaten streak with a 1-0 win at the Augsburg Arena.
Josip Drmic's goal was enough to earn Gertjan Verbeek's side all three points in a Bavarian derby which Augsburg have not now won for over 40 years at home.
The three points take Nurnberg above Freiburg and Stuttgart into 14th, two points clear of the relegation zone, while Augsburg miss the opportunity to break into the top six.
As derbies go, this did not seem to be one of the tensest around with neither side looking keen to assert themselves on the game.
It was more of a case of sitting back and waiting, and with both sides taking the same approach, it was hardly surprising that first half chances could be counted on one finger, let alone one hand.
That chance was a Drmic effort from 25 yards out which did not test Alex Manninger.
Raphael Schafer was called into action only once at the other end of the field when Arkadiusz Milik's shot found its way through a pack of players, but was of no real concern to the Nurnberg custodian.
Nurnberg took the lead in the 65th minute when Adam Hlousek lifted in a cross from the left which was met by Drmic, who beat Ragnar Klavan to the ball to nod in his 11th goal of the season.
Nurnberg felt they had done enough, but with 25 minutes of the game still to go, defending seemed to be a dangerous tactic.
Augsburg, urged on by their fans, tried to find a way back into the game with all of the action taking place in the Nurnberg half of the field.
Andre Hahn nearly found an equaliser with 10 minutes to go, but his shot from the edge of the area just missed the left-hand post with Schafer well beaten, and happy to see the ball go wide.
Dong-Won Ji and debutant Erick Thommy went the closest, the latter stinging Schafer's palms with a last-minute free-kick.