Bundesliga: Eintracht Frankfurt defeat Bayer Leverkusen 2-1 in final match of the season
Last Updated: 23/05/15 5:18pm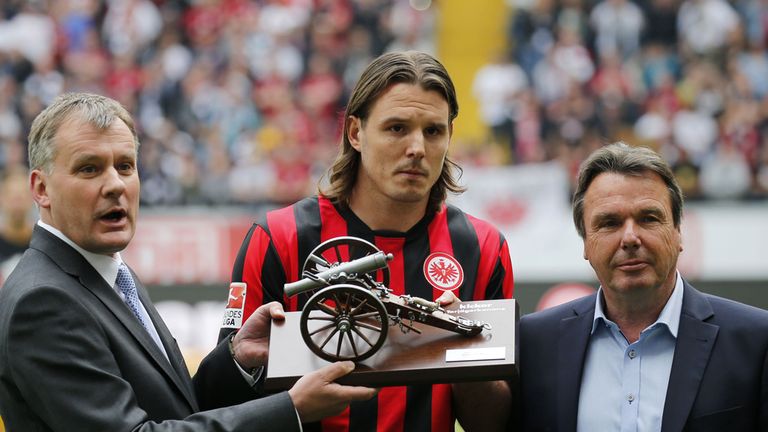 Eintracht Frankfurt ended the season with a 2-1 win over Bayer Leverkusen in a game which was the prelude to the main event, as Alexander Meier lifted the top-scorer's award after the final whistle.
Haris Seferovic and Alexander Madlung netted Frankfurt's goals with a Karim Bellarabi strike sandwiched in between.
The win lifted Frankfurt to ninth in the table, but the biggest cheer was reserved for midfielder Meier, who - despite missing the final six games of the season due to injury - was crowned the Bundesliga's top goalscorer with 19.
It was already a measure of how little was riding on this game for Frankfurt that their coach Thomas Schaaf handed 19-year-old Luca Waldschmidt his starting debut.
That was not to say that they did not want to win, though, and they made an ideal start with Seferovic put through by Marco Russ and he beat Kevin Trapp to send a capacity crowd inside the Waldstadion wild.
Their joy was short lived, though, with Bellarabi sending in a stunning strike from over 20 yards to bring Leverkusen back on terms within two minutes.
With both sides knowing that their objectives for the season had already been reached, there was no reason for either of them to defend and this led to plenty of chances at both ends of the field.
More goals seemed inevitable and Madlung notched the next, scoring from close range in the 39th minute after Leverkusen failed to clear their lines from a corner.
The two sides emerged for the second half with the fans expecting more of the same entertainment, but tiredness at the end of a long campaign started to set in and the pace was instead much slower.
Heung-Min Son scuppered a chance to bring Leverkusen level while Nelson Valdez had Frankfurt's best chance of the second 45 minutes which was more an exercise in playing the clock down.
Once that had been achieved, it was Meier's moment. He came onto the field with his Frankfurt shirt on to take possession of his personal prize as the league's top-scorer with 19 goals - two more than last season's winner Robert Lewandowski who, unlike midfielder Meier, is a striker by trade.