Greuther Furth battle for a point
New Greuther Furth coach Ludwig Preis picked up a point from his first match in charge as they drew 0-0 with Bayer Leverkusen.
Last Updated: 24/02/13 8:59pm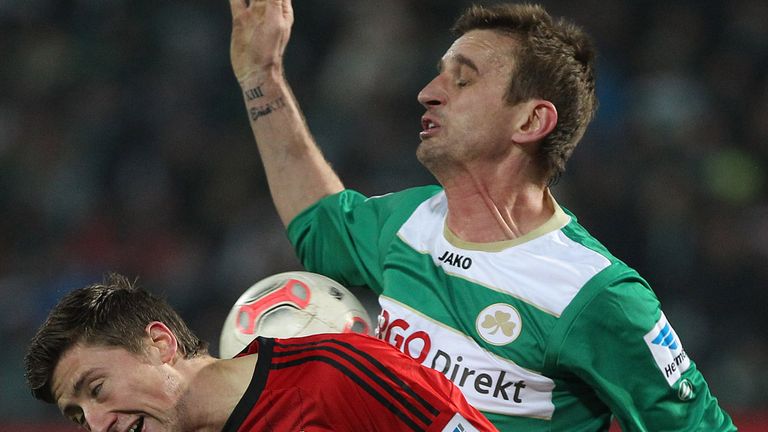 New Greuther Furth coach Ludwig Preis picked up a point from his first match in charge as the bottom team in the Bundesliga held third-placed Bayer Leverkusen to a goalless draw.
The Bavarians showed a degree of confidence and belief that they had rarely displayed all season, and they had arguably the better chances to win the match.
Leverkusen did not know what had hit them and what seemed like an easy three points on paper turned into a frustrating battle to get just a point, which keeps them in third place behind runaway leaders Bayern Munich and second-placed Borussia Dortmund.
The change from the style of play employed by Preis' predecessor Mike Buskens was immediately evident.
Although Buskens said prior to the start of the season that he would be remaining faithful to the attacking system which gained the Bavarians their first ever promotion to the top flight of German football, all too often he relied on defensive, negative tactics.
Just five minutes had been played when Furth launched their first dangerous attack, showing that they were not going to sit back and be dominated this time.
A powerful header from Mergim Mavraj was cleared off the goal line as Furth threatened to take the lead after half an hour.
Leverkusen were unable to create any chances until right at the end of the first half when Johannes Geis made a headed clearance off the goal line to deny Andre Schurrle after Wolfgang Hesl twice save from Stefan Kiessling.
Ilir Azemi scuppered Furth's next chance when he ambitiously tried, and failed, to lob Bernd Leno.
Thomas Pledl then gave the Leverkusen goalkeeper some work to do before Hesl was called into action again at the other end to deny Schurrle and Daniel Carvajal.
Leverkusen could not find a way through as the Bavarians slowly started to shut up shop, bringing the shutters down on a positive debut for new coach Preis which suggests Furth may be down, but not yet out of the Bundesliga.