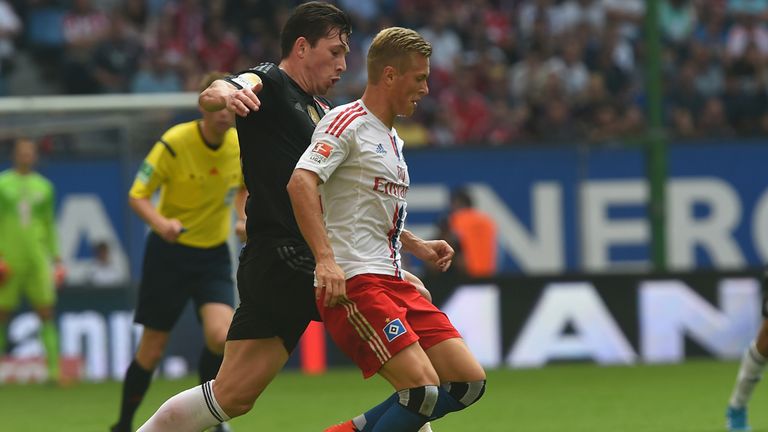 Bayern Munich dropped points for the second time this season, with Hamburg picking up only their second with a 0-0 draw in Josef Zinnbauer's first game in charge.
Zinnbauer will have been more than just encouraged by his side's performance, with the northern Germany side also close to winning the game on several occasions.
Manuel Neuer was the busier of the two goalkeepers and Bayern will have been happy to come away with a share of the spoils.
Bayern coach Pep Guardiola rang the changes after his side's 1-0 win over Manchester City in midweek, most notably bringing Claudio Pizarro in for Robert Lewandowski and Pierre-Emile Hojbjerg for Xabi Alonso.
There was also a big change in the Hamburg team, albeit not in terms of personnel.
The players were largely the same as the ones chosen by Mirko Slomka for his last game in charge a week ago, but there was something different about the way they played.
The determination and belief that had been in short supply for well over a year in northern Germany returned when it mattered, to face the record champions.
No other team this season had managed to restrict Bayern's movements as much as Hamburg did in the first half in the HSV Arena.
Only Pizarro's near-post volley from Rafinha's cross threatened to break the home side's well-organised and energetic resistance.
The first big chance of the game then came Hamburg's way, with Neuer making one of his customary mistimed ventures out of his penalty area, allowing Nicolai Muller to guide the ball past him, although the former Mainz player only found the side-netting with his shot.
Neuer tested the nerves of his own fans a few more times, with similar forays not resulting in any danger, before his team-mates realised it was best to try to keep the ball at the other end of the field.
Philipp Lahm had Bayern's first shot of the game on target in the 54th minute, but Jaroslav Drobny saved.
With Alonso and Mario Gotze now on, Bayern enjoyed their best spell of the match, even if Heiko Westermann's deflected cross nearly looped into the top corner of Neuer's goal.
Neuer again went walkabout in stoppage time, this time going further than before and losing possession near the halfway line before blocking Hamburg's counter-attack with his arm.
He could count himself extremely lucky not to earn a red card and Hamburg's players, rather than celebrating their unexpected point, had more reason to recriminate at the final whistle which followed seconds later.