Aogo stars in Hamburg triumph
Dennis Aogo scored one and set up another as Hamburg beat nine-man Werder Bremen 3-2.
Last Updated: 27/01/13 7:49pm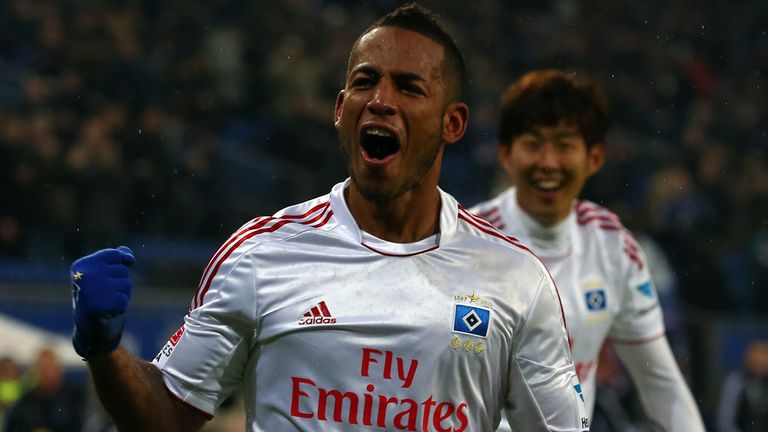 Dennis Aogo scored one and set up another as Hamburg beat their northern German rivals, nine-man Werder Bremen, to collect their first victory of 2013.
Assani Lukimya gave Bremen the lead after nine minutes before Heung-Min Son equalised in the 22nd minute. Aogo pushed Hamburg ahead in the 46th and Artjoms Rudnevs made it 3-1 after 52 minutes.
Sokratis Papastathopoulos pulled a goal back for Bremen in the 54th minute before Werder captain Clemens Fritz was sent off after receiving a second yellow in the 80th minute. The visitor's numbers were further reduced in injury time after Marko Arnautovic also saw red.
Bremen went ahead after just nine minutes thanks to a fine opener. Aleksandar Ignjovski crossed from the right into the box where Lukimya - with his back to the goal - headed in off the left post from 10 yards out.
Hamburg equalised after 22 minutes with a fine individual effort by Son, who dribbled in from the left and blasted into the net though Bremen keeper Sebastian Mielitz, who was should have done better with his attempt to block the shot.
Hamburg took the lead just 25 seconds into the second half after Dennis Diekmeier crossed from the right and Son headed to Aogo, who struck the ball home to the left of Mielitz.
Aogo set up their third in the 52nd minute after his cross from the left fell perfectly into the path of Rudnevs, who had an easy job of scoring from five yards out.
Bremen got back into the match in the 54th minute after Theo Gebre Selassie passed to Papastathopoulos, whose shot went through the legs of a defender and under Hamburg keeper Rene Adler.
The visitors went close to equalising in the 61st minute after Arnautovic crossed from the right but Kevin De Bruyne could not head home from eight yards out.
Bremen went a man down in the 80th minute when Fritz was shown his second warning and substitute Arnautovic joined his team-mate after picking up back-to-back yellows in the 90th minute.