Narrow win for Leverkusen
Bayer Leverkusen maintained the pressure on the teams at the top of the Bundesliga with a 1-0 win at Hertha Berlin.
Last Updated: 23/11/13 5:09pm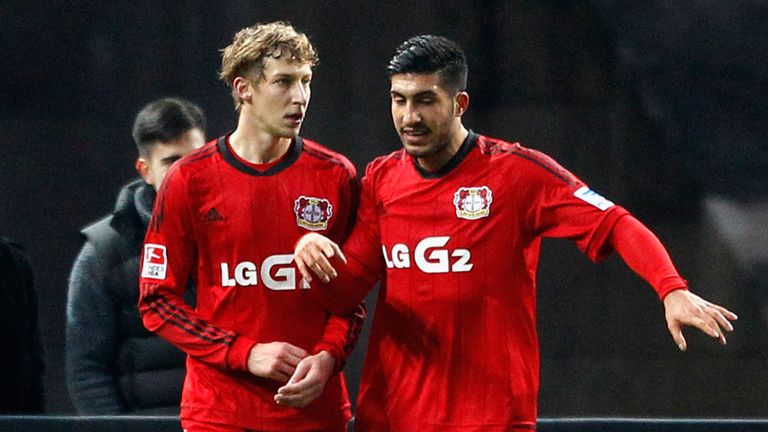 Bayer Leverkusen maintained the pressure on Borussia Dortmund and Bayern Munich at the top of the Bundesliga with a 1-0 win at Hertha Berlin.
Leverkusen's first win over the capital club in six years was sealed by a Stefan Kiessling strike just shy of the half-hour mark.
Sami Hyypia's men then held firm as Berlin searched for an equaliser, picking up a confidence-boosting win ahead of the midweek Champions League clash with Manchester United.
Heung Min Son had the ball in the back of the net in the eighth minute, although play had long since been halted for an offside decision.
Berlin soon stamped their authority on the game, pegging Leverkusen back in their own half and playing with great confidence with the lively Anis Ben-Hatira and Adrian Ramos combining well in attack.
Almost out of the blue, Leverkusen took the lead and silenced the Olympiastadion.
Jens Hegeler, who appeared to be in a borderline offside position when he received the ball with his back to goal from Gonzalo Castro, touched on for Kiessling, who showed precisely why he was the league's top goalscorer in 2012 with a cool and composed finish to the right of Thomas Kraft.
Just before half time, Leverkusen could have made it two when Hegeler's cross to the far post was met by Kiessling, who nodded the ball into the centre towards Castro, who headed just wide from a good position.
The rest of the game belonged to Hertha, though, who attacked without finding a way past Bernd Leno.
The Leverkusen custodian was at his best to deny Tolga Cigerci's header with a one-handed save. Per Skjelbred then sent the rebound over the crossbar with most of the goal gaping.
Leverkusen had men packed behind the ball, waiting for chances on the counter-attack, one of which presented itself in the 73rd minute when Kiessling sent Robbie Kruse through, but Kraft barred his route to goal with a strong one-armed block which sent the Leverkusen forward wide and away from any danger.
Hertha kept on knocking on the door, but Leno was not having any of it as Leverkusen held on to warn the Bundesliga's top two that they are also in the running for the title this season.