Serie A: Mauro Icardi grabbed a share of the 'Capocannoniere' award by scoring twice as Inter Milan beat Empoli 4-3
Last Updated: 31/05/15 10:36pm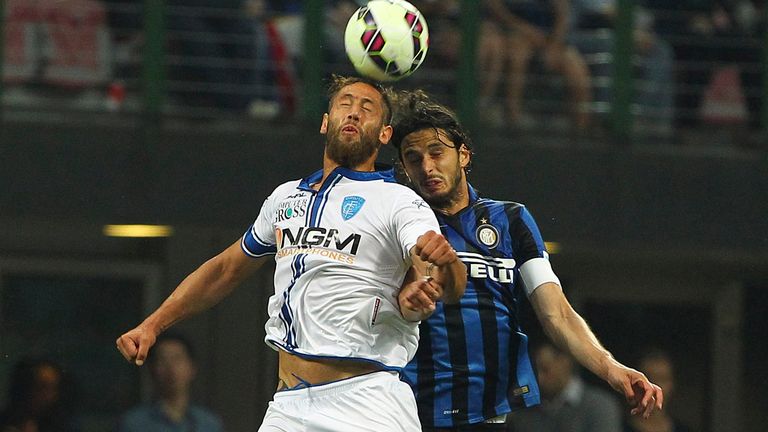 Mauro Icardi grabbed a share of the coveted 'Capocannoniere' award by scoring twice to boost Inter Milan to a 4-3 final-day victory over Empoli
The young Argentinian managed to match 38-year-old Hellas Verona striker Luca Toni on 22 goals for the now-completed Serie A campaign when dragging Inter past plucky Empoli at San Siro.
Rodrigo Palacio and Marcelo Brozovic were also on target, with Levan Mchedlidze bagging a brace for 15th-placed Empoli, whose odd goal was supplied by Leonardo Pucciarelli.
But with Sampdoria taking a point from Parma to secure seventh place, Inter's win was not enough to steer them into the Europa League and a summer of rebuilding awaits boss Roberto Mancini.
Inter were the brighter side in the first half with Yuto Nagatomo testing Davide Bassi from distance early on and Brozovic going close at the near post shortly after the half-hour mark.
Icardi was itching to score a hat-trick and usurp Toni as the league's top-scorer but his aim was off early on and he could not convert Hernanes' solid pass, while Palacio saw his angled drive repelled by Bassi shortly before the break.
The Argentinian striker gathered his thoughts over the interval and returned to the pitch to score in the 49th minute.
Mateo Kovacic's ball forward found Icardi, and the former Samp striker selflessly clipped the ball across the box for his countryman Palacio to tuck away.
Icardi was rewarded for his generosity only four minutes later. Another superb pass from Kovacic found the 22-year-old and he easily brought up his 21st league goal of the season.
Empoli - regularly impressive on their return to the top flight - had not come to Milan to roll over and soon halved the deficit as Mchedlidze got the better of Samir Handanovic to score with a header.
The Tuscans wiped out Inter's lead as quickly as they had built it when Pucciarelli skipped past Andrea Ranocchia to drive the ball beyond Handanovic in the 62nd minute.
While Europe remained a viable destination, Inter were not prepared to accept the draw and Brozovic reignited their quest for victory with the game's fifth goal.
In the 70th minute the Croatian made up for Icardi's wild thrash at Davide Santon's cross by tucking the ball beneath Bassi.
Hernanes was the provider for Icardi's second goal, a controlled shot on the turn in the 77th minute that fired Inter well clear and ruined Toni's chances of claiming sole honours in the scoring charts.
Empoli's third goal arrived too late to affect the result but it was perhaps the most impressive of the seven as Mchedlidze snaffled Pucciarelli's pass before rasping the ball past a stranded Handanovic.