Champions League: Manchester United destroy Bayer Leverkusen 5-0 to reach last 16
Manchester United booked their place in the Champions League knockout stages thanks to a 5-0 rout of Bayer Leverkusen.
Last Updated: 28/11/13 6:12am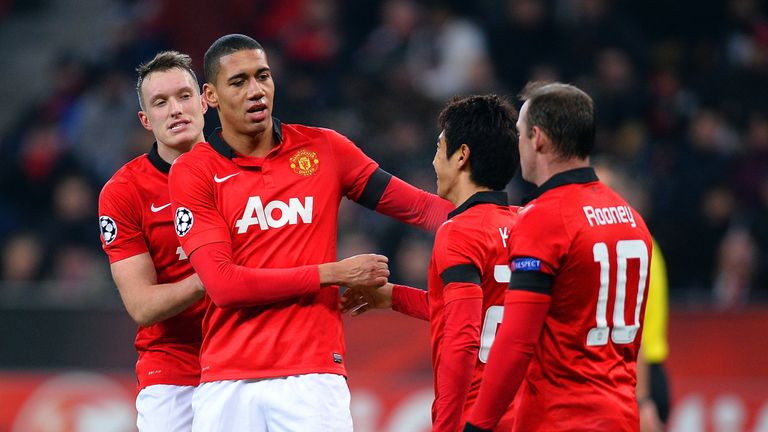 Leverkusen went into the match second in the Bundesliga and just a point adrift of Group A leaders United, but David Moyes' men produced a sparkling performance to ruthlessly expose the defensive deficiencies of their hosts and seal their biggest Champions League away win.
The initial damage was done midway through the first half when Antonio Valencia finished off a flowing move to put United ahead and then eight minutes later Emir Spahic headed in an own goal from Wayne Rooney's wonderful free-kick.
Jonny Evans, who had made a crucial late tackle before United took the lead, added a third from close range in the 66th minute.
Chris Smalling then tapped in following good work by Shinji Kagawa and Rooney, before Nani completed the rout with a wonderful late fifth.
With Kagawa revelling in a rare outing in his favoured position behind a main front-man, in this instance Rooney, and Ryan Giggs using all his experience to push exactly the right buttons when required just two days short of his 40th birthday, the visitors sucked Bayer in, then struck at rapid speed.
A decent block of Stefan Kiessling's effort by Evans was the prelude to United's opener.
David de Gea punched the corner clear, allowing Kagawa to carry the ball forward into a threatening position.
The Japan man fed Giggs, who in turn pushed possession on to Rooney. He dropped a marvellous cross beyond the line of Leverkusen defenders and Valencia, arriving with perfect timing, slotted home from barely a yard.
Leverkusen had not recovered from their disappointment before they fell further behind.
Kagawa won United a free-kick close to the edge of the area, which Rooney drafted into the space defenders hate, knowing if they do not make an attempt to clear the ball is likely to creep in at the far post.
Spahic jumped in the shadow of Smalling, made contact but did not change the trajectory and United were two up.
Nani nearly increased the damage on the hour when he exchanged passes with Rooney but dragged his shot wide of the far post.
Rooney then came close to getting on the scoresheet himself when he skipped into space 20 yards out and curled a shot inches wide.
And pretty soon he had a third assist to his name as it was Rooney's close-range effort, saved by Bernd Leno, that rolled free for Evans to gleefully tap home from barely an inch.
Moyes opted to give Alexander Buttner a run out and save Patrice Evra's legs.
It did not stop United scoring though, with Rooney collecting yet another assist, after Kagawa had brilliantly picked him out in the box, Smalling finishing off the approach work this time.
The striker was replaced soon afterwards to save his legs for Sunday's trip to Tottenham.
Nani decided it was time for him to make a contribution though to end the slaughter, latching on to a pass from Giggs and darting past the keeper before flicking an exquisite finish back into the goal.
United now go into their final group game, at home to Shakhtar Donetsk, needing a point to secure top spot and avoid a nasty encounter with one of the competition's heavyweights in the spring.