Premier League: Rio Ferdinand ensures Sir Alex Ferguson victorious on Old Trafford farewell
Sir Alex Ferguson left Old Trafford for the last time with all the points as Rio Ferdinand sunk Swansea late on.
Last Updated: 12/05/13 9:57pm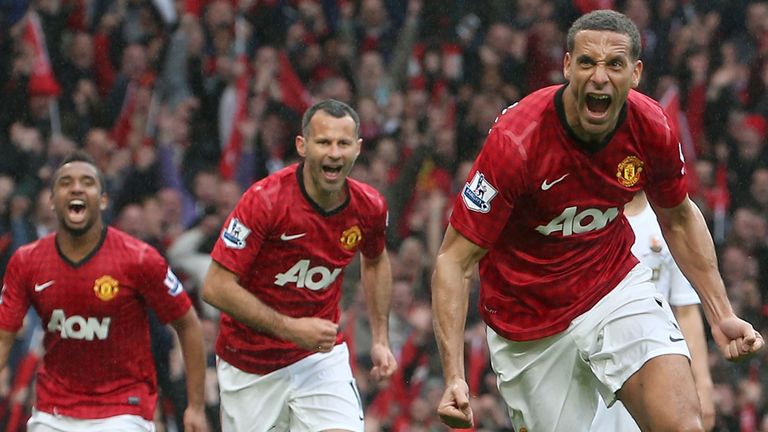 The defender's smashed volley from a loose corner was not quite in Fergie time (87) but late enough for the narrative, ensuring the retiring 71-year-old finished as he started here almost 27 years ago.
Wayne Rooney was tellingly left out altogether but the tale was of a tribute that will have tightened the throat of United's gum-chewing, watch-tapping messiah, even though he barely let on.
With a puff of the cheeks and a wry smile that grew wider, Ferguson had emerged to swathes of flags, a guard of honour and a blast of The Impossible Dream hardly audible above the cheers.
On with the football, he probably thought, and United obliged, their other outgoing hero, Paul Scholes, dinking a threatening early ball forward that Chico Flores had to hack away.
As Rooney gazed from an executive box, Javier Hernandez looked in the mood but watched a rising shot from an angle clip the underside of the crossbar and then saw his close-range header deflected behind.
Swansea's Pablo Hernandez curled narrowly wide at the other end and Nathan Dyer almost spun Nemanja Vidic on the edge of the box but the hosts looked comfortable enough.
Scholes, given his own rousing reception, had a half-chance on the turn and Robin van Persie forced a double-handed save but the goal came when Ashley Williams took his eye off the ball and hashed a clearance, Hernandez first to react (39).
Swansea, with a top-10 place and a trophy in the cabinet, could have switched off but instead they returned bright and smart, suddenly intent on turning the mood.
Michu took just four minutes to restore parity, darting across Phil Jones to convert Dyer's set-piece with a wonderful flick and might have had a second minutes later had Ferdinand not pushed him wide.
Jones blocked a Chico shot just about with chest and not arm as United continued to stutter but Anderson came on and was close to swift impact, rousing the crowd after his effort with the laces flew just wide.
When Ryan Giggs entered the fray the stage seemed set but it was Ferdinand who afforded his manager a late fist-pump up in the stands, keeping body over the ball to lash a fitting first league goal for five-and-a-half years.
Speaking after the game, Michael Laudrup was already looking forward to next season.
"Next season I want to try to consolidate Swansea," he told Sky Sports. "There is a lot of challenge there, we're playing in Europe and we would like to have that experience as a club, as a team and I would like to be a part of that."
The challenges of next season are not Ferguson's concern anymore but he had one last revelation in his post-match interview, telling Geoff Shreeves that Wayne Rooney had handed in a transfer request.
"I don't think Wayne was keen to play, simply because he's asked for a transfer," the Scot told Sky Sports. "I think he wants to think things through in his own mind. I think that's a good idea. We're not going to let him go."