Man City trying to buy John Stones from Everton, Pep Guardiola confirms
By Jefferson Lake & Lyall Thomas
Last Updated: 28/07/16 6:36pm
Manchester City are in talks with Everton to sign defender John Stones, Pep Guardiola has confirmed.
Sky sources understand the Toffees are asking for £50m for the England international centre-back, but City are hoping to secure Stones's services for significantly less.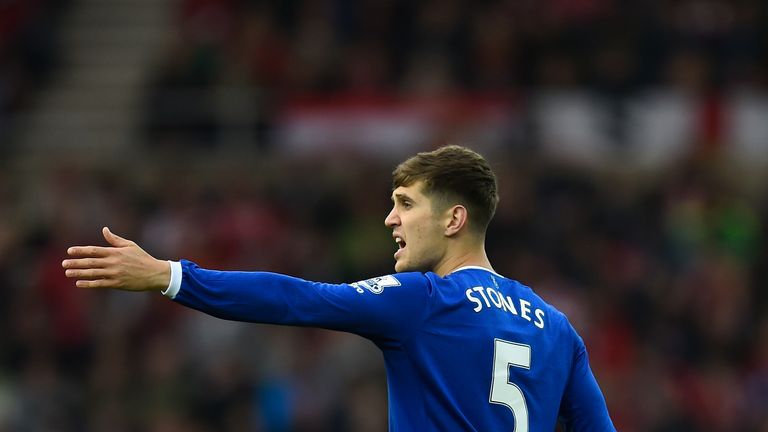 Stones has flown out to Germany for Everton's two friendlies in Dresden against local side Dynamo and Real Betis.
After his side beat Borussia Dormund on penalties in their second pre-season game in China, Guardiola, who previously confirmed City want to sign Leroy Sane from Schalke, said: "It's the same answer as Sane.
"He is a player for Everton. Everybody knows we want to buy him, but I don't know what's going to happen. But I can say I'm so happy with the squad we have; the way that they train and the way they play. That's all I can say."
Stones, 22, was the subject of three bids by Chelsea during last summer's transfer window - all of them turned down.
Chelsea were prepared to pay £30m for the centre-back 12 months ago, and Stones even put in a formal transfer request in an attempt to force the move through.
Guardiola wants to implement more of a passing strategy at the club, and Stones - who is well known for his ability on the ball - could be brought in with such a tactic in mind.
"We need to create good build-up play, with easy passes in midfield, to achieve good passes for our strikers further up the pitch," said Guardiola.
"I believe when the ball goes from a central defender to a striker, the ball comes back as quickly as it goes, and we have to make it clear that we are building up in our first process, whether that is defenders or midfielders, and that is why we need players of quality, to play in that style, and we have the players to do that.
"And I think by August 31, we will have the right players to play the way we want."
It is also understood City are in talks to sign Sane, Gabriel Jesus and Marlos Moreno, and that while they retain an interest in Juventus centre-back Leonardo Bonucci, they would shelve any plans to sign him if they could acquire Stones.
Meanwhile, City have arranged a pre-season friendly against Scottish Premiership side St Johnstone next Wednesday.
The game, arranged to make up for the loss of Monday's 'Manchester derby' in Beijing, will be played behind closed doors at City's training ground.