David Stockdale: Family reasons behind Birmingham move
By Simeon Gholam
Last Updated: 18/08/17 6:11pm
David Stockdale has revealed that putting his family first was the reason behind leaving Premier League side Brighton to join Birmingham this summer.
The goalkeeper played a pivotal role in the Seagulls' promotion-winning Championship campaign in 2016/17, and it surprised many when he elected to join the Blues rather than sign a new contract at the Amex.
But ahead of Birmingham's trip to Burton on Friday night - live on Sky Sports Football from 7pm - Stockdale insisted he has no regrets with the decision he made.
"It was a new challenge. Things don't always work out how people want them to work out, that's football," he said.
"I'm not the type of guy to hold grudges or leave on bad terms. I had a great relationship with the club, the fans and the squad and as soon as I left I got messages from all around. There were some mixed messages from the fans but I believe that's just because they want their team to be the best it can.
"My decision was based on my family this time. My daughter is doing her exams soon so I needed a bit longer on my contract. These are reasons people didn't know at the time and I'm not ashamed to say I put my family first and football second for a change.
"Some people don't usually do that, and they might not agree with that, but I've moved my family sometimes every year if needs be and they don't kick up a fuss, so why should I be doing it when I think about them?"
As Stockdale mentioned, there was a somewhat mixed reaction to his decision to depart among Brighton supporters and, while the goalkeeper says he can take criticism on social media, he does draw the line when it comes to abuse being aimed at his family.
"It's passion and I don't blame them," he said. "But I don't get it when it's personal towards my family. For me, I don't really care, I like the interaction and social media can be good for a lot of things, it's a free country and you can have your own opinion.
"But when you're just trying to look after your family, it sounds bad and we love football as our hobby, but it is a job. Sometimes you've got to put family first and that's what I'm doing this time."
Stockdale spent three years at Brighton and kept 20 clean sheets on their way to promotion last season, and admitted it was strange watching them play in the Premier League without him.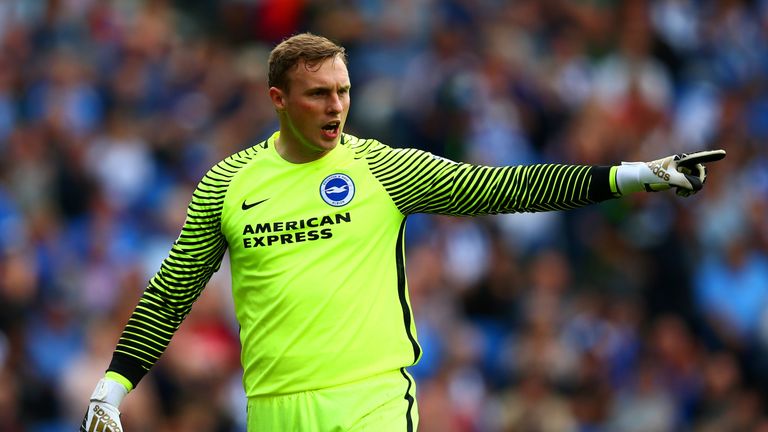 That being said, the 31-year-old insisted that it was still a pleasure to watch his friends and former team-mates in action at a level they'd spent so much time trying to get to.
"It was a little bit [weird], but it was more that I wanted to watch my friends play in the league they worked so hard [to reach]," he said.
"I saw the manager in the off-season and wished him all the best, and I'd do that wherever I am. As I said I don't hold grudges or burn bridges because you never know what will happen.
"It was [difficult to leave]. But I got a great message from the chairman, the chief executive, the coaching staff and the like. I still text the players good luck and I've still got a lot of friends down there. The fans also treated me well so I wish them all the best. I hope they can finish in the top half, let alone fight relegation.
"It was an amicable [departure], that's football and people need to understand that. It is what it is."
And looking ahead, Stockdale sees no reason why he can't make it two promotions in as many years under Harry Redknapp at Birmingham, as they prepare to travel to the Pirelli Stadium for their latest Sky Bet Championship clash.
"It's been a steady start," he said. "We're not where we want to be yet, I feel a couple of additions to the current squad and we'll be nearly there. It will take time to get what the gaffer wants, but new players have arrived and we're gelling together.
"When you lose the first game people get a bit anxious, but to come from behind and beat Bristol City shows our resilience and the effort we put in. Some people say we should beat Bolton at home, but then should you not beat everyone? Because Bolton are a good side themselves.
"A draw is a draw, and with the clean sheet we can take momentum to Burton and hopefully go from there."
Don't miss Birmingham's trip to face Burton at the Pirelli Stadium on Friday night, live on Sky Sports Football from 7pm. Or watch for £6.99 with a Day Pass from NOW TV - no contract.