In an exclusive interview with Sky Sports, Wilfried Zaha hits out at his reputation as a diver, discusses how he has matured since his spell at Manchester United, and explains why the bond between club and community at Crystal Palace is so special to him.
It is the morning after Crystal Palace's incident-packed draw with Watford, and Zaha, the man at the heart of the controversy less than 24 hours earlier, has just arrived at Sky Sports' west London headquarters for an appearance on Goals on Sunday.
The dust has not yet settled from Vicarage Road, where Zaha was involved in a series of flashpoints, most notably the coming together with Adrian Mariappa which earned him a yellow card for diving despite replays indicating referee Chris Kavanagh should have awarded a penalty.
The incident reopened the debate over what Zaha believes to be an unfair reputation. A statistic circulating after the game showed that no Premier League player had been booked for simulation more times than Zaha (four) in the last three seasons, but as he takes a seat in the green room before going on air, he is keen to put forward his side of the argument.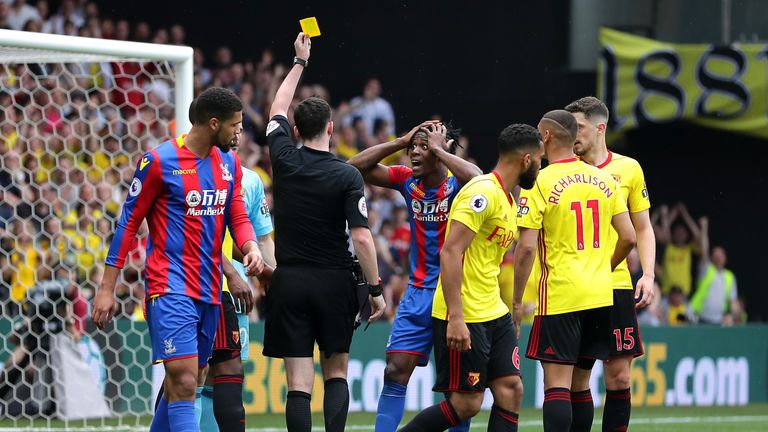 "There definitely is an agenda against me," he tells Sky Sports. "I've seen so many other players dive but nobody makes a commotion the same way they do with me, trying to get me banned. I don't get banned because I don't dive, but why does everyone want me to get banned so much? I feel like, going into games, referees literally just jump on the bandwagon.
"It's annoying, especially yesterday. Everybody knows how Watford play, they are a team that fouls quite a bit and I'm a player who does tricks, so they are going to end up kicking me. The amount of times I got kicked in the game, it literally looked like I was on the floor most of the time. People are going to think, 'Yeah, he's diving', but you know how Watford play."
Watford fans will point to the late challenge on goalkeeper Orestis Karnezis for which Zaha escaped censure, but the numbers suggest his comments stack up. According to Opta, Watford have amassed the most disciplinary points in the Premier League this season. On Saturday, Zaha was fouled more times than any other player.
What are disciplinary points?
Opta award one disciplinary point per foul conceded, three points per yellow card and six per red card. Watford have accumulated 618 this season.
Of course, Watford are not the first side to target Zaha for rough treatment. With his explosive pace and dazzling one-on-one ability, he can be difficult to stop. Over the course of the last three seasons, he has been fouled 282 times. It is more than any other player in the Premier League. Only Chelsea's Eden Hazard even comes close to his total.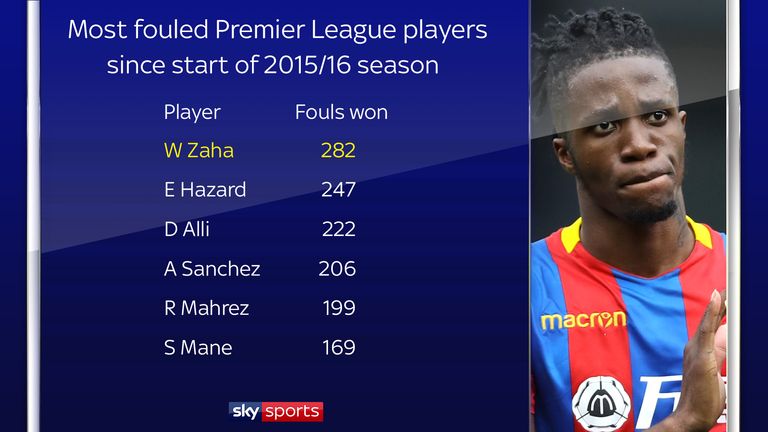 "I've seen those stats before and they speak for themselves," says Zaha. "I just have to suck it up, basically. It's a thing where their players are going to try to get into the referee's head, then the fans are going to try to get in the referee's head. Then it's like, if I lose my head, the referee is going to give me a yellow card, do you know what I mean?
"So I try to stay out of the mind games and just play my game, because if I'm annoyed, I won't be able to. That's the thing. The last time we played Watford, they booed me the whole game. Then at the end I managed to get an assist and we beat them. So if I just stay on my game, I know what I can do. There's no point getting into the other stuff."


Zaha's attitude reflects a growing maturity. The 25-year-old has admitted in the past that he feared his career could slip away from him after his unsuccessful stint at Manchester United, where he made just four senior appearances before returning to Palace. Instead, he has grown up and taken his game to new heights at the club he first joined as a 12-year-old.
"Me going to a big club when I was like 19 or 20, I didn't know what to expect, how to behave, whatever," he says. "I was just a youngster who wanted to do tricks, I didn't even care about end product really. Now I take things a lot more seriously - the gym aspect, recovery after games, my decision-making. I've learnt a lot in terms of my all-round game.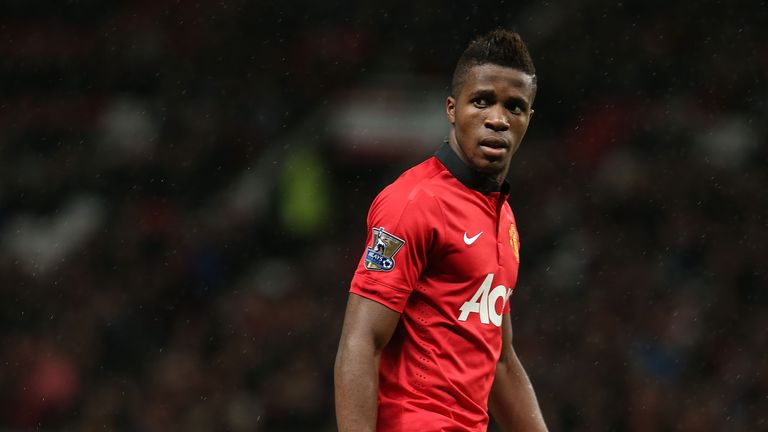 I was just a youngster who wanted to do tricks, I didn't even care about end product really. Now I take things a lot more seriously.
"I'm totally different now. I'm definitely more mature and more strong-minded. I had to be mentally strong after what I went through at Manchester United. I think in football, most of it is just mental. Once you've got that sorted, then you're good."
Zaha believes he is now playing some of the best football of his career. Roy Hodgson has rightly earned plaudits for lifting Palace out of the relegation zone but it would not have been possible without Zaha. The stats show they have lost 12 of the 14 games he has missed through injury. With seven goals, he has already matched his total for the whole of last season, despite those absences.
Zaha is now regarded as one of the best players outside the top six, but he seems genuine when he says he pays little attention to the persistent speculation linking him with the Premier League's big guns. "I don't react to it," he says. "I'm contracted to Palace. We're in a predicament we need to get ourselves out of, so that's all I think about really.
"I don't let the other stuff sway me because there's no point. I'm happy right now to be honest. I get crazy support every week from the Palace fans home and away. I'm playing and I'm enjoying my football. There's no reason not to be happy, really."
Zaha's affection for Crystal Palace is profound and so too is his bond with the club's supporters, who welcomed him back from Manchester United - initially for two loan spells, then on a permanent transfer in February 2015 - with open arms.
"I feel like Crystal Palace is just totally different," he says. "I feel like it's proper support from proper fans. Nowadays you don't really get clubs like that, where it's proper support through and through. It's not tourists who come and watch and don't know any songs, do you know what I mean?
"Palace are the loudest and they will sing for literally the whole game. It feels like a 12th man. It's massive. There are times when we're under the cosh and teams are all over us, but when the fans are still supporting and singing, it makes a massive difference. It gets the team going again.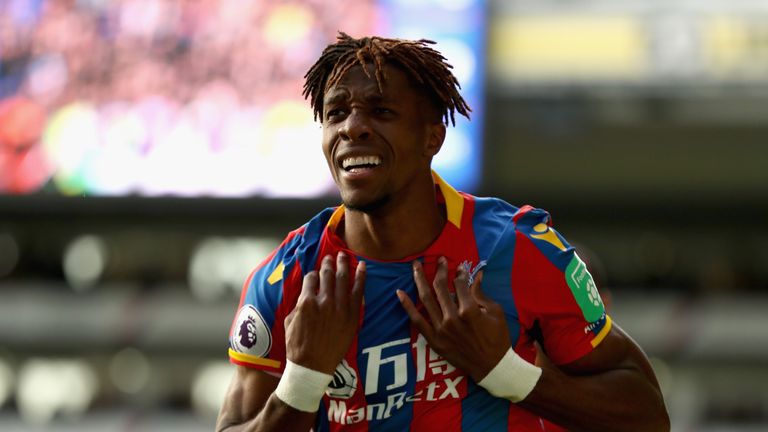 I feel like Crystal Palace is just totally different. I feel like it's proper support from proper fans.
"The other thing about Palace fans is that they are welcoming. I knew I could always go back there because when I left, it was a move you can't really say no to. But even when I went to United, I wanted to come back on loan and finish the season. I think they appreciated that but not all fans appreciate those types of things. They understand football."
Zaha feels the same affinity with the local community. He was four years old when he and his family moved from Abidjan in the Ivory Coast to Croydon in south London, where he grew up in a three-bedroom terraced house with his parents and eight siblings in one of the streets surrounding Selhurst Park, and now he is passionate about inspiring others like him.
"I've obviously been at Crystal Palace for years, so I've seen it come from nothing to what it is now and I've seen what it's done for the community as well," says Zaha. "For the locals, it's a big club. I know that for kids to be inspired when coming to Selhurst Park is a massive thing.
"There's a thing called Premier League Kicks which Palace are part of. It's basically just kids from the area, if they are not exactly doing anything, they can go to the park and Palace put on training sessions and games for them. They can go there and play, then go home, instead of just being out on the street doing whatever, do you know what I mean?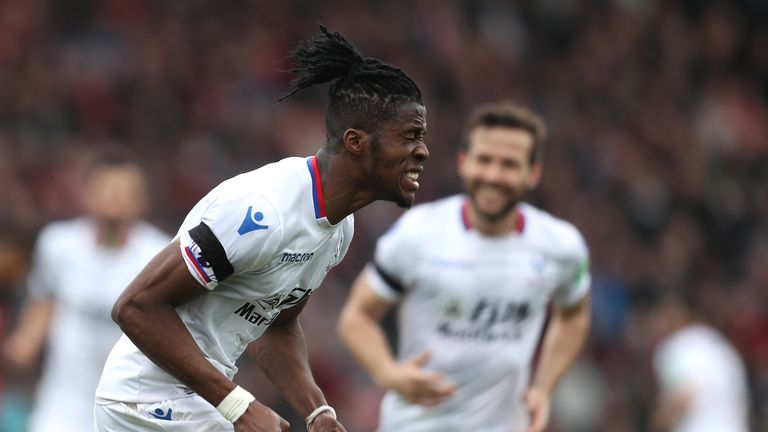 "You get the odd first-team player that will pop over there. As a little boy or whatever, that's big. Some people may not understand it, but if you come from nothing, you're not doing anything and then all of a sudden you see a Premier League star, it makes a difference in your life."
Such a strong sense of community is unusual for a top-level footballer but Zaha has no desire to live in a Premier League bubble.
"I've lived in Croydon most of my life," he says. "You'll see me just walk into the local Tesco. I don't feel I need to hide myself because there's no reason to. Okay, I play for Crystal Palace, but I'm still a normal human being. If I need to pop to Croydon shopping centre quickly to buy something, I will. I just do normal things."
It's time now for Zaha to head over to the Goals on Sunday studio, where the questioning will return to the diving storm at Watford, but it won't be long before his focus is back on Crystal Palace and all the responsibilities that come with it. "I don't mind that pressure," he says. "I go into games knowing that the team and the fans expect something from me, but I don't mind it. It's nice to feel appreciated."
Comment below to get involved in the debate, but please adhere to our House Rules. If you wish to report any comment, simply click on the down arrow next to the offending comment and click 'Report'.