Tom Heaton says Burnley relegation in 2014/15 is motivating them to stay up this season
By Matthew Treadwell
Last Updated: 12/04/19 2:42pm
Burnley goalkeeper Tom Heaton has revealed they are using their relegation from the Premier League in 2014/15 as motivation to stay up this season.
Sean Dyche's side have moved eight points clear of the relegation places after victories over Wolves and Bournemouth.
The Clarets face relegation-threatened Cardiff at Turf Moor on Saturday, and Heaton says they have learned from the mistakes they made when they dropped back down to the Championship after just one season four years ago.
"There was probably a naivety about us first time round," Heaton told Sky Sports News.
"We didn't have a lot of Premier League experience, we probably didn't have a lot of strength in depth in the squad, and probably didn't have the quality as well, to be honest.
"It has felt a bit different [this time round], we are a little bit more understanding about the league and what the requirements are.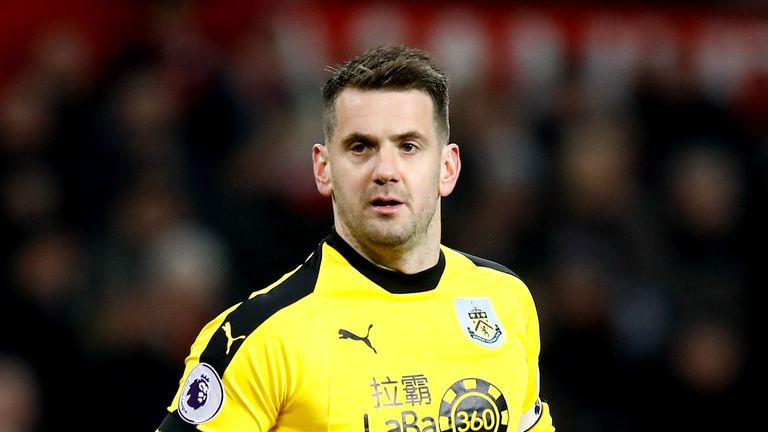 "We have learnt about how to get results and what it takes. There's never been any panic, we have obviously been aware of the situation and what's required.
"Thankfully, at the minute, we've taken that on, but it's important we continue to do so."
A serious shoulder injury kept him out for much of the 2017/18 season, and with fellow England internationals Joe Hart and Tom Pope also vying for a place in the Burnley starting line-up, he has been limited to 17 appearances this season.
The 32-year-old has been a regular in the side since the start of 2019, however, and admits he has learned to make the most of the opportunity to play Premier League football.
"It's a stark reminder of how quickly football can turn round, with the injury for me probably on the negative side," he added.
"But then I have got back into the side at the turn of the year, on the plus side. It's been a really quick turnaround, so a real reminder to appreciate and enjoy it, that's been a big factor for me.
"I'm back out there, thoroughly enjoying it and playing with a new-found freedom.
"Having missed a bit of football and then not got in the team, you get back and really appreciate it and have the appetite to want more."