Paul Pogba makes Manchester United players worse, says Liam Rosenior
Pogba was booed off by fans after Manchester United's 2-0 home defeat by Cardiff on final day of season
By Frederick Clayton
Last Updated: 14/05/19 10:02am
Paul Pogba makes the players around him at Manchester United worse, says Liam Rosenior, though he believes that the Frenchman is a world-class footballer suited to a different style.
Pogba was abused by fans after his side's 2-0 home defeat by Cardiff on the final day of the Premier League season as United were consigned to sixth place and missed out on a Champions League spot.
And although Pogba had arguably his best season in a United shirt, scoring 16 goals and creating 11, his performances have frequently come under fire as he failed to replicate the form he showed for France when he spearheaded a World Cup-winning midfield last summer.
Former Hull City midfielder Liam Rosenior believes that Pogba's character is not suited to United, and that his style makes things difficult for his team-mates.
Speaking on The Debate, he said: "Pogba is not the right player that United need right now. Is he a world-class footballer? Yes. Is he the type of player that you can use your values, your structure on, make him leader of the team? He's not.
"He's just not the right fit.
"Liverpool and City are so disciplined. I remember Carrick, his positioning, his selflessness, he made players around him better. Pogba makes players around him worse players, because they constantly have to fill in where he's floating off."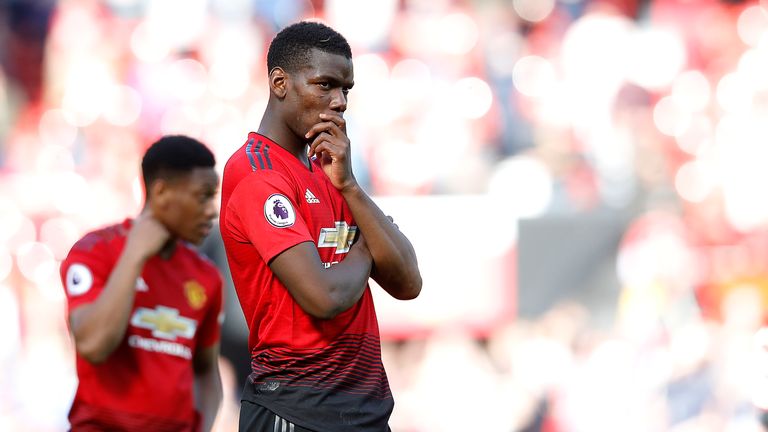 Pogba was instrumental as France lifted the World Cup last summer, while he was also a favourite for Juventus during his stint in Serie A.
Emma Hayes, Chelsea Women's manager, believes that some players are simply not as suited to the intensity of the Premier League.
"The expectation is different, we see it time and time again," she said.
"Perhaps some players may not be the best fit for the Premier League. No one disputes his talents, but I agree there's an amount of responsibility because of the price tag placed on him."
Rosenior agreed, saying that Pogba was not the leader that United fans expect him to be, and that his stellar performances with France, and with Juventus in Italy, were down to the players around him who were the natural commanders.
"I think too much has been placed on his shoulders to be the leader that he's not. I saw him play in the France team and run the show and win the World Cup, and the difference is that they have real leaders throughout that team in and around him, influencing him in the right way.
"Every player is a different personality."