Dutch master Ronald de Boer revealed the secrets of Holland's success in developing young players on Sky Sports.
Holland's recent World Cup record
Brazil 2014: Third place
SA 2010: Runners-up
Germany 2006: Round of 16
Korea & Japan 2002: DNQ

The former Ajax, Barcelona and Rangers star was part of the punditry team for the launch of Sky Sports 5 at the Super Cup, as Real Madrid defeated Sevilla at the Cardiff City Stadium.
However, before kick-off in Wales, De Boer, who won five Eredivisie, a La Liga title and the Champions League during his decorated career, gave Sky Sports viewers an insight into how Holland have produced their current crop of elite players who have finished second and third at the past two World Cups.
De Boer also discussed what English football clubs could learn from Dutch methods and assessed Ajax's chances of retaining their Eredivisie title – a competition you can see live on Sky Sports 5 this season.
Young talent in the Eredivisie
In the country we live in, we are like a football academy. The clubs in big competitions will pick up our talents. We saw with Feyenoord, the whole back four are gone. You can't keep them because we don't have the money to hold them in our country, unfortunately. But the great thing is every time there's talent coming through.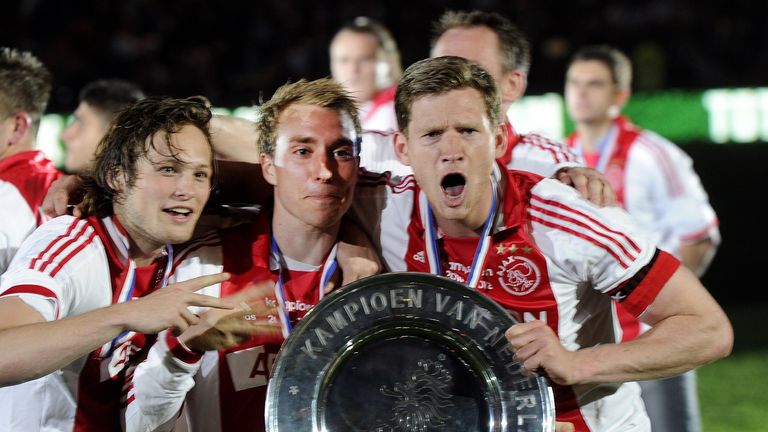 Ajax's youth system
Most of the players who are playing in the first team at Ajax are starting from an early age [at the club]. That's of course what we're known for, the philosophy of Ajax, how we look to the boys as a player, as a person and in the end develop them into big players.
We now put more money into that, we have the Johan Cruyff revolution with a whole new strategy of how to develop the kids even better and hopefully we'll produce them at a younger age to be ready.
Although we have a lot of talents, in Europe we can't really hurt the bigger teams. We want to still compete with the big teams when we play them and that's why we try to make another step forward.
Dutch approach to youth development vs the English approach
When I see the English boys playing – at 12, 13, 14 years old – I always have the feeling they put winning first. No, it should be developing first. When you have a big guy who is 12 but looks like a 14 or 15-year-old boy, of course he wins against the guy who is small. But the guy who is small is learning how to kick a ball, what's around him – and that's what we focus on.
It's not the end result that you win, it's that at the end he's going to be a great player.  
Strength of world football


You see it more and more, it's not easy to win against smaller countries. They are trained by better managers, they are very well prepared and they give everything. They put two buses in front of the goal so it's very hard. Overall I think the level of football is increasing and the gap between teams is getting closer.
If you saw Algeria at the World Cup, they were defending but when they had the ball they played attractive football. They really wanted to play and their technical ability was surprisingly high.
Ajax's title hopes
Ajax are going for their fifth title in a row and they're one of the favourites. On paper, PSV are a bit stronger but my brother Frank [who is Ajax manager] says players win games but teams win championships and that's the case with Ajax.
Watch up to three games a week from Holland's top division, Eredivisie, including regular live coverage of Ajax, Feyenoord, PSV Eindhoven and FC Twente on Sky Sports 5 this season.
Sky Sports 5 is free of charge to both new and existing Sky Sports subscribers who activate the channel by visiting sky.com/skysports5, on the red button or by calling Sky.