Under-12 footballers commemorate 100th anniversary of Christmas Truce match
Premier League and Bundesliga youngsters sing on All Together Now
Last Updated: 11/11/14 8:18am
A special new version of The Farm's 1990 hit 'All Together Now' has been recorded to commemorate the 100th anniversary of the Christmas Truce football match
Stars from the UK music industry, including The Farm, Alexandra Burke, The Proclaimers and Englebert Humperdinck, united as The Peace Collective to re-record the song, which will be released on December 15.
However, backing vocals were provided by schoolboy footballers from the Premier League and Bundesliga, with the children recording sessions on Saturday and Sunday morning.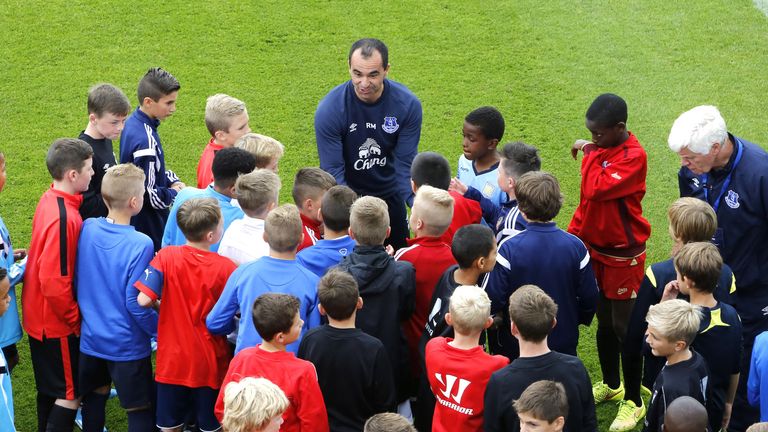 Sixty U12 footballers – 38 from Premier League clubs and 22 from Germany – headed to Liverpool's Parr Street Studios to record the song in a wonderful spirit of togetherness.
The boys – who also got the chance to train at Liverpool and Everton's academies and meet Everton manager Roberto Martinez – sing on the track in both English and German and appear in the video in their football cub shirts.
Message
Ged Roddy, Director of Youth at the Premier League, said: "It's been fantastic to work with the Peace Collective and have young British and German players sing on All Together Now.
"These lads are only a few years younger than some of the soldiers who met on those Flanders fields a century ago. It's a wonderful message to send out that 100 years on football and culture are still bringing young people together."
Peter Hooton, lead singer of The Farm, added: "I wrote All Together Now about the extraordinary events on Christmas Day 1914 when British and German troops took part in an unofficial truce, singing Christmas carols, exchanging gifts and even playing football.
As the songwriter it's an emotional song for me anyway, but I was overcome to hear these fantastic voices sing it in English and German.
Peter Hooton, The Farm
"It was a spontaneous act of humanity that transcended the horrors and barbarity of World War One and is a story which still resonates 100 years on. It is a story of hope and peace which should be told over and over again.
"At this new recording, it was poignant that we should bring together young footballers from Britain and Germany. As the songwriter it's an emotional song for me anyway, but I was overcome to hear these fantastic voices sing it in English and German."
Excited
All 38 Premier League players who sang on 'All Together Now' will head to Ypres, Belgium for the qualifying stages of The Christmas Truce International Tournament, a football event held by the Premier League since 2011 featuring Under-12 teams from the German, Belgian and French leagues.
The qualifying phase usually takes place in England, but for 2014, U12 teams from all 20 Premier League clubs will head to Ypres for a weekend of competitive football and education.
The tournament – which takes place from 14-16 November – doubles as the official opening of the Premier League's new 3G pitch being donated to the city of Ypres and the local football club.
Joe Dolan, Crystal Palace's Head of Education and Welfare, said: "I've been lucky enough to visit Ypres and the experience these boys are going to get playing there is amazing.
"Coming to Liverpool they got a flavour of the significance of the Christmas Truce – we read the diaries of soldiers on both sides who witnessed the matches – and they're all very excited about heading to Belgium in a fortnight.
"But that's what a Premier League education provides, it's getting them to appreciate what happened a century ago and the privileged position we all have now thanks to the sacrifice of others."
*The Peace Collective are the team behind The Justice Collective, whose re-recording of He Ain't Heavy, He's My Brother in aid of the victims of the Hillsborough disaster topped the charts during Christmas 2012. All profits from the All Together now will go to the British Red Cross and the Shorncliffe Trust and the record will be released on Monday, December 15.