Patrick Vieira's appointment as New York City FC boss will be good for MLS, according to Houston Dynamo coach Owen Coyle.
Vieira, will leave his role as head of Manchester City's Elite Development squad, takes over in January and has agreed a three-year deal with the franchise.
The 39-year-old will be taking on his first senior management role in football and Coyle - who joined Houston last December - feels the former AC Milan, Arsenal, Juventus and Inter Milan midfielder will be best served simply "learning on the job".
"I don't think it's down to me to give him advice," Coyle told Sky Sports. "But Patrick is such an honourable figure, he's an outstanding player."
"He's been working at Manchester City, and Claudio Reyna is there as well, so Claudio will be able to help him on that route. I would say that as much as the team will give him all the bits and pieces, nothing will beat the experience of actually learning on the job and it's a tough environment."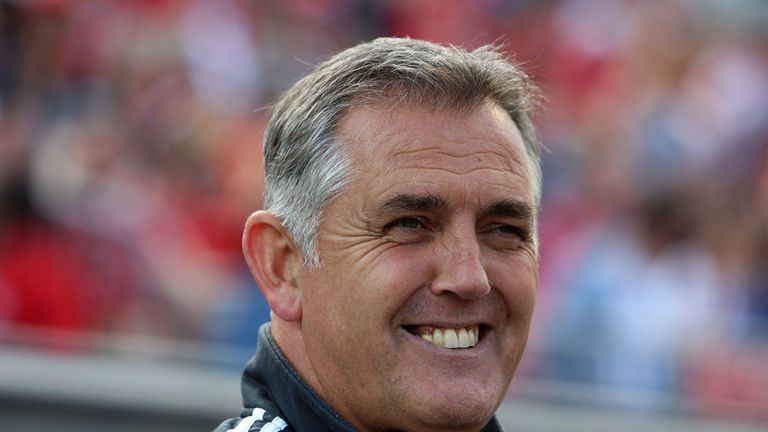 Vieira, who replaces Jason Kreis at the club, travels to New York on Tuesday to meet his playing squad and to spend time with sporting director Claudio Reyna.
The Frenchman will not only have the likes of Andrea Pirlo, David Villa and Frank Lampard at his disposal, but Coyle is sure he will also be able to bring a number of top-class players into the club.
"Obviously financially they're in a very good position and will probably be able to get whoever they want to add to the team," he said. "It's a great setup there, there's no doubt about it."
And from the MLS' point of view, Coyle says the appointment of someone of Vieira's stature will only help the sport to expand further.
"One thing I do know is everybody in the league will welcome him with open arms because that's the kind nature we have, and we want the league to grow, and figures such as himself is only going to help to enhance that," he said.